Gold & Silver Market Update
Clive Maund
Sep 4, 2007
Gold
GOLD UPSIDE BREAKOUT ALERT! Gold is now in position to break above last year's highs and embark on a major uptrend. On the 2-year chart we can see how, just by virtue of tracking sideways in a narrow range in recent weeks, it is getting clear of the resistance in the vicinity of the Distribution Dome, which of course signals that the distribution phase in the dome pattern is over - those who wanted to sell have done so. While there remains a residual danger of a Head-and-Shoulders top completing as shown on the chart, this risk is now regarded as minimal for reasons that will soon become clear. Gold has performed much better than silver in recent weeks - silver succumbed to the resistance of its dome pattern and crashed important support, whereas gold has remained indefatigable and refused to break down. It is thus most interesting and paradoxical that silver's COT structure has improved drastically in recent weeks, so that while gold's price picture is currently more positive than silver, silver's COT structure is now exceptionally bullish - considerably more bullish than gold's. From this it is reasonable to conclude that silver's plunge last month was not the start of a major breakdown, but rather a final capitulative flushout. What this means is that both metals are now in position for a powerful rally, which is likely to start sooner rather than later.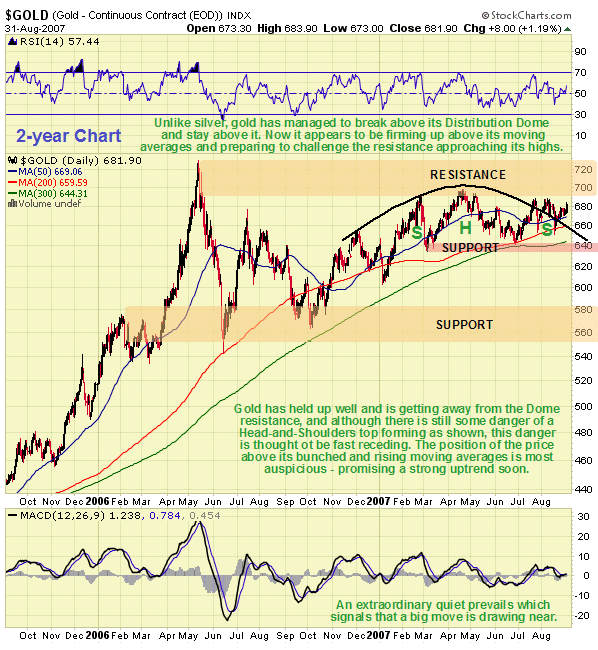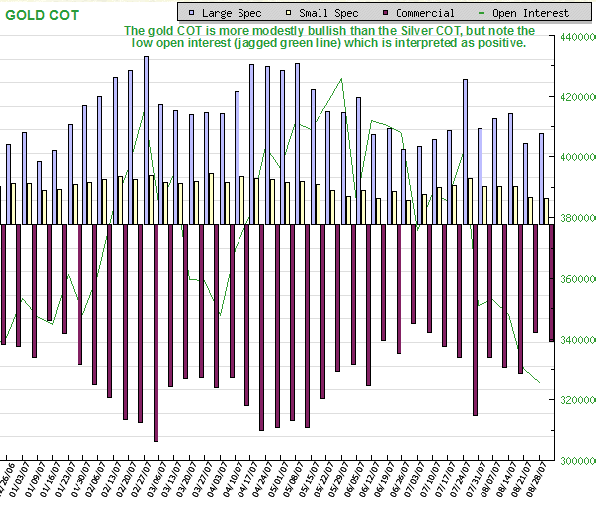 When we consider the 2-year gold chart further we can see that the price is above all of its principal moving averages, which are bunched together and rising - this is a most auspicious circumstance, particularly as the price is now getting clear of the dome, and while we must acknowledge the residual Head-and-Shoulders top danger, it is clear that gold is in position for a powerful upside breakout that should drive it clear above last year's highs to commence a major uptrend. Note the narrowing of price fluctuations in recent months, highlighted by the neutralization of the MACD indicator at the bottom of the chart - an unusual calm prevails of the kind that normally precedes the emergence of a major trend.
The general background situation vis-à-vis the broad stockmarket, inflation and interest rates and other factors having a bearing on the outlook for both gold and silver has been set out in the Silver Market update, to which readers are referred - silver got the star treatment in this round of updates on account of the rapid and extraordinary improvement in its prospects. This background situation is now strongly bullish.
In conclusion an upside breakout is believed to be fast approaching for gold and it is thus viewed as a strong buy here, although it may back and fill for a little while longer as it waits for sentiment in silver to recover sufficiently for it to overcome its resistance at and towards $12.50.
Silver
A week or so ago some financial reporters went on a quest to find silver bulls and gave up and went looking for lottery winners instead.
At first glance the silver chart looks terrible, with last month's dramatic breakdown below an important support level causing its moving averages to roll over and momentum to break to an 11-month low, and appears to confirm a Double Top with last year's highs, with the price accelerating away to the downside. So the pullback of the past couple of weeks towards what is now resistance is understandably regarded by many disenchanted bulls as an opportunity to quit in disgust at a slightly better price. However, as we shall see, there is now strong evidence that the August plunge was a final capitulative flushout, and that sophisticated traders have been gleefully mopping up the abundant supply in recent weeks from the disillusioned habitual losers, principally the Large Spec traders.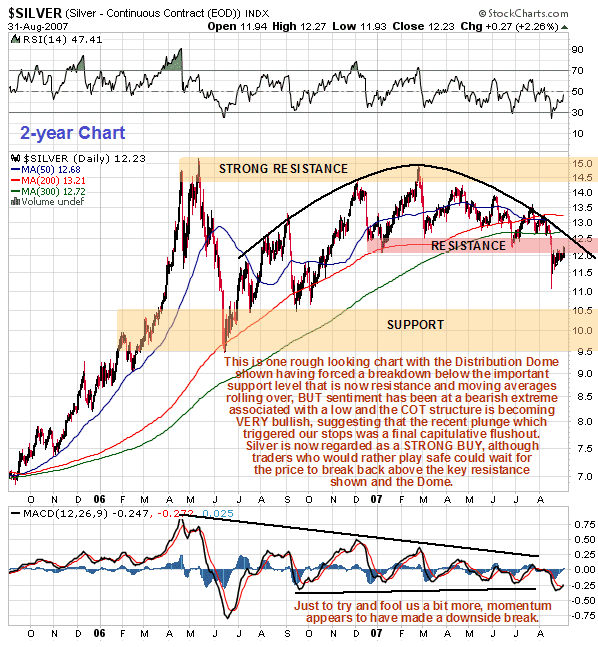 Before going any further it is worth considering the general background. The "end of the world is nigh" crowd had a field day in August, getting high on the convulsions in the broad market, and their dire predictions have been given a good airing due to a sudden surge in media and public interest. This is not to deride the doom and gloomers or their work - there is a strong basis to their arguments, but according to the indicators we follow the wheel is not going to come off just yet. On the August selling climax the Put - Call ratio rose to an extreme normally associated with a market bottom. Volume indicators for the broad stockmarket remain decidedly bullish with Accumulation-Distribution and On-balance Volume pushing new highs over the past week or two, which given that the market is still well off its highs, is quite an accomplishment.
Insider buying has been running at a 4-year high, again hardly what you expect to see at the start of a bear market. Finally, the plethora of alarming articles in the mainstream media is what you expect to see at a market bottom. From all this we must conclude that the market is on its way up again and is likely to make new highs, even if some sectors such as house building and home improvement in the US continue to suffer the fallout from the fenced off mortgage crisis. An important point to grasp is that the reasons for the markets being able to recover stability and advance also happen to be bullish for gold and silver - the massive infusions of liquidity required to put the markets back on an upward path are of course inflationary, and thus good news for gold and silver, and the renewed prospect of falling interest rates makes gold and silver more competitive investments, and in addition the lurking risk of a major dollar breakdown perhaps brought on by falling rates would be a powerful additional driver for the Precious Metals. Thus we should see both the broad market and gold and silver advance in unison.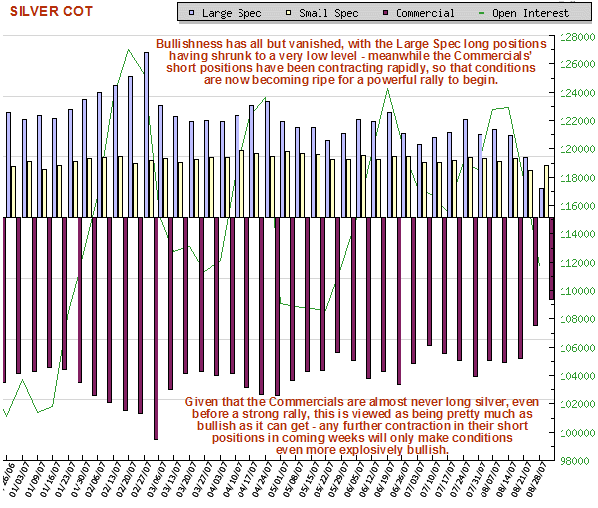 We will now turn to consider the reasons why the plunge last month is regarded as having been a final capitulative flushout. One big reason is the current COT profile for silver, which is viewed as being VERY BULLISH. On the latest COT chart presented above, we can see how the Large Spec long positions, represented by the blue bars, have dropped to an extraordinarily low level, demonstrating that they have finally "thrown in the towel" in disgust and walked away. The Large Specs are the clowns of the marketplace, the fall guys who are always wrong and their unusually low level of interest in silver at this time is one of the surest signs you could hope for that silver is going up soon, and probably substantially. Conversely, the Commercials, who are never normally long silver, have greatly reduced their short positions as shown by the purple bars on the chart, to levels that suggest that a major rally is brewing. If you doubt the importance of these observations, then simply take a look at the latest Oil Market update, which utilized COT data to accurately predict the latest upturn in oil and oil shares on the basis of which we bought BP and Conoco Phillips before they turned up, and earlier on we used COT data to accurately predict the early August breakdown in crude.
Another important indication of a bottom is that the all important MSI, the Maund Subscriber Index, has dropped to a very low level consistent with us being near to a sector low - people just love to buy stocks - and to subscribe - at the top. Sentiment in the sector has been TERRIBLE these past few weeks, and this in itself is a powerful indication that a major rally in silver - and gold - is close at hand.
Finally, referring again to the 2-year silver chart, we must keep in mind that the resistance at the red resistance zone shown is strong, especially as it is reinforced by the Dome resistance boundary now dropping into it from above. Thus, despite the overwhelmingly bullish indications highlighted in this update, we may see a little more backing and filling before silver can break above the resistance zone and the Dome, and it may dip back towards $11.50 near-term which would be a major buying opportunity. Nevertheless, because of the psychological importance of the resistance between the current level and $12.60, if silver should succeed in breaking through it as expected a powerful rally is likely, as many player will want back in once that happens.
Sep 3, 2007
Clive Maund
email: support@clivemaund.com
website: www.clivemaund.com
Clive Maund is an English technical analyst, holding a diploma from the Society of Technical Analysts, Cambridge, England. He lives in Chile.

Visit his subscription website at clivemaund.com. [You can subscribe here].

No responsibility can be accepted for losses that may result as a consequence of trading on the basis of this analysis.
Copyright ©2003-2011 CliveMaund. All Rights Reserved.
Charts courtesy of StockCharts.com.