Silver Market Update
Clive Maund
Aug 29, 2005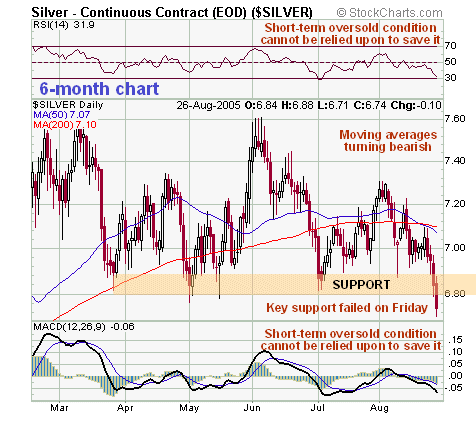 Silver did the exact opposite to what was expected and predicted in the last update. Instead of breaking higher, it broke lower, breaking a key support level at $6.80 that was noted as important months ago. This breakdown is regarded as a potentially very serious development that opens up the risk of a plunge. The reason for this is that after many months of not declaring itself, silver appears to be finally breaking down from the huge triangle that began to form following the April 04 peak. The break of this support level can be seen in detail on the 6-month chart. The short-term oscillators are showing an increasingly oversold condition, and while this would normally be expected to lead to some kind of bounce, if silver goes into plunge mode a normal oversold condition won't save it.
Another development that is also apparent on this chart is the moving averages rolling over into decidedly bearish alignment, with the 50-day dropping down through the 200-day, and the latter turning down. About the only thing that can save it now would be if we accept that there is a degree of manipulation in this market, and that Friday's breakdown may be an engineered shakeout. If it is it needs to reverse very quickly because if it goes much lower, it will quickly create a formidable wall of overhanging supply generated by those buyers who will be hung up in the giant triangle pattern, and whose psychology will be badly shaken by a serious breakdown at this point.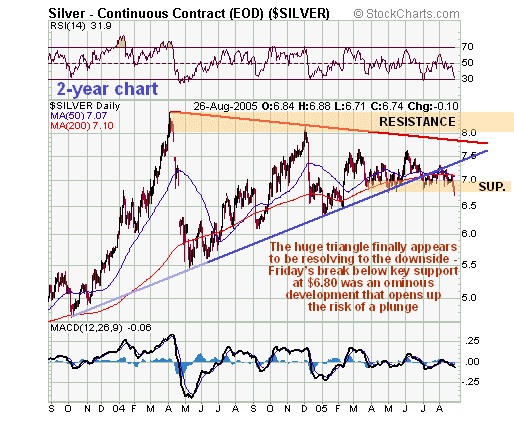 All this is of course very disappointing after so many months when it looked as if silver would eventually break out upside.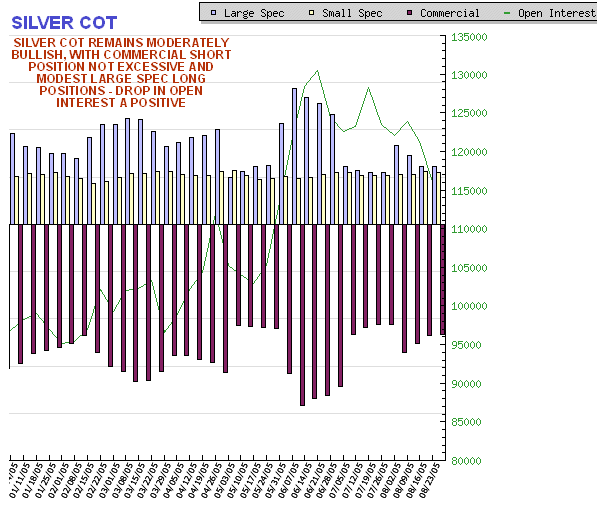 One relatively bright spot is the COT chart. There is a very large disparity between the gold and silver COTs at this time. The gold COT chart has turned very bearish over the past several weeks, which caused us to look for a short-term top a couple of weeks ago in a separate COT update. The silver COT chart, on the other hand, looks moderately bullish with the Commercial short position not excessive and falling open interest. However, given the price breakdown on Friday, and the awful gold COT picture, this may prove to be of little comfort going forward.
Our stop, positioned for a long time beneath $6.80, has now been triggered, and we are theoretically out. Even if it does "turn on a sixpence" here and go zooming up, the danger of a plunge here is very considerable. Defensive positions are advised - remember you can always get back in again if it does climb above $6.80 again by a comfortable margin and stabilize.
Finally, I wish to advise readers that this update was prepared under very difficult conditions with severe flooding in Santiago turning the access road to my workplace into a river, and partly washing it away, thus preventing me from working at all yesterday. The deluge continues as I write and I may face having to wade through a river in the dark after posting this as the water may be too deep to drive through. The Silver Market update, being the most urgent, will be posted first and the intention is to post the Gold Market update tomorrow.[Monday]
Aug 28, 2005
Clive Maund
email: support@clivemaund.com
website: www.clivemaund.com
Clive Maund is an English technical analyst, holding a diploma from the Society of Technical Analysts, Cambridge, England. He lives in Chile.

Visit his subscription website at clivemaund.com. [You can subscribe here].

No responsibility can be accepted for losses that may result as a consequence of trading on the basis of this analysis.
Copyright ©2003-2011 CliveMaund. All Rights Reserved.
Charts courtesy of StockCharts.com.