Gold and Silver Market Updates
Clive Maund
Aug 14, 2006
Gold
In the last update the view was expressed that gold had entered a trading range situation, and it was pointed out that this range may take the form of a Symmetrical Triangle, and provisional boundaries of this prospective triangle were delineated on a 6-month gold chart. Since that time gold has rallied, following the appearance of a bullish "hammer" candlestick just above an important support level, but the rally died at our upper triangle boundary and over the past couple of trading sessions gold has gone into retreat again.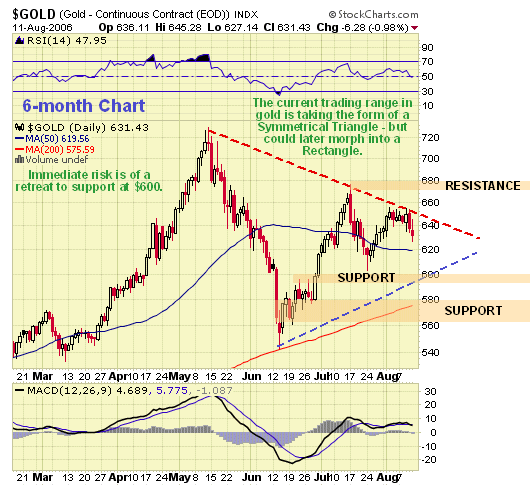 We can see these developments on the 6-month chart. On this chart gold now looks set to retreat to our prospective lower triangle boundary. This boundary has risen over the past several weeks so that it now more or less coincides with the support level that generated the last rally, which is at and a little below $600. We are thus looking at a probable near-term decline of about $30. An important point to note is that although the triangle is rapidly closing up, and must thus force a breakout before too much longer, this won't necessarily end the trading range situation, as the triangle could simply morph into a Rectangle, with horizontal support and resistance boundaries. The chances are good, however, that it will find support at the lower triangle boundary and rally again.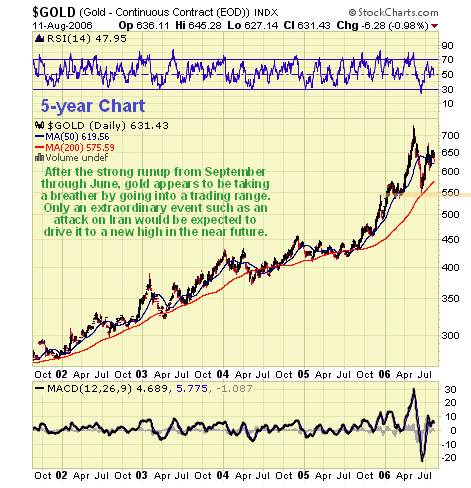 Silver
After a period of gold outperforming silver, the tables have turned and in recent weeks silver has been outperforming gold. Both weakened late last week and look set to react, but whereas gold looks set to react to a support level, silver looks set to react to the lower boundary of an uptrend channel drawn from the June low.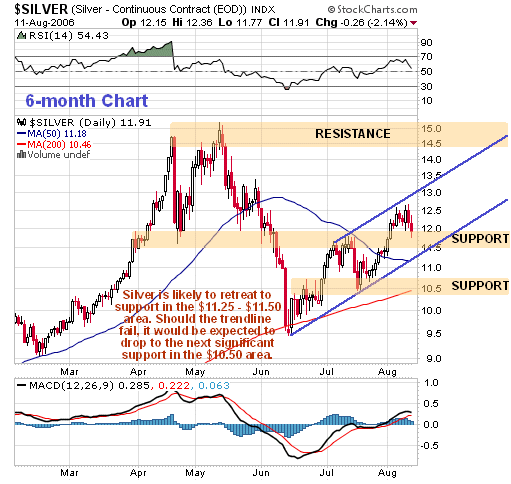 On the 6-month chart we can see how the recent rally took the price further into overhead resistance in the area of the April-May intermediate top, before it started to roll over late last week. Now it looks set to retreat back to support at the lower channel boundary shown on the chart, which is currently at about $11.25. As with gold, there is a chance that a lengthier period of consolidation will occur, which in gold's case would result in it breaking down from its prospective triangle that would morph into a Rectangular pattern, and in silver's case would mean a failure of the trendline and a further drop probably to support in the $10.50 area, close to the 200-day moving average.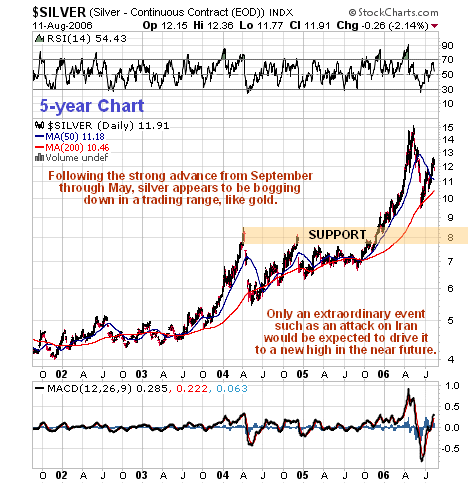 The longer-term 5-year chart presents a similar picture to gold - a market that ran up quickly, and is now taking a breather.
08/13/06
Clive Maund
email: support@clivemaund.com
website: www.clivemaund.com
Clive Maund is an English technical analyst, holding a diploma from the Society of Technical Analysts, Cambridge, England. He lives in Chile.

Visit his subscription website at clivemaund.com. [You can subscribe here].

No responsibility can be accepted for losses that may result as a consequence of trading on the basis of this analysis.
Copyright ©2003-2011 CliveMaund. All Rights Reserved.
Charts courtesy of StockCharts.com.