Trendless gold / Erratic silver
Clive Maund
12 July, 2005
Gold
The big increase in the Commercials' short positions before the last update was expected to lead to a reaction in gold. It did and it was rather fierce, as can be seen on the 1-year chart. Following the reaction the price has stabilized in the mid-$420's and the overall picture, on an intermediate or medium-term basis, remains one of a trendless market, although this situation is not expected to persist for much longer. The long-term trend remains up, with the market believed to be consolidating above important support prior to a new upleg.
The current neutral pattern is clearly visible on the 1-year chart, on which the triangle boundaries have been opened out due to the continuing state of indecision in the market. The old triangle boundaries are shown as dotted lines, as these may still have validity, especially if we see more whipsaw action in the near future.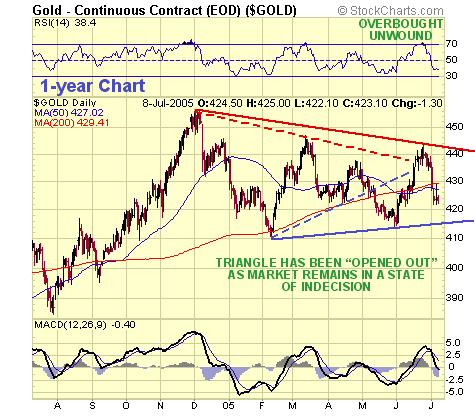 On the long-term 5-year gold chart we see that the price has broken its long-term uptrend, but only marginally. This chart continues to look favourable as the price is in the vicinity of the still rising 200-day moving average, and not far above a zone of important support.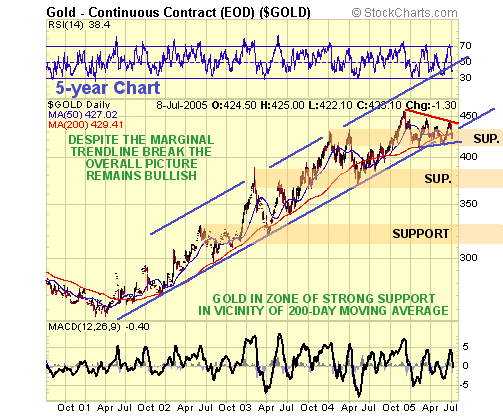 The dollar remains in an uptrend, despite today's dip, but is overbought and in a zone of substantial resistance.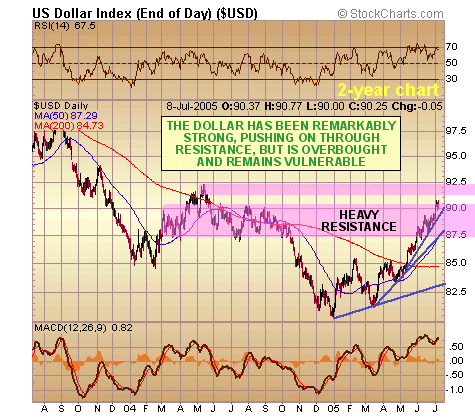 The COT chart for gold shows that the Commercial's short positions have dropped from their recent peak, but not by enough to inspire much confidence over the short-term. Of course, we need to keep in mind that these COT charts only include data up to last Tuesday's close, which means that we don't know what happened after last Tuesday - the Commercials could have covered more aggressively.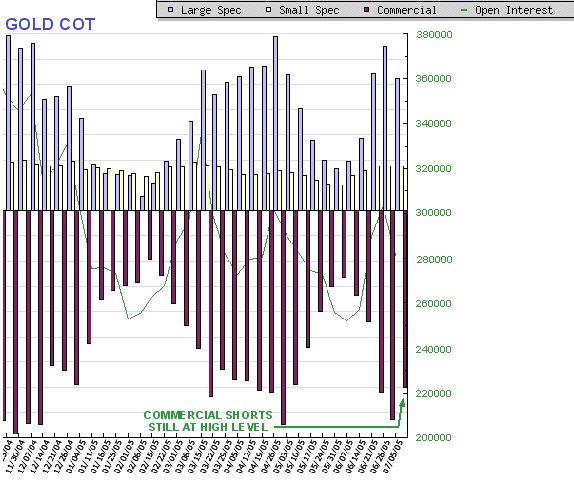 Silver
There is strong circumstantial evidence - furnished by a number of very bullish silver stock charts - that silver is eventually going to break substantially higher, despite the current whipsaw action, which was predicted in the last update.
On the 2-year chart we see that silver broke down marginally from its long-term uptrend late in June, but has, so far at least, found support at the important $6.80 level. As pointed out in the last update, because of the late breakout from the large triangle formation, erratic action is to be expected in the near-term, and short-term traders should trim positions accordingly as overbought or oversold conditions develop.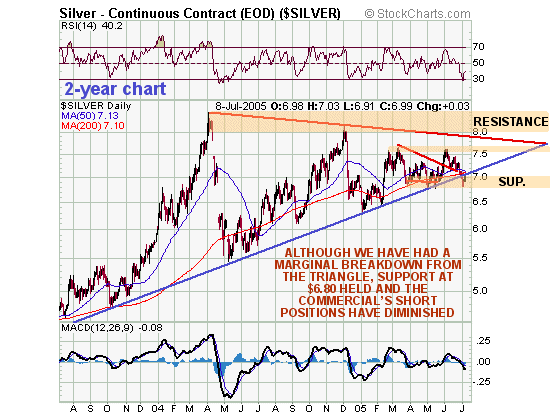 The 6-month chart shows recent action in more detail, in particular the late June breakdown, which was considered probable in the last update, due to the high Commercial short position. In that update it was stated that key support at $6.80 needed to hold, it has, so far, and is currently generating a bounce. An encouraging development at this time is the significant reduction in the Commercials' short position, shown further down the page.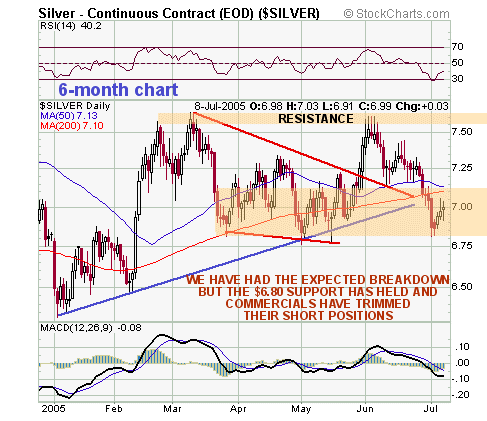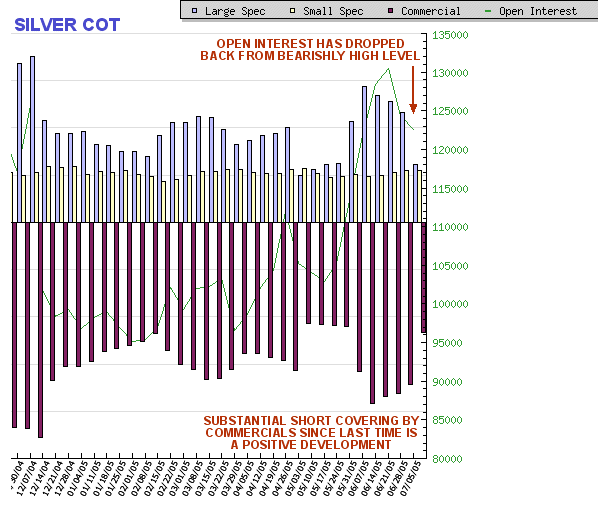 Until the price succeeds in breaking well clear of the large triangle shown on the 2-year chart and establishing a definite trend, we can expect to see erratic behaviour, as whether it likes it or not, it will soon be forced to leave behind the "security blanket" of its large triangular trading range. Downside is believed to be limited, because silver is cheap in inflation adjusted terms, while upside is relatively unlimited. A break above the resistance around last years' highs in the $8 - $8.30 area will be a major technical event that should usher in a vigorous uptrend. As pointed out at the top, this is what a number of silver stocks are indicating is going to happen.
11 Jul, 2005
Clive Maund
email: support@clivemaund.com
website: www.clivemaund.com
Clive Maund is an English technical analyst, holding a diploma from the Society of Technical Analysts, Cambridge, England. He lives in Chile.

Visit his subscription website at clivemaund.com. [You can subscribe here].

No responsibility can be accepted for losses that may result as a consequence of trading on the basis of this analysis.
Copyright ©2003-2011 CliveMaund. All Rights Reserved.
Charts courtesy of StockCharts.com.