A party aboard the Titanic
Clive Maund
1 June, 2005
Yesterday was a very interesting day. The dollar appeared to break out above the resistance of no less than 3 concurrent restraining trendlines, evidently celebrating the European ship being "holed below the water line" by the French "non" vote, but to this writer yesterday's action is more akin to a "party aboard the Titanic."
The dramatic throw over breakout by the dollar was flagged as a possibility in Monday's Gold Market update. It is strongly suspected that this may be a final climactic "blow off" by the dollar, and if it is, then this is the last chance to load up with Precious Metal stocks before a substantial advance gets going.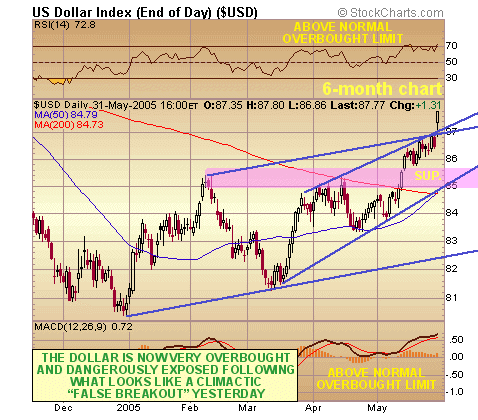 There are many persuasive reasons to believe that the dollar is at the end of its rope. Yesterday's sharp rise comes after a substantial advance over the past several weeks that has resulted in a substantially overbought condition in an area of heavy resistance, meaning that the dollar is now very vulnerable to a rapid reversal. The gold market doesn't buy yesterday's big move. Although gold fell significantly intraday, it closed with a comparatively minor loss, comfortably held a downtrend line, and formed a bullish "hammer" candlestick, suggesting that yesterday could well be the final low. Furthermore, there is an unprecedented large "Commercial" short position in the dollar now, and, as the commercials have a consistent track record of being right, this is regarded as the "kiss of death" for the dollar.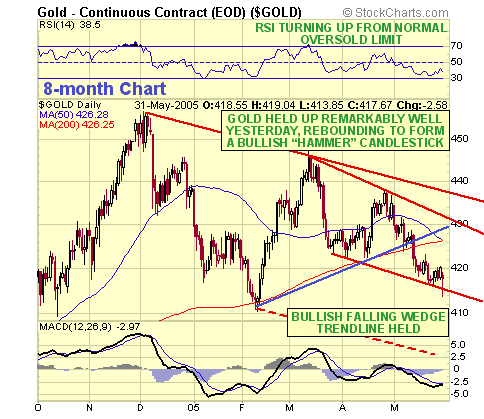 In the article "Silver - situation becoming EXPLOSIVE" posted on www.clivemaund.com on the 27th May, it was stated that "Due to a possible acute supply crisis we may be in a situation where silver decouples from gold and goes on a tear." Silver ignored the big rise in the dollar yesterday and continued to make good gains, and looks set to run to $8 very quickly.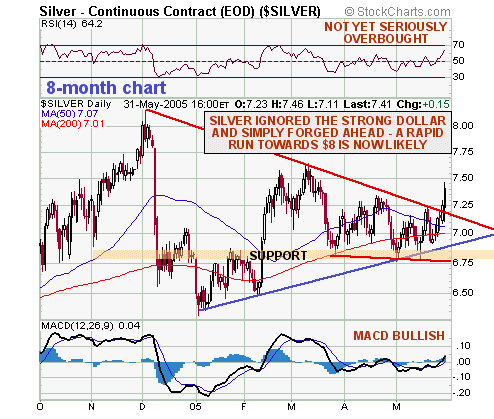 The conclusion is that what appears to be a further threat to Precious Metals stocks is, in reality, a great opportunity masked by danger. Gold stocks are already signalling that they have bottomed and silver stocks are already forging ahead.
A blanket "buy alert" was issued for silver stocks across the board, just as the big advance in silver stocks began, in the "Silver - situation becoming EXPLOSIVE" article posted last week on www.clivemaund.com and now it's gold's turn, so we will be highlighting better opportunities in gold stocks on the site in coming days.
1 June, 2005
Clive Maund
email: support@clivemaund.com
website: www.clivemaund.com
Clive Maund is an English technical analyst, holding a diploma from the Society of Technical Analysts, Cambridge, England. He lives in Chile.

Visit his subscription website at clivemaund.com. [You can subscribe here].

No responsibility can be accepted for losses that may result as a consequence of trading on the basis of this analysis.
Copyright ©2003-2011 CliveMaund. All Rights Reserved.
Charts courtesy of StockCharts.com.