Gold and Silver Market Updates
Clive Maund
May 11, 2006
Gold
Gold was little affected by the plunge in silver in mid-April, and after a period of consolidation it has continued to advance in a steady and steep uptrend, and it is no coincidence that the dollar has plunged during the same period.
On the 6-month chart we can see how this strong advance has taken gold right up to the $700 area. Gold was little affected by the plunge in silver in mid-April, and after a brief period of consolidation, its advance resumed. On this chart we can also see that gold is now very overbought relative to its moving averages and is showing a new overbought extreme on its MACD indicator.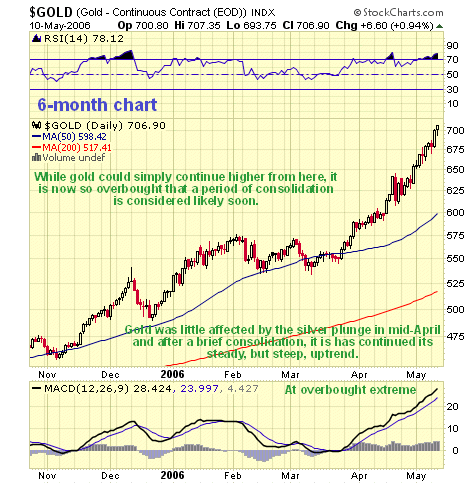 The extreme overbought condition of gold is thrown into sharp relief by the 5-year chart. However, given the unusually bullish set of circumstances that gold now enjoys, this doesn't mean that it is likely to react back all that much. The most likely scenario is that it will enter a period of consolidation soon, perhaps after some further continuation of the current advance, which may become even more steep before its done. A serious reaction is considered unlikely.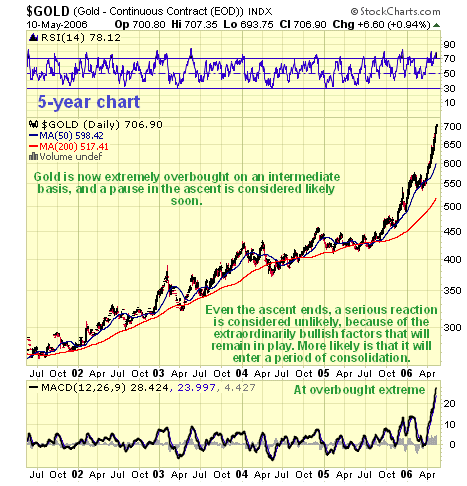 One of the more surprising developments of the past couple of weeks is the extreme weakness of the dollar. While the steep drop was anticipated, it was expected to find at least temporary relief at the important 86 support level on the index, which was expected to generate a bounce, and this would have been a good point for gold to take a breather. But it broke down below the 86 level as if it wasn't there. While a dollar bounce is on the cards soon, as it is in a zone of significant support, the easy failure of the 86 support level is a bearish omen for the dollar.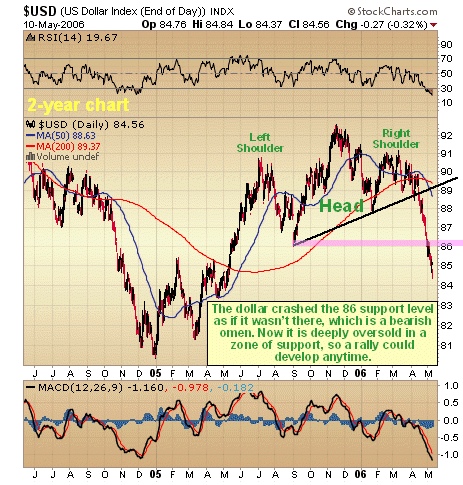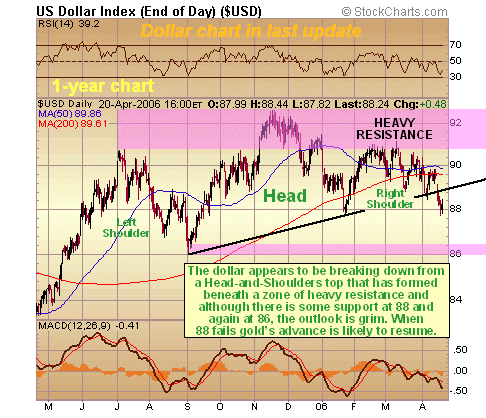 Should any readers be concerned that Bernanke and his team will get carpeted and possibly fired for the rotten performance of the dollar, there is no need to worry - they will probably get the "Gold Star of Merit" or whatever it's called for trashing the currency and thus defrauding the foreign suckers who are bankrolling the US economy out of a sizeable proportion of their dues. This is, of course, a process that is expected to continue.
Before closing it is worth emphasising that even when gold equals its 1979 highs in the $840 area, the parity is only superficial. To equal the 1979 highs in real terms, taking into account all the inflation since that time, gold will have to reach $2,000 an ounce. Think that's high? - the conditions and circumstances driving the current bull market in gold are far more powerful and broad reaching than those that prevailed in the 1970's, and thus it is perfectly reasonable to expect gold to attain levels far in excess of its 1979 highs - in real terms, taking into account all the inflation since that time.
Silver
Silver is at a critical juncture having succeeded in recouping all of the losses incurred as a result of the violent mid-April plunge, as it is now a whisker below the important resistance at this high. It remains very overbought on an intermediate basis, so the question is whether it will now consolidate/correct, or break higher again.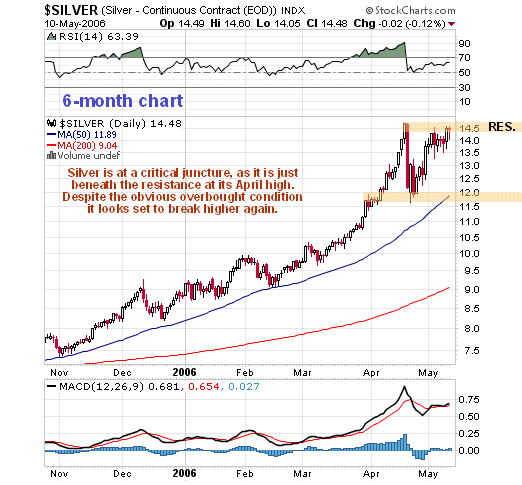 On the 6-month chart we can see this situation in detail. After silver recovered back towards the April high early this month, it started to roll over beneath the resistance and look like it was going to drop again, but it has held its ground and continued to test the resistance, absorbing supply at this level, and now looks poised to break higher again.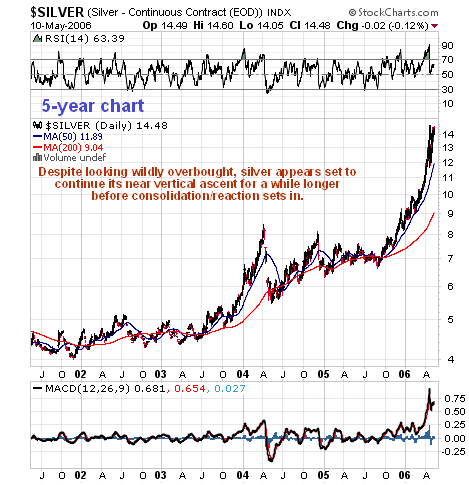 In strong support of the view that silver will break higher again are several key factors. The first is the continuing strength in gold, which is ignoring the sideways action in silver and continuing to forge ahead. The second is that the COT chart shown below reveals something extraordinary - the Commercials have reduced their short positions over the past couple of weeks as the price has rallied, which is the opposite of their normal behaviour. This is a potent bullish factor suggesting that silver will break higher. The third positive factor is that the silver lease rate shown further down the page has also turned strongly higher again indicating that the physical supply squeeze is set to continue.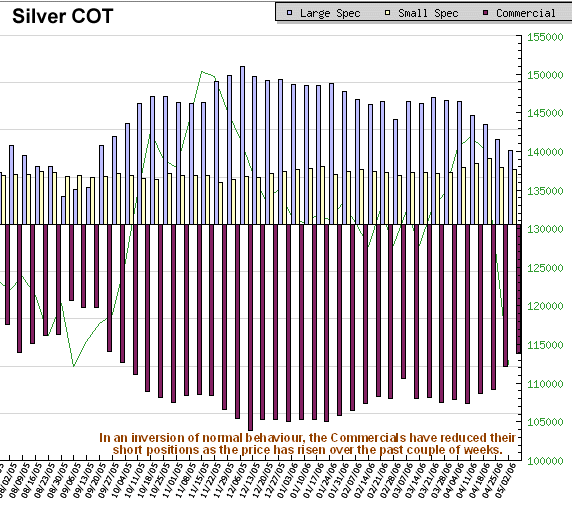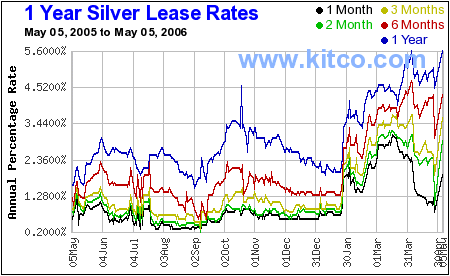 So there you have it - the silver superspike looks set to continue, especially as gold appears to be limbering up for a superspike of its own.
May 11, 2006
Clive Maund
email: support@clivemaund.com
website: www.clivemaund.com
Clive Maund is an English technical analyst, holding a diploma from the Society of Technical Analysts, Cambridge, England. He lives in Chile.

Visit his subscription website at clivemaund.com. [You can subscribe here].

No responsibility can be accepted for losses that may result as a consequence of trading on the basis of this analysis.
Copyright ©2003-2011 CliveMaund. All Rights Reserved.
Charts courtesy of StockCharts.com.