Gold and Silver updates
Clive Maund
11 April, 2005
Gold
We have witnessed the dollar make the limited rally considered probable in the last update, and now it is looking vulnerable to renewed decline. Gold did decline in response, but not by much. We can see the dollar still looking overbought on a short to medium-term basis on the 6-month chart - but more importantly it is rounding over beneath the falling 200-day moving average, which is typically where countertrend rallies run into trouble.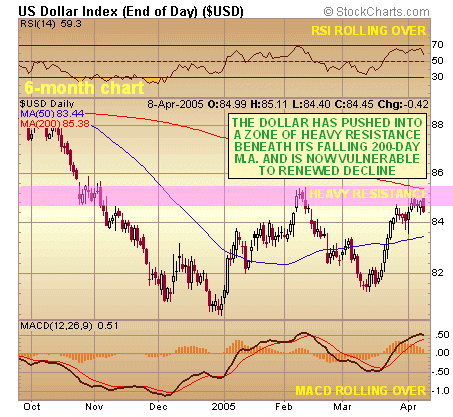 Zooming out to a 4-year chart we can observe two more bearish factors coming into play. The dollar has rallied back to the vicinity of its long-term downtrend and also to the underside of an important resistance level. All these factors combined make renewed decline from around the current level very likely in the near future.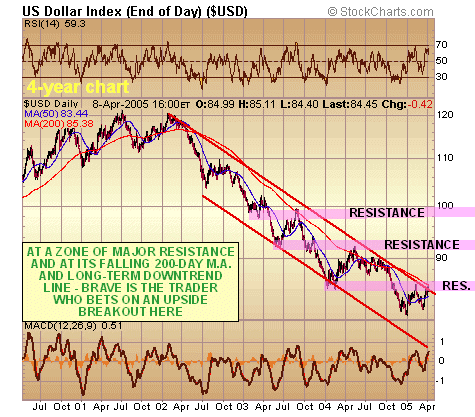 We are focusing on the dollar in this Gold Market update, as gold is now trading in a tight range, and its next move will likely be determined by the direction of the dollar.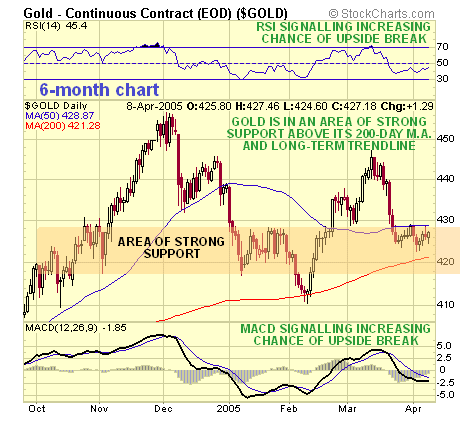 Gold has been riding above important support in the low $420's just above its 200-day moving average for over two weeks now, and given the still bullish configuration of the moving averages is clearly well positioned to rally from this point. If the dollar does stumble here then it will trigger a new gold uptrend. Note the RSI and MACD indicators turning up on the 6-month gold chart, with the MACD indicator close to rising above its moving average, greatly increasing the chances of a new uptrend in the near future.
Silver
Silver is in position to rally sharply from here, and will do so if the dollar does what's expected of it, and goes into retreat from here. The reasons for renewed dollar decline are set out above in the Gold Market update.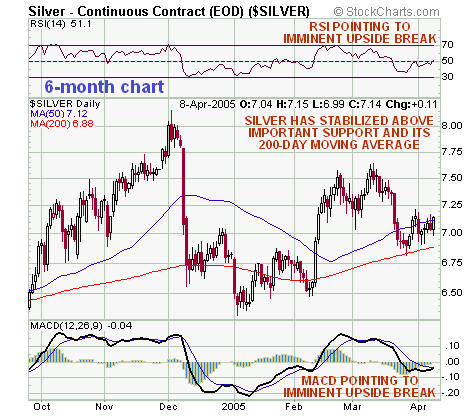 Looking at the 6-month silver chart we see that the price has stabilized in the vicinity of its bullishly-aligned moving averages over the past two to three weeks, and above the support of its 200-day moving average. The RSI and MACD indicators are now picking up, with the latter about to rise through its moving average. Any dollar weakness now is expected to trigger an upside breakout, which is considered probable within the next few days.
Clive Maund
email: support@clivemaund.com
website: www.clivemaund.com
Clive Maund is an English technical analyst, holding a diploma from the Society of Technical Analysts, Cambridge, England. He lives in Chile.

Visit his subscription website at clivemaund.com. [You can subscribe here].

No responsibility can be accepted for losses that may result as a consequence of trading on the basis of this analysis.
Copyright ©2003-2011 CliveMaund. All Rights Reserved.
Charts courtesy of StockCharts.com.