Gold/Silver Market Updates
Clive Maund
Mar 10, 2008
Gold
In the update last weekend we were looking for a correction back across the trend channel shown on the 1-year chart below, probably to the $910 area. In the week that has followed gold has churned beneath the resistance at its inner uptrend channel return line, remaining substantially overbought. In the meantime the dollar has fallen further to hit our downside target, in the process becoming critically oversold, thus setting the stage for a snapback rally.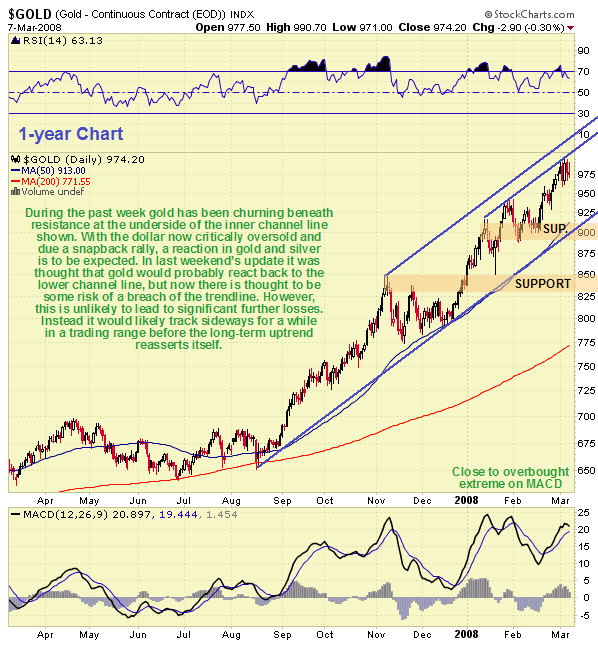 With the dollar looking set to rally and silver much more severely overbought than gold and vulnerable to a sharp selloff, gold still looks vulnerable to a reaction, and it is now thought that there is some chance of it breaking down from the uptrend channel shown. However if this happens it is considered unlikely that it will drop much - instead it would probably track sideways for a while consolidating before the long-term uptrend reasserts itself.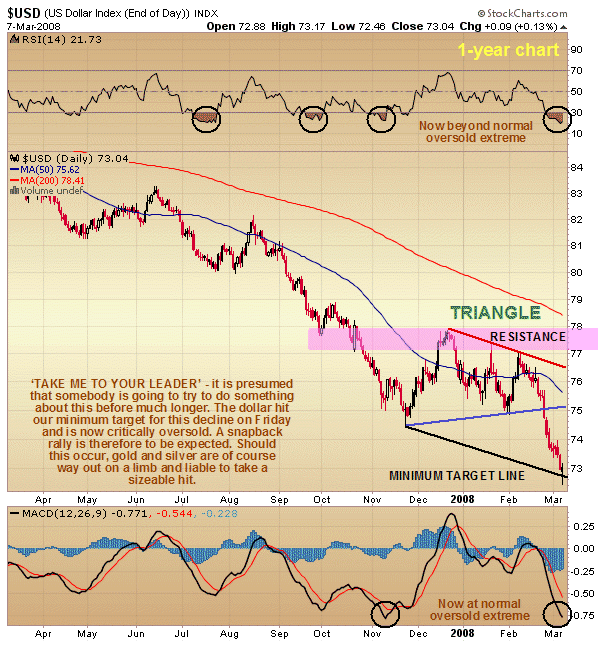 The longer-term outlook remains bullish.
Silver
The update last weekend warned of the danger of a severe reaction as silver had become critically overbought. An interesting week has followed with "trench warfare" setting in between the late arrivals at the party and those selling with massive profits. The result was that silver edged higher, churning, and marking out a potential short to medium-term top area. Meanwhile, the dollar continued to drop to even lower levels during the week, hitting our downside target on Friday, and in the process becoming critically oversold, thus setting the stage for a snapback rally.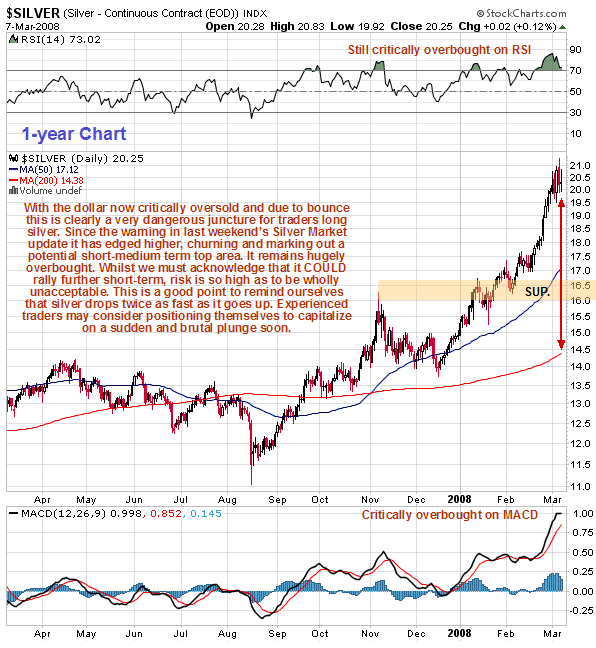 Silver remains critically overbought and whilst we must acknowledge that it COULD make further progress, downside risk at this juncture is viewed as wholly unacceptable, especially in view of the now high chance of a dollar rally. Those traders who have not already done so should take profits without delay. It is important to keep in mind that silver has a tendency to drop twice as fast as it goes up - and you have seen how fast it has gone up in recent weeks. This is a good point at which traders with the appropriate level of experience may wish to consider shorting it for rapid and substantial gains.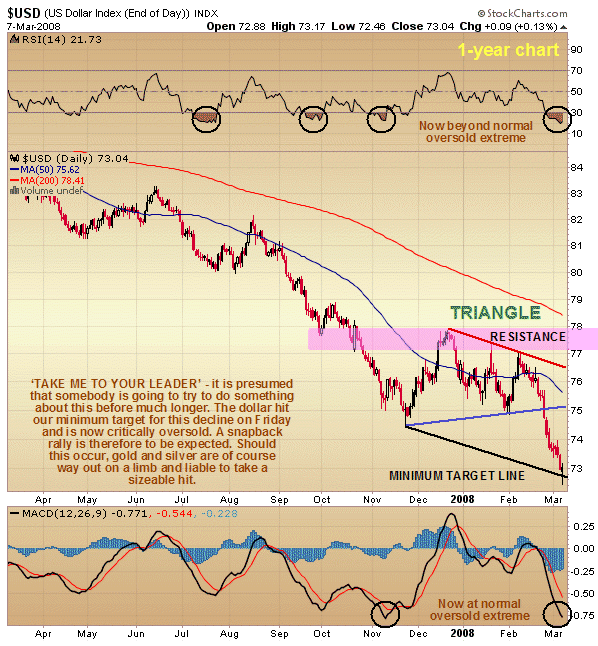 The longer-term outlook for silver remains very bullish with our first target at $30.
Mar 9, 2008
Clive Maund
email: support@clivemaund.com
website: www.clivemaund.com
Clive Maund is an English technical analyst, holding a diploma from the Society of Technical Analysts, Cambridge, England. He lives in Chile.

Visit his subscription website at clivemaund.com. [You can subscribe here].

No responsibility can be accepted for losses that may result as a consequence of trading on the basis of this analysis.
Copyright ©2003-2011 CliveMaund. All Rights Reserved.
Charts courtesy of StockCharts.com.