Gold and Silver Market Updates
Clive Maund
Feb 26, 2007
Gold
Gold has gone and done it - after first breaking out upside from its 3-arc Fan Correction in January, a major positive technical development - celebrated in the article Gold powering up for major uptrend SECTORWIDE BUY ALERT - last week it smashed through the ceiling of resistance at and towards $680, with subsequent solid action confirming that this was a genuine breakout. In the Gold Market update of 23rd January it was stated:
"The situation is now very finely balanced with an army of traders either sat on the fence, or, depending on which way it breaks, on the wrong side of the trade. When it does break out - and it is beginning to look like it will be to the upside, there will be a stampede and an upside breakout from here could thus easily involve a $20 - $30 up day for gold."
As you all know, that is exactly what we saw last week.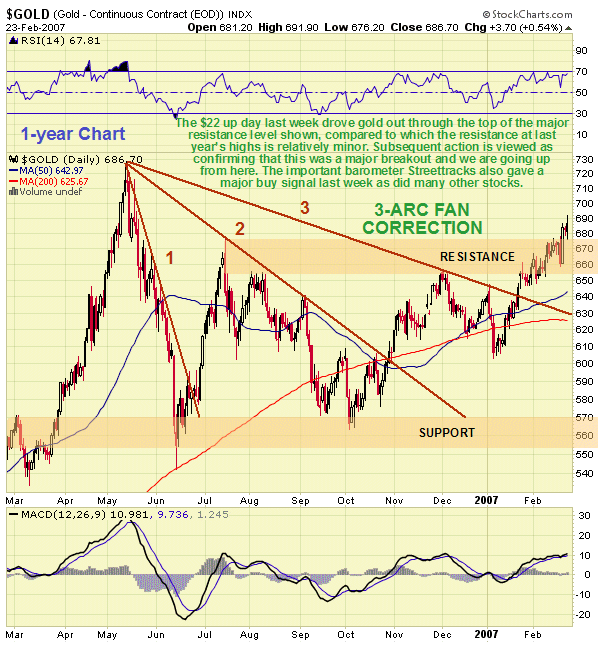 Many gold stocks are confirming the gold breakout. Of particular note is Streettracks, which is now in position for a powerful uptrend, and is the subject of an update on the site.
So, we are looking very good here. The prospect now is for the uptrend to gather pace. The first stop will be the resistance at last year's high, which it is worth noting is nowhere near as significant as the resistance level that has just fallen. Thus, although gold is likely to pause/react when it gets to $730, it shouldn't be held in check for too long before the uptrend reasserts itself and it breaks out and advances to substantially higher levels.
Silver
Although silver did not stage such an obviously important breakout as gold last week, it did nevertheless rise in tandem, and succeeded in breaking out above important resistance at its early December highs, putting it in position for "The Big One", which will be the breakout above last year's highs at about $15.20, which is an objective that silver, with its propensity for big moves could easily achieve in a single day from the current position.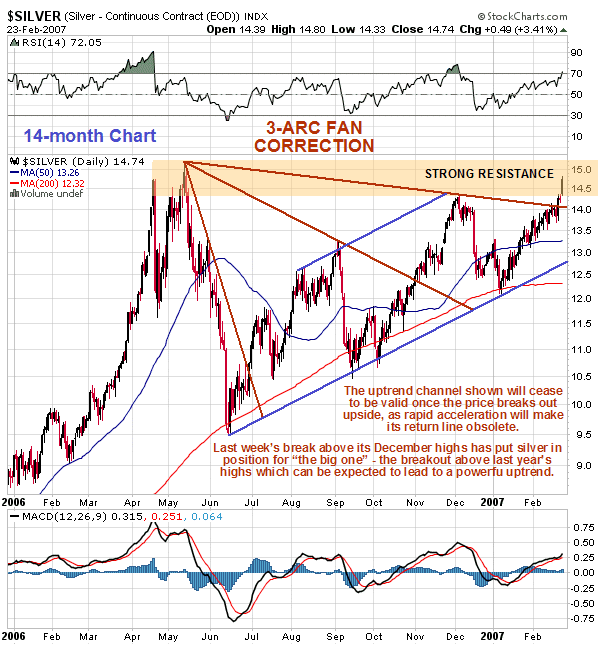 We had earlier looked to delineate a 3-arc Fan Correction in silver to match the one in gold but didn't find a truly satisfactory fit. Now, however, after last week's action, we have it. On the 14-month chart (the time period for which was selected to allow last year's high to be viewed without interference from writing on the chart) we can see how a 3rd fanline drawn from last year's highs across the early December highs is what created the resistance that caused silver to start rolling over the week before last before it suddenly blasted higher in tune with gold last week.
Having broken out above the resistance at the December highs, in the process breaking out above the 3rd fanline of the 3-arc Fan Correction, silver has arrived at the threshold of "The Big One". Silver is now very well placed to stage a breakout above the highs of last year, an event that could well involved a $1 - $1.50 up day, which will mark the start of a powerful uptrend.
Feb 25, 2007
Clive Maund
email: support@clivemaund.com
website: www.clivemaund.com
Clive Maund is an English technical analyst, holding a diploma from the Society of Technical Analysts, Cambridge, England. He lives in Chile.

Visit his subscription website at clivemaund.com. [You can subscribe here].

No responsibility can be accepted for losses that may result as a consequence of trading on the basis of this analysis.
Copyright ©2003-2011 CliveMaund. All Rights Reserved.
Charts courtesy of StockCharts.com.