Commercials on The Ropes
Clive Maund
Feb 21, 2007
Some people thought I was mad posting a GOLD and SILVER BREAKOUT ALERT on www.clivemaund.com on the 19th, what with the Commercials being so heavily short gold, and with yesterday's action I began to wonder myself, which is why it didn't get posted on public websites on the 20th as originally planned. The reason for posting that breakout alert was that a rare technical setup exists that actually makes the Commercials' huge short position wildly bullish. This is because we already have a confirmed breakout by gold from its giant 3-arc Fan Correction, as described in the latest Gold Market update, and gold has already absorbed a lot of the overhanging supply in the $660 - $680 zone, and thus a continuation of strong physical demand has very quickly pushed the Commercials' backs to the wall - they can't print gold - there is only one avenue left open to them - cover their short positions or face annihilation.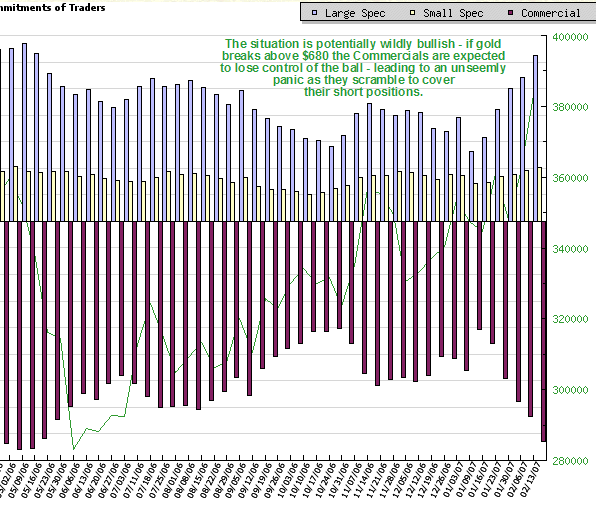 At the time of writing gold has been temporarily capped again at the critical $680 level, but the strength of today's advance, with gold up over $20 in the space of a few hours, provides ample illustration of the disarray in the Commercials' ranks. Put yourself in their position, would you be willing to put your head on the block to save your compatriots from a wipeout? - probably not. It will be a case of every man for himself and so we may witness - are already beginning to witness - the rare spectacle of the Commercials in a state of blind panic.
The sudden $22 rise in gold today is believed to be the result of the onset of an unseemly scramble by the Commercials to cover their short positions. It's anyone's guess what will happen when the key $680 level is decisively overcome - all hell could break loose.
It could quite closely resemble the scene when someone yells "fire!" in a crowded theatre.
Feb 21, 2007
Clive Maund
email: support@clivemaund.com
website: www.clivemaund.com
Clive Maund is an English technical analyst, holding a diploma from the Society of Technical Analysts, Cambridge, England. He lives in Chile.

Visit his subscription website at clivemaund.com. [You can subscribe here].

No responsibility can be accepted for losses that may result as a consequence of trading on the basis of this analysis.
Copyright ©2003-2011 CliveMaund. All Rights Reserved.
Charts courtesy of StockCharts.com.