Ron Paul: The Candidate that Laid the Golden Egg
Kal Kotecha
Posted Feb 10, 2012
There is still a chance for Americans to stem the inexorable push "To Narnia!", as exhorted by fake Presidential candidate and comedian, Stephen Colbert. As humourous as it may be that Colbert trumped a candidate in a GOP Presidential nomination poll in South Carolina (nailing 5% of the votes to Jon Huntsman's 4%), it's a sobering footnote in the race for the 2012 Republican presidential nomination.
Sobering footnotes riddle America. America's national debt increases an average of $3.96 billion per day. And, as economic Armageddon ravages America, the Presidential race is rife with candidates completely clueless about basic economics.
Who will staunch the bleeding of America – and how?
The lone GOP candidate to grasp the immensity and complexity of monetary policy is the 11-term Congressman from The Lone Star state – Dr. Ron Paul. He's seen blood before – first as a flight surgeon in the U.S. air force; then as a Texas obstetrician delivering 4,000 babies; and, more recently, as a politician.
Paul supports an audit - then a cut - of the Federal Reserve System, believing it should be abolished. Typifying The Fed as counterfeiters, he has been vociferous about the "power and authority by Congress to create money out of thin air". In February 2009, he introduced a bill to audit the Federal Reserve, opining that the "financial system is very friable, very vulnerable….and that it was the Fed that was creating the bubbles". Believing that Americans have long been boondoggled by an increasingly corrupt Congress (the chicken that laid The Fed egg), Paul admitted that, as a Congressman, he can find out more about the CIA than the Federal Reserve System. Smell that rotten egg.
It's time to cut the cozy "symbiosis between Congress and the Fed". While speaking about the Federal Reserve, Paul noted that "not a lot of American people understand it and not a lot of people here in Congress understand it either" and "even members of the banking committee have come up to me and said you mean our dollar isn't backed by gold anymore"?
Long advocating that gold is "the surest path back to sound money", Paul eschews the fiat monetary system of money, staunchly supporting the gold standard which will tighten up the printing of ridiculous sums of currency and keep in check the powers that are responsible in doing so. This would also be bullish for gold as the reserve would have to back at least part of the currency with gold sending the price of the precious metal northward.
In his 1981 book (re-released in 2007) "Gold, Peace and Prosperity: The Birth of a New Currency", Paul wrote "The gold coin standard, although imperfectly adhered to, permitted startling economic growth combined with falling prices in the 19th century. In the 67 years since the abolition of the gold standard, the Consumer Price Index has gone up 625 percent. In the previous 67 years, under an imperfect gold coin standard, the CPI increased 10 percent".
But, does Ron Paul put his money where his mouth is?
As reported in the Wall Street Journal on December 21, 2011:
According to data available through his 2010 "Form A" financial disclosure statement, filed last May, Rep. Paul's portfolio is valued between $2.44 million and $5.46 million. (Congressional disclosures are given in ranges, not precise amounts.)

Most members of Congress, like many Americans, hold some real estate, a few bonds or bond mutual funds, some individual stocks and a bundle of stock funds. Give or take a few percentage points, a typical Congressional portfolio might have 10% in cash, 10% in bonds or bond funds, 20% in real estate, and 60% in stocks or stock funds.

But Ron Paul's portfolio isn't merely different. It's shockingly different.

Yes, about 21% of Rep. Paul's holdings are in real estate and roughly 14% in cash. But he owns no bonds or bond funds and has only 0.1% in stock funds. Furthermore, the stock funds that Rep. Paul does own are all "short," or make bets against, U.S. stocks. One is a "double inverse" fund that, on a daily basis, goes up twice as much as its stock benchmark goes down.

The remainder of Rep. Paul's portfolio – fully 64% of his assets – is entirely in gold and silver mining stocks. He owns no Apple, no ExxonMobil, no Procter & Gamble, no General Electric, no Johnson & Johnson, not even a diversified mutual fund that holds a broad basket of stocks. Rep. Paul doesn't own stock in any major companies at all except big precious-metals stocks like Barrick Gold, Goldcorp and Newmont Mining.

Rep. Paul also owns 23 other miners – many of them smaller, Canadian-based "juniors" whose stocks are highly risky. Ten of these stocks have total market valuations of less than $500 million, a common definition of a "microcap" stock. Mr. Paul has between $100,010 and $326,000 (roughly 5% of his assets) invested in these tiny, extremely volatile stocks.

Rep. Paul appears to be a strict buy-and-hold investor who rarely trades; he has held many of his mining stocks since at least 2002.
If there was ever a time to raise the (gold) standard in American political history, this is it. Our support goes to the lone golden candidate – Ron Paul.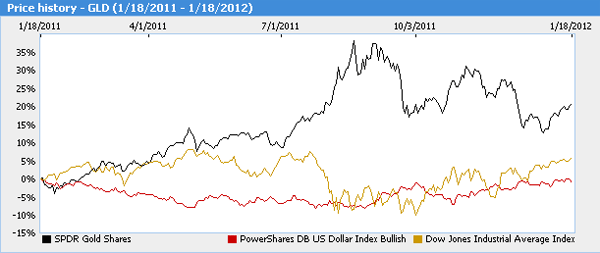 Source: Emerging Money
Recent US Federal Debt Numbers
| | | |
| --- | --- | --- |
| | Gross Federal Debt | Debt Held by Public |
| FY 2012 | $16.7 trillion | $10.8 trillion |
| FY 2011 | $15.5 trillion | $9.9 trillion |
| FY 2010 | $13.5 trillion | $8.2 trillion |
| FY 2009 | $11.9 trillion | $6.8 trillion |
| FY 2008 | $10.0 trillion | $5.3 trillion |
Gross Federal Debt is the total debt owed by the United States federal government. It comprises "debt held by the public" and "debt held by federal government accounts," such as IOUs owed to the Social Security trust fund. "Debt held by the public" includes debt actually held by the public and foreign governments, and also debt held by the Federal Reserve System, i.e., monetized as part of the monetary base.
Source: US Government Debt
###
Bibliography
Barker, Christopher; The Motley Fool., "Lifting Gold's Veil of Secrecy." The Motley Fool 2012. Retrieved January 13, 2012 from The Motley Fool
Buchanan, Patrick; EurasiaReview., "Patrick Buchanan: Ron Paul The True Believer – OpEd." Eurasia Review. Deluxe Indomagz by Eurasia Review 2012. Retrieved January 13, 2012 from Eurasia Review
Good, Chris; The Atlantic,. "Ron Paul Owns Millions in Gold Interests." National Journal. Atlantic Media, Inc. 2011. Retrieved January 16, 2012 from HighBeam Research
Hall, Ed; Brillig.com,. "US National Debt Clock." Brillig.com 2012. Retrieved January 18, 2012
Li, Hao; IB Times., "Ron Paul Booed for Advocating the Golden Rule." IB Times. International Business Times 2011. Retrieved January 17, 2012 from IB Times
Newport, Frank; Gallup., "Americans' Economic Worries: Jobs, Debt, and Politicians." Gallup. Gallup, Inc. 2012. Retrieved January 17, 2012 from Gallup
Shahid, Aliyah; Daily News., "Stephen Colbert: I'm the reason why Jon Huntsman dropped out of the Republican presidential race." NY Daily News. NYDailyNews.com 2012. Retrieved January 18, 2012
"The Ron Paul Portfolio". The Wall Street Journal. Dow Jones & Company 2008. Retrieved January 19, 2012 from the Wall Street Journal
Yates, Jonathan; Emerging Money., "Ron Paul hates the Federal Reserve but loves gold (GLD, XOM, USO)." Emerging Money 2012. Retrieved January 18, 2012 from Emerging Money
Zinoman, Jason; The New York Times,. "Beneath a Deeply Silly Campaign, a Deeply Serious Performer." The New York Times. The New York Times Company 2012. Retrieved January 14, 2012 from The New York Times
###
Kal Kotecha
Editor of the Junior Gold Report
email: kkotecha@rogers.com
website: www.juniorgoldreport.com
Junior Gold Report www.juniorgoldreport is a website dedicated to informing the public about gold, silver, and metal companies. For Junior Gold Reports FREE newsletter, please visit the website.
Kal Kotecha MBA is the editor and founder of the Junior Gold Report, a publication about small cap mining stocks that is read and enjoyed by thousands of investors. He was the editor and creator of the Moly/Gold Report, which focused on critical analyses and open journalism of companies profiting from the precious metals sector. The scope of his current activities include worldwide onsite analyses and reporting of developing companies. Kal has previously held leadership positions with many junior mining companies.