CHARTWORKS - DEC 20, 2011
Gold – A Timely Lift from an Oversold Condition
Technical observations of RossClark@shaw.ca
Bob Hoye
Institutional Advisors
Posted Dec 23, 2011
Written Dec 20, 2011
All our models called for a low in gold last week. The straddling of the 55-day Bollinger Band, break of the 144-day moving average and violation of the September 28th closing low matched the models we have been tracking. Where to now? The magnitude and sustainability of the next rally should establish the outlook for next six months.
Based upon the placement of the high Silver/Gold ratio in April, the October 1974 model allows for a rally to $2000 by the end of January.

The second scenario (similar to 2004) calls for a rally into the second half of February, approaching the all-time high.

The 1998 T-Bond model, calls for a high around January 5th, coupled with a test of the 21-day Bollinger Band; currently $1798, but likely to converge at a level closer to $1740.

The final model is that of April 1975, calling for the market to be capped at $1700 through the end of January.
Reminiscent of the silver rally of February to April 2011, we need to keep an eye on key supports and retracements that are allowable during the rally phase of the move while we await potential topping signals. For now, the maximum retracement that is allowable is 62% ($1584) from the December 14th low.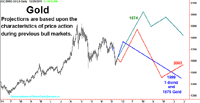 The upside reversal of the equities and commodities in the past week coincides with the top in the U.S. Dollar Index. Look for the Dollar to drop back to the higher of the 34-day Bollinger Band (now 76.29) or the 89-day exponential moving average (now 77.55) into the middle of January.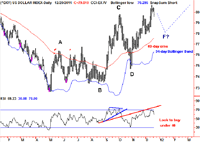 ###
Bob Hoye
Institutional Advisors
email: bobhoye@institutionaladvisors.com
website: www.institutionaladvisors.com
Hoye Archives
The opinions in this report are solely those of the author. The information herein was obtained from various sources; however we do not guarantee its accuracy or completeness. This research report is prepared for general circulation and is circulated for general information only. It does not have regard to the specific investment objectives, financial situation and the particular needs of any specific person who may receive this report. Investors should seek financial advice regarding the appropriateness of investing in any securities or investment strategies discussed or recommended in this report and should understand that statements regarding future prospects may not be realized.

Investors should note that income from such securities, if any, may fluctuate and that each security's price or value may rise or fall. Accordingly, investors may receive back less than originally invested. Past performance is not necessarily a guide to future performance. Neither the information nor any opinion expressed constitutes an offer to buy or sell any securities or options or futures contracts. Foreign currency rates of exchange may adversely affect the value, price or income of any security or related investment mentioned in this report. In addition, investors in securities such as ADRs, whose values are influenced by the currency of the underlying security, effectively assume currency risk. Moreover, from time to time, members of the Institutional Advisors team may be long or short positions discussed in our publications.

321gold Ltd