PIVOTAL EVENTS - DECEMBER 13, 2006
Comments for Metal Producers
Bob Hoye
Institutional Advisors
Posted Dec 15, 2006
Base Metal Prices have been likely to test the May highs on year-end positive vibes.
So far, the high on our index (less nickel) has been 737, set in the first week of the month. This occurred as the hotter metals were attempting to break above recent highs.
Nickel was on its third attempt to get through 35,000. Similarly, zinc was having a third go at 4600. Lead was working on a test of its early November high and, at 1808 on Monday, a record high was set.
The 7% slump in two sessions suggests that the surge was a test and not a breakout.
However, the commodity perma-bulls are adamant and may be able to keep these pigs on a favourable glide path for a few weeks more.
Both producers and investors should be lightening up.
Commodities: As outlined last week, the Goldman Index of Agricultural Prices (GKX) was getting overbought but with a negative divergence.
The high was 277 at the end of the month and it has slipped to 259, where there is some support. Taking out 248 will set an intermediate downtrend.
This would be from a multi-year high and it is worth noting that the widely-followed CRB set its multi-high at 366 in May. The breakdown below the 40- week moving average was in August and the low was 293 in early October.
The rebound made it to 323, which, at .322, is close to a Fibonacci .318 retracement. Along with the ongoing threat of the inverted yield curve, this suggests that the May high was a cyclical peak.
Golds: This sector continues to consolidate the impressive gains out of early October.
Unfortunately, it was mainly a goldbug rally and therefore vulnerable.
The real price is what counts over the long term and our gold/commodities index was likely to set a cyclical low around November and the low was 164 set on October 23.
The initial bounce made it to 188 in mid-November. This needed testing and it has been close to 173 since last week, which seems to be building a base.
More than that, our long-term technical work indicates that a cyclical low has been accomplished.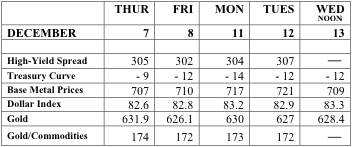 The following chart shows the plunge since January as well as the cyclical low on the Coppock, which reversed on November 3.
We are highly confident that gold's real price is on a new bull market whereby the price could almost double over the next few years.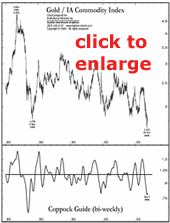 Note the cyclical low in 2000 as that bubble was blowing out.

Something similar is being logged.

The Coppock is designed to determine cyclical lows.
-Bob Hoye
Institutional Advisors
email: bobhoye@institutionaladvisors.com
website: www.institutionaladvisors.com
PIVOTAL EVENTS - DECEMBER 13, 2006
Hoye Archives
The opinions in this report are solely those of the author. The information herein was obtained from various sources; however we do not guarantee its accuracy or completeness. This research report is prepared for general circulation and is circulated for general information only. It does not have regard to the specific investment objectives, financial situation and the particular needs of any specific person who may receive this report. Investors should seek financial advice regarding the appropriateness of investing in any securities or investment strategies discussed or recommended in this report and should understand that statements regarding future prospects may not be realized.

Investors should note that income from such securities, if any, may fluctuate and that each security's price or value may rise or fall. Accordingly, investors may receive back less than originally invested. Past performance is not necessarily a guide to future performance. Neither the information nor any opinion expressed constitutes an offer to buy or sell any securities or options or futures contracts. Foreign currency rates of exchange may adversely affect the value, price or income of any security or related investment mentioned in this report. In addition, investors in securities such as ADRs, whose values are influenced by the currency of the underlying security, effectively assume currency risk. Moreover, from time to time, members of the Institutional Advisors team may be long or short positions discussed in our publications.
321gold