CHARTWORKS - NOVEMBER 10, 2008
Capitulation Followed by Tested Lows
Technical observations of RossClark@shaw.ca
Bob Hoye snippet
Institutional Advisors
Nov 12, 2008
Much has been written about the capitulation in the markets in the past month. Our work uses specific rules to define price capitulation employing two proprietary indices that were designed in the 1990's. The Exhaustion Index requires that a well established trend becomes excessive before triggering an overbought/oversold reading. The Summation Index evaluates shorter term action looking for urgency on the part of investors to buy or sell. When both oscillators trigger an oversold reading it produces a Capitulation Alert. This happened in the equity markets on both a daily and weekly basis October 9th and 10th.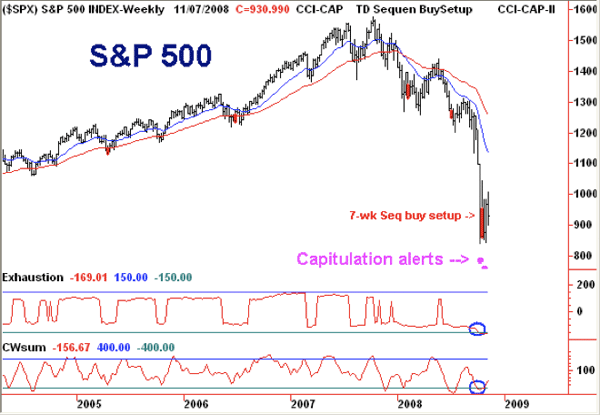 Once capitulation is achieved a market is prone to experience a countertrend rally that tends to be powerful, but short in duration. This was seen on October 13th and 14th as many markets retraced 40% to 50% of the decline from the August highs. (The 21% two-day advance from low to high is only matched by Oct '87, March '33 and Oct '29). However, sustained rallies tend to occur only after markets make successful tests of support. This process seems to be taking place now.
Weekly capitulations in the Dow or S&P 500 are rare. There have only been thirteen occurrences since 1900. The normal action is to see a tested low within four to five and one half weeks. Daily capitulations have occurred twenty-eight times and 80% of these resulted in a tested low after 24 to 30 weekdays. So we are provided with overlapping time windows of Nov 10th to 21st and Nov 13th to 21st for a likely low. If the market stages a premature rally then the low could be delayed until early December.
Nov 10, 2008
-Bob Hoye
Institutional Advisors
email: bobhoye@institutionaladvisors.com
website: www.institutionaladvisors.com
Hoye Archives
The opinions in this report are solely those of the author. The information herein was obtained from various sources; however we do not guarantee its accuracy or completeness. This research report is prepared for general circulation and is circulated for general information only. It does not have regard to the specific investment objectives, financial situation and the particular needs of any specific person who may receive this report. Investors should seek financial advice regarding the appropriateness of investing in any securities or investment strategies discussed or recommended in this report and should understand that statements regarding future prospects may not be realized.

Investors should note that income from such securities, if any, may fluctuate and that each security's price or value may rise or fall. Accordingly, investors may receive back less than originally invested. Past performance is not necessarily a guide to future performance. Neither the information nor any opinion expressed constitutes an offer to buy or sell any securities or options or futures contracts. Foreign currency rates of exchange may adversely affect the value, price or income of any security or related investment mentioned in this report. In addition, investors in securities such as ADRs, whose values are influenced by the currency of the underlying security, effectively assume currency risk. Moreover, from time to time, members of the Institutional Advisors team may be long or short positions discussed in our publications.
321gold Ltd