ChartWorks
Dollar Index, Gold & Gold Shares
Technical observations of RossClark@shaw.ca

Bob Hoye
Institutional Advisors
October 27, 2004
As with the test of speculative spikes in the various hot games, the dollar is now testing the lows of earlier in the year.
.
The decline of 9 consecutive trading days in the dollar index is extreme. This could stabilize, do a little rebound, from which the test of this panic would be critical.
.
The panic low in January was 84.5 and the most recent downside target is 83.6. The action is effectively in the target range.
.
Naturally, gold has been doing the goldbugs' rally.
.
Within this is the interesting action with base metal prices falling in the face of dollar weakness.
Today this has been joined by crude oil and natural gas.
.
The most constructive part of all of this is that gold's real price has been improving. Our gold/commodities index has improved from 199 on October 11 to 215 on Friday (it is up today). With this, our commodity index has slipped from 212 to 198.
.
The chart of the dollar index compared to the model (Cisco) follows.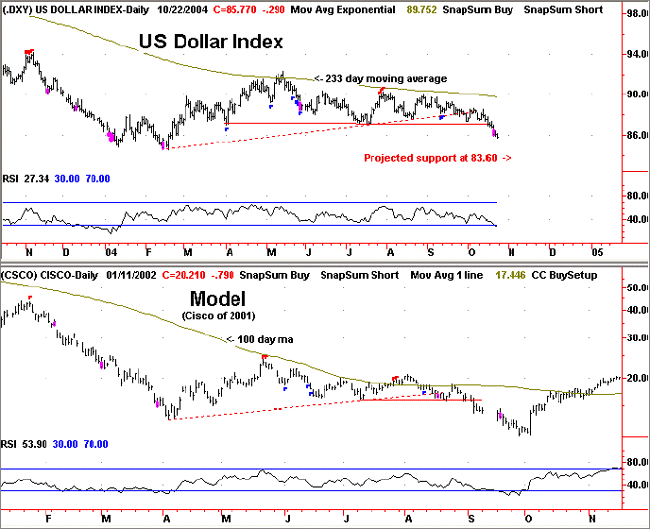 XAU & HUI
Precious metals stocks as represented by the XAU and HUI are starting this week on a better note. Both gold and the indices have managed to surpass the October 8th high.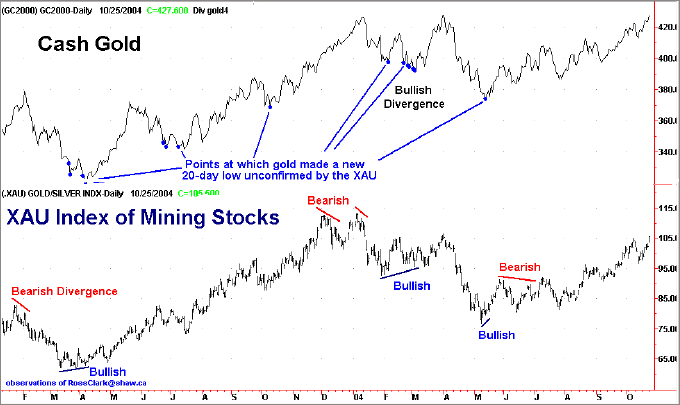 ___________________________________________________________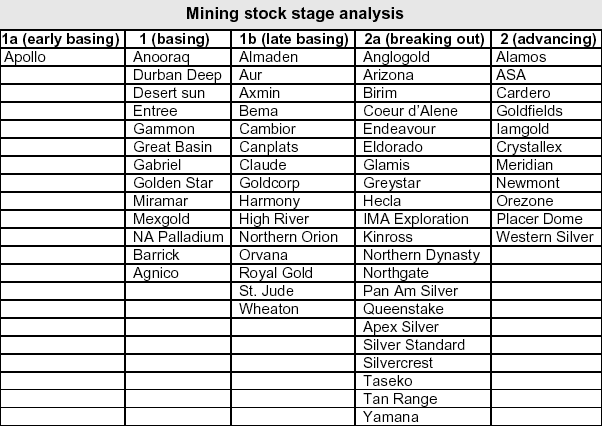 SCHEMATIC ON RANKING SYSTEM
1a - early basing,1 - basing, 1b - late basing phase
2a - breaking out, 2 - steady advance, 2b - late advancing phase
3a - early distribution, 3 - failing highs, 3b - rolling over
4a - signs of weakness, 4 - persistent selling, 4b
Each great financial boom has been followed by a long bull market in gold's real price such that the producers are eventually accepted as a premier growth industry. Relative to commodities, gold suffered a cyclical correction to (on our index) 183 in March. This recovered to 220 on September 10, from which it corrected to 199 on October 11. So far, it has recovered to 215.

Of interest is that the technical ranking of the ChartWorks selected list of gold stocks places them from basing to early in a bull market.
Bob Hoye
Institutional Advisors
E-mail bobhoye@institutionaladvisors.com
Website: www.institutionaladvisors.com

CHARTWORKS #3 ­OCTOBER 25, 2004
The opinions in this report are solely those of the author. The information herein was obtained from various sources; however we do not guarantee its accuracy or completeness. This research report is prepared for general circulation and is circulated for general information only. It does not have regard to the specific investment objectives, financial situation and the particular needs of any specific person who may receive this report. Investors should seek financial advice regarding the appropriateness of investing in any securities or investment strategies discussed or recommended in this report and should understand that statements regarding future prospects may not be realized. Investors should note that income from such securities, if any, may fluctuate and that each security's price or value may rise or fall. Accordingly, investors may receive back less than originally invested. Past performance is not necessarily a guide to future performance.
Neither the information nor any opinion expressed constitutes an offer to buy or sell any securities or options or futures contracts. Foreign currency rates of exchange may adversely affect the value, price or income of any security or related investment mentioned in this report. In addition, investors in securities such as ADRs, whose values are influenced by the currency of the underlying security, effectively assume currency risk.
Moreover, from time to time, members of the Institutional Advisors team may be long or short positions discussed in our publications.