PUBLISHED BY INSTITUTIONAL ADVISORS - JULY 30, 2009
Extreme Dividend Payout Ratio
Bob Hoye
Institutional Advisors
Aug 1, 2009
There are two things going on in the corporate world that are fascinating. One was in play before the initial crash, which was the fashion to borrow money to do stock buybacks in a roaring bull market. This was doomed and now the compulsion is to maintain an absurd dividend payout - at any cost. And "Stock Buybacks 101" notes that one of the reasons was that the gambit avoided larger payouts that at some time may have to be reduced. The first attached chart places the current mania to maintain dividends in perspective.
Perhaps some of the high-yield paper being floated now is funding dividends that should be derived from earnings. The second chart represents another pending disaster. Corporate bonds were expected to enjoy an outstanding rally out to late spring. Continuation of the rally is becoming reckless, and the chart on the High-Yield will give us the big exit.
We will leave it to accountants and CFAs to calculate the cost of raising funds to maintain senseless dividend payouts, when not generating earnings.
Typically, ordinary bull markets top about 12 months before the business cycle, but at the end of a great mania stocks and the economy virtually peak together. Perhaps something similar, but on a smaller scale happens with the vigorous initial rebound in stocks, corporate bonds and commodities. In which case the stock rally is not anticipating a recovery late in the year. Whatever it amounts to the improvement in business could be coincidental.
For decades S&P earnings have gone up and down with commodities, and this held with the high for the CRB at 473 in early July last year. The low in the panic was 200 and the rebound made it to 266 on June 11. The decline was to 227 and so far the rebound has been to 251. This is likely a test of the July high.
After September, commodities - and earnings - could resume their post bubble bear. No earnings - no ability to service debt - down go the ratings. Down go dividends, or perhaps earnings will quickly triple to meet the payout ratio?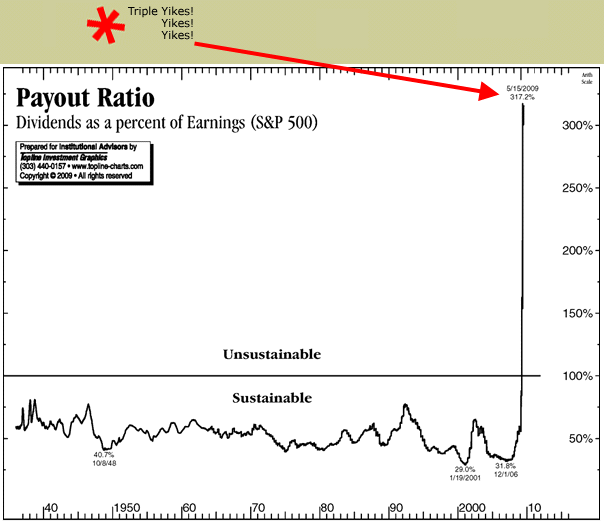 This requires no editorial.
HIGH-YIELD CORPORATE BONDS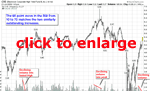 The action is building an important top.
Technically, there are two aspects to completing the move.
A massive rebound in RSI momentum of 59 points. At 60 now, this has been accomplished.
Volume is declining, which is another critical sign post.
It may take many weeks to top, but the failure will be magnificent.
The MACD rolling over will provide the "Sell!"
Investors should increase the pace of selling.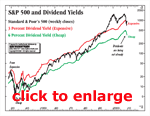 Inflation in financial assets launched in the mid 1990s.
This created the greatest "New Financial Era" in history.
The extraordinary over valuation prevailed for more than ten years and is now down to merely "Expensive."
The return to "Cheap" seems inevitable and reminds of Richard Russell's classic line that "Stocks will go to great valuations."
Jul 30, 2009
-Bob Hoye
Institutional Advisors
email: bobhoye@institutionaladvisors.com
website: www.institutionaladvisors.com
Hoye Archives
The opinions in this report are solely those of the author. The information herein was obtained from various sources; however we do not guarantee its accuracy or completeness. This research report is prepared for general circulation and is circulated for general information only. It does not have regard to the specific investment objectives, financial situation and the particular needs of any specific person who may receive this report. Investors should seek financial advice regarding the appropriateness of investing in any securities or investment strategies discussed or recommended in this report and should understand that statements regarding future prospects may not be realized.

Investors should note that income from such securities, if any, may fluctuate and that each security's price or value may rise or fall. Accordingly, investors may receive back less than originally invested. Past performance is not necessarily a guide to future performance. Neither the information nor any opinion expressed constitutes an offer to buy or sell any securities or options or futures contracts. Foreign currency rates of exchange may adversely affect the value, price or income of any security or related investment mentioned in this report. In addition, investors in securities such as ADRs, whose values are influenced by the currency of the underlying security, effectively assume currency risk. Moreover, from time to time, members of the Institutional Advisors team may be long or short positions discussed in our publications.
321gold Ltd