PIVOTAL EVENTS - JULY 28, 2005
The Gold Sector is Drifting
Bob Hoye
Institutional Advisors
Aug 1, 2005
Golds: Where the base metal mining stocks are testing the highs in establishing a cyclical peak, the gold sector is drifting after enjoying a brief initial rally that may have set the end of a cyclical bear.
Gold, in dollar terms, recently slipped nervously down to 419 on July 14. This compares with the last big low of 412.6 in February. That was when the dollar index was at 85 and, now at 90, it seems that gold has been performing well against a firmer dollar.
Gold has also been gaining in real terms as our gold/commodities index recovered from 185 on June 1 to 202 on July 1. This needed a test of the low and perhaps the 188 on July 13 was it. This week it's at 194 and breaking above 202 would set the uptrend.
Of course, it's important to look to the pending increase in investment demand. This could eventually be consistent enough to gradually increase gold's dollar price even in the face of a steady to firm dollar index.
As we have been noting, this will be indicated by the next phase of credit spread widening and the reversal in the treasury curve from flattening, which is symptomatic of the boom, to steepening, which is one indication of the inevitable contraction.
The gold/silver ratio is also part of the financial equation. It goes down in a boom and, in declining from 82 in June, 2003, it anticipated the end of the bull market in gold stocks at the end of 2003.
Going the other way, when it increases it anticipates or confirms a contraction and therefore a contra-cyclical bull market for gold stocks. The low for the gold/silver ratio was 55.3 on June 1, which seems to be a huge test of the 56.6 low in December.
The ratio recovered to 62 on July 5 when it slumped with the party to 59.6 today.
The June low could be tested.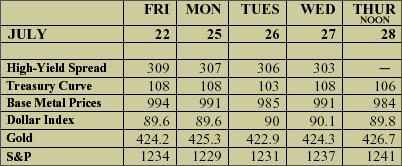 Bob Hoye
Institutional Advisors
E-mail bobhoye@institutionaladvisors.com
Website: www.institutionaladvisors.com
PIVOTAL EVENTS ­ JULY 28, 2005
Hoye Archives
The opinions in this report are solely those of the author. The information herein was obtained from various sources; however we do not guarantee its accuracy or completeness. This research report is prepared for general circulation and is circulated for general information only. It does not have regard to the specific investment objectives, financial situation and the particular needs of any specific person who may receive this report. Investors should seek financial advice regarding the appropriateness of investing in any securities or investment strategies discussed or recommended in this report and should understand that statements regarding future prospects may not be realized.

Investors should note that income from such securities, if any, may fluctuate and that each security's price or value may rise or fall. Accordingly, investors may receive back less than originally invested. Past performance is not necessarily a guide to future performance. Neither the information nor any opinion expressed constitutes an offer to buy or sell any securities or options or futures contracts. Foreign currency rates of exchange may adversely affect the value, price or income of any security or related investment mentioned in this report. In addition, investors in securities such as ADRs, whose values are influenced by the currency of the underlying security, effectively assume currency risk. Moreover, from time to time, members of the Institutional Advisors team may be long or short positions discussed in our publications.