CHARTWORKS - MARCH 30, 2006
Silver
Bob Hoye
Institutional Advisors
April 3, 2006
written on Mar 30
According to industry sources "Barclays Global Investors is applying to list 13 million shares backed by 129 million ounces of silver in an arrangement similar to that for the streetTRACKS Gold Trust shares. Under this structure, silver will be held in the Bank's vaults and each share will represent 10 ounces of Silver." There is no question that this has been having a huge influence on the supply/demand balance for silver (taking as much as 21% of the annual production off the market). All informed investors are aware of these facts.
Silver prices have been outpacing gold since the middle of 2005 when Barclays originally applied to the SEC for a listing. (The Gold/Silver ratio has declined from 65 to 52).
With the imminent arrival of the ETF the upside market momentum is stretching the technical indicators to levels not seen in years. The monthly chart is generating upside exhaustion signals. In past examples, the condition can run for a week or so. The only occurrences have been:
Feb & March 1974
Sept & Oct 1979
Dec 1979 & Jan 1980
Feb & March 2006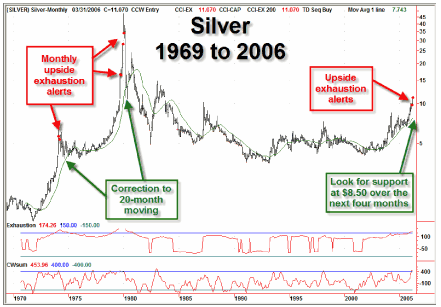 The weekly chart is generating a signal as of this week. In the past thirty-five years there have only been eight sets of signals. The best buys occurred on a correction to the 89-week exponential moving average.
Jan 4/74 through Feb 22/74
Feb 23/79
Sep 21/74 through Oct 12/74
Jan 4/80 through Jan 18/80
Jan 7/83 through Feb 18/83
July 30/93
March 19/04 through April 09/04
March 31/04?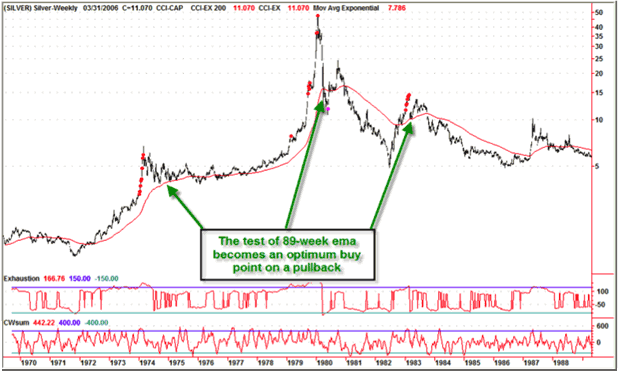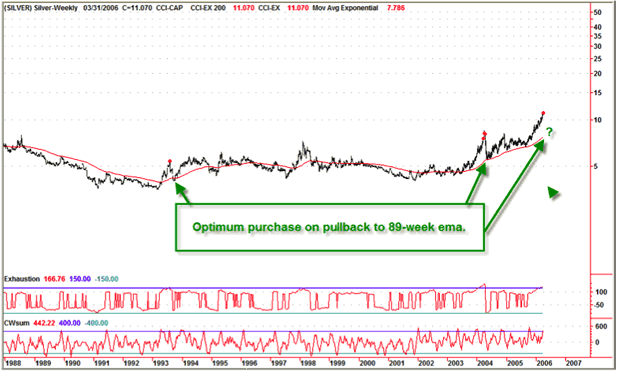 Traders should move to an underweight position in silver stocks or implement a two-day trailing stop-loss. Look to overweight on a correction to $8.50 over the next few months.
-Bob Hoye
Institutional Advisors
email bobhoye@institutionaladvisors.com
website: www.institutionaladvisors.com

CHARTWORKS - MARCH 30, 2006
Hoye Archives
The opinions in this report are solely those of the author. The information herein was obtained from various sources; however we do not guarantee its accuracy or completeness. This research report is prepared for general circulation and is circulated for general information only. It does not have regard to the specific investment objectives, financial situation and the particular needs of any specific person who may receive this report. Investors should seek financial advice regarding the appropriateness of investing in any securities or investment strategies discussed or recommended in this report and should understand that statements regarding future prospects may not be realized.

Investors should note that income from such securities, if any, may fluctuate and that each security's price or value may rise or fall. Accordingly, investors may receive back less than originally invested. Past performance is not necessarily a guide to future performance. Neither the information nor any opinion expressed constitutes an offer to buy or sell any securities or options or futures contracts. Foreign currency rates of exchange may adversely affect the value, price or income of any security or related investment mentioned in this report. In addition, investors in securities such as ADRs, whose values are influenced by the currency of the underlying security, effectively assume currency risk. Moreover, from time to time, members of the Institutional Advisors team may be long or short positions discussed in our publications.