CHARTWORKS - JANUARY 17, 2006
Gold Is Running Like A Cheetah Rather Than A Bull
Technical observations of RossClark@shaw.ca
Bob Hoye
Institutional Advisors
Jan 19, 2006
The mining stocks have regained the investor enthusiasm seen in 2003. Interestingly it is coming as the rally is now 34-weeks old. (The 2003 rally was 36 weeks). However, this rally is exhibiting even greater overbought readings in my indicators than seen at the 2003 high. It matches levels that have only been experienced seven times in the past 105 years. It is now time to become cautious.
We have built an amended XAU index to incorporate all the Homestake Mining data that was available before the XAU was created. Using this index we find that the combined levels of the current upside readings in my Exhaustion Index and Summation Index have only been seen in 1908, 1916, 9/22/1933, 10/10/1980, 12/31/1983 and 4/24/1987.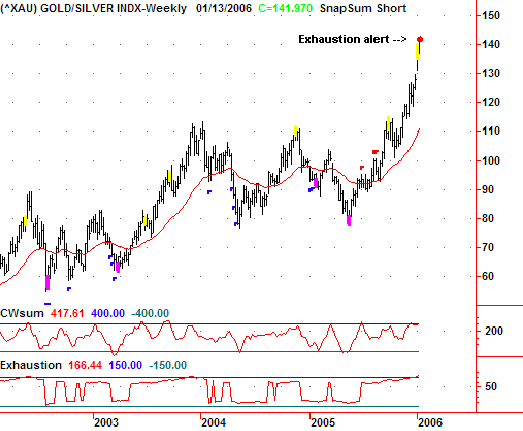 Historically, the overbought signals in the oscillators tend to be concurrent with the price high or lead it by up to two weeks. Price declines have then been in the magnitude of 15% to 40% within eight to ten weeks. The catalyst has been a loss in upside momentum and the easiest way to recognize this is a week with a lower low.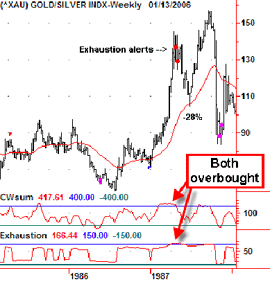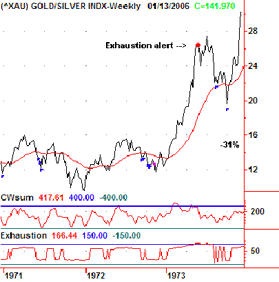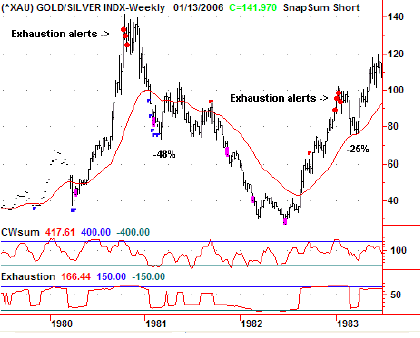 Support can be anticipated to be tested at the 34-week exponential moving average. The moving average currently sits at 110.90 and is rising at 1.5 points per week. Assuming that it takes 10 weeks to reach the average and that the pace of its advance slows, the likely support level would come in at 121 to 123. This would be within the parameters of the typical corrections.
This support will also be in the vicinity of the rising trendline drawn off the May & August 2005 lows.
The junior mining stocks are always more volatile than the seniors so a larger correction can be expected in this group.
Bob Hoye
Institutional Advisors
E-mail bobhoye@institutionaladvisors.com
Website: www.institutionaladvisors.com

CHARTWORKS - JANUARY 17, 2006
Hoye Archives
The opinions in this report are solely those of the author. The information herein was obtained from various sources; however we do not guarantee its accuracy or completeness. This research report is prepared for general circulation and is circulated for general information only. It does not have regard to the specific investment objectives, financial situation and the particular needs of any specific person who may receive this report. Investors should seek financial advice regarding the appropriateness of investing in any securities or investment strategies discussed or recommended in this report and should understand that statements regarding future prospects may not be realized.

Investors should note that income from such securities, if any, may fluctuate and that each security's price or value may rise or fall. Accordingly, investors may receive back less than originally invested. Past performance is not necessarily a guide to future performance. Neither the information nor any opinion expressed constitutes an offer to buy or sell any securities or options or futures contracts. Foreign currency rates of exchange may adversely affect the value, price or income of any security or related investment mentioned in this report. In addition, investors in securities such as ADRs, whose values are influenced by the currency of the underlying security, effectively assume currency risk. Moreover, from time to time, members of the Institutional Advisors team may be long or short positions discussed in our publications.