Light at the End of the Tunnel for Gold
By Frank Holmes
CEO and Chief Investment Officer
U.S. Global Investors
Posted Dec 26, 2012
Intuition was telling me something was going on these past few days in the gold market. Our investment team was watching gold and gold stocks take a tumble for no obvious reason. It wasn't only us who felt this way: many analysts were caught off-guard. One comment from Barclays Research indicated that the week was unusually "brutal … with quite a few confused participants with some seemingly positive aspects of the market not having an impact."
My hunch was realized only days later when Zero Hedge posted that Morgan Stanley Wealth Management recommended that its clients dump two of John Paulson's funds. As MS clients redeemed their shares, the hedge fund giant became a forced seller of gold and gold stocks.
What complicates the gold market is the fact that Paulson is such a big fan of the yellow metal that he offers a "gold share class" to investors, meaning shares are denominated in physical gold. The drawback is when an investor redeems shares, his firm has to convert from gold back to dollars, which forces him to sell his hedged position in the SPDR Gold Shares ETF (GLD). The unfortunate consequence of his actions is a short-term decline in the gold price as the market adjusts.
The chart below highlights how gold, the S&P 500 Index and the 10-Year Treasury yield were plodding along together, until December 12, when the metal dramatically dropped off. This is possibly the day "Paulson may have gotten the redemption fax," says Zero Hedge.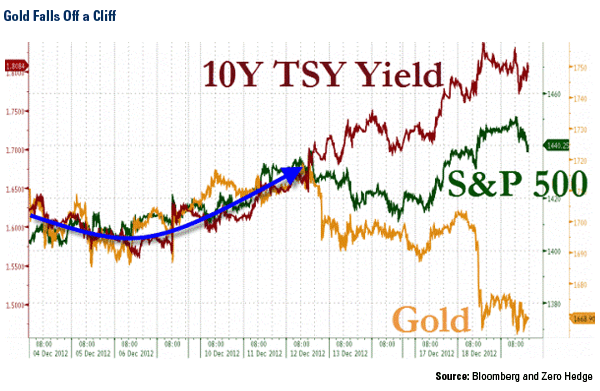 Paulson is only one high-profile example of a stream of hedge fund managers who have suffered liquidations this year. Much to our chagrin, gold and the gold mining industry have been on the wrong side of these trades.
The metal also took a hit recently when a large investor, or a group of investors, made a negative bet on gold futures, with a speculative put position from January to February nearly doubling in size. Credit Suisse suggests it may be the action of a hedge fund.
Paulson's loss can be your gain. At U.S. Global Investors, we study probability and statistical models to help us improve our odds in the market. It's like counting cards in Vegas - there's no guarantee you'll hit the jackpot, but you usually improve your odds if you understand the math of probabilities and place your bets accordingly.
One of our favorite charts is the oscillator which shows the probability of gold returning to its mean after a dramatic rise or fall. We believe it helps investors put the current correction in context with historical moves and determines potential buying and selling opportunities.
Based on the last 10 years of data, gold seems to be approaching an oversold position after this latest correction. In standard deviation terms, the percentage change in year-over-year rolling returns, gold has made a downward move of 1.2 standard deviations. An event like this only happens about 10 percent of the time, with high odds favoring a reversion to the mean.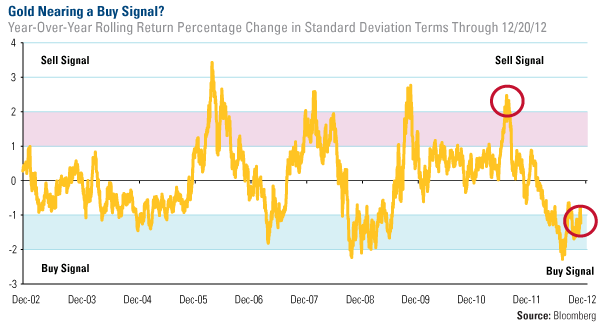 Life is about managing expectations. With gold and gold stocks, there will be short-term anomalies, such as hedge funds' liquidation. Another historical difference for gold stocks relates to the presidential election year cycle. As we have mentioned before, gold miners tend to perform poorly in the year of a U.S. presidential election. Regardless of which party is in the White House and which party wants to take it back, going back to 1984, the Philadelphia Stock Exchange Gold and Silver Index (XAU) has declined an average of 18.4 percent in the year Americans are busy thinking about voting for a leader.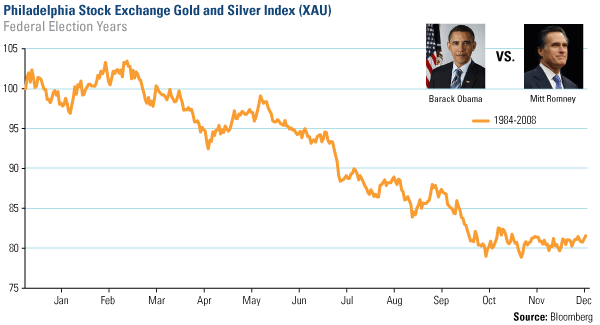 It's not the end of the world for gold and gold stocks. Take a look at what happens the year following a U.S. presidential election: Going back to 1985, the XAU historically has increased substantially in post-election federal years, rising 23.4 percent, on average.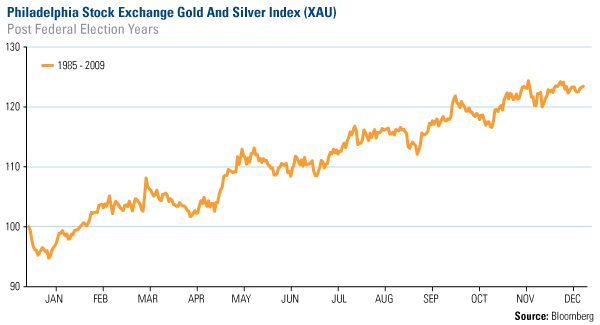 With governments lacking courage for fiscal discipline, I expect that interest rates will remain in negative territory for a long time. Central bankers will continue to keep the printing presses warm as policies aren't expected to change. I believe this will keep the Fear Trade buying gold throughout 2013.
In addition, emerging market central banks have been diversifying into gold. Net official sector purchases of 425 tons year-to-date is a drastic difference compared to only a few years ago when central banks were net sellers of the precious metal. Only recently, UBS reported that in November, Russia purchased nearly 3 tons of gold and Brazil bought almost 15 tons. Iraq - a notable new buyer - bought 25 tons from August through October. Given that this is the country's first increase since the early 2000s, "having a new buyer in the central bank space and especially from a new region is an important development," says UBS.
While the Love Trade has been subdued this year, we see light at the end of the tunnel, not a train. One recent development is the increase in mutual fund flows of $32 billion into emerging markets since the announcement of the third round of quantitative easing (QE) in the U.S. This appears to be a powerful precursor for a stronger 2013, which would reignite the Love Trade in China and India.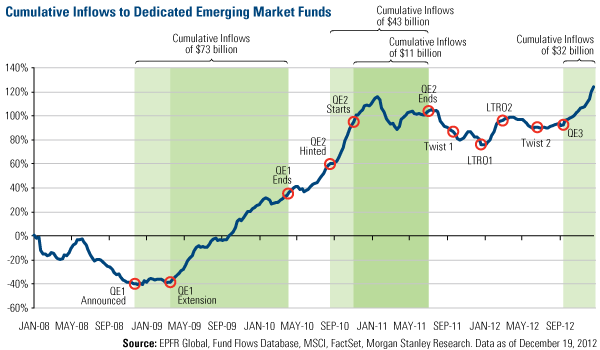 As we head into the final days of the year, I'd like to take this opportunity to thank our faithful readers for following, reading and sharing our thoughts on the markets. We appreciate your confidence and trust and look forward to a prosperous new year.
Here's wishing you and your loved ones a very safe and joyful holiday season!
###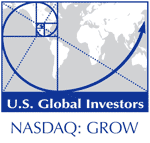 Dec 21, 2012
Frank Holmes
website: www.usfunds.com
U.S. Global Investors, Inc. is an investment management firm specializing in gold, natural resources, emerging markets and global infrastructure opportunities around the world. The company, headquartered in San Antonio, Texas, manages 13 no-load mutual funds in the U.S. Global Investors fund family, as well as funds for international clients.
Sign up today for our 2013 Outlook webcast at 3 p.m. CT on January 9, 2013. For more on global investing from Frank and the rest of the U.S. Global Investors team, subscribe to the Frank Talk blog.
The S&P 500 Stock Index is a widely recognized capitalization-weighted index of 500 common stock prices in U.S. companies. The Philadelphia Stock Exchange Gold and Silver Index is a capitalization-weighted index that includes the leading companies involved in the mining of gold and silver. Standard deviation is a measure of the dispersion of a set of data from its mean. The more spread apart the data, the higher the deviation. Standard deviation is also known as historical volatility.
By clicking the link above, you will be directed to a third-party website. U.S. Global Investors does not endorse all information supplied by this website and is not responsible for its content.
The following security mentioned was held by one or more of U.S. Global Investors Funds as of 9/30/12: SPDR Gold Shares.