Global Risks May Bring the Polish to Gold
By Frank Holmes
CEO and Chief Investment Officer
U.S. Global Investors
Posted Sep 11, 2018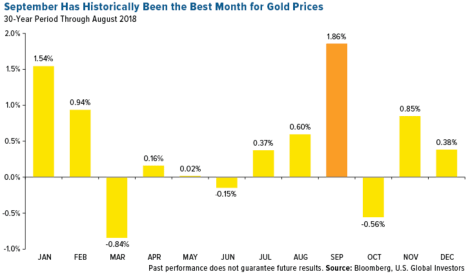 Domestic stocks have performed well so far this far, with the S&P 500 Index rising 8.5 percent in the first eight months.
But going forward, there are risks investors like you might want to consider—not least of which is the fact that September has traditionally been the worst month for stocks since 1950, according to the 2018 Stock Trader's Almanac.
Turkey's economic crisis has potential for contagion, and this week, South Africa slipped back into recession. The Global Manufacturing Purchasing Manager's Index (PMI) declined to a 21-month low of 52.8 in July. And on Tuesday, BlackRock Vice Chairman Philipp Hildebrand told CNBC that President Donald Trump's trade war with China presents "the biggest risk to the global economy."
In light of all this, it might be prudent to consider boosting your exposure to gold and precious metals, which have historically had a negative correlation to stocks.
What's more, September has traditionally been gold's best month of the year. For the 30-year period through August 2018, the yellow metal returned 1.86 percent on average in the ninth month.
For those investors interested in adding to their gold exposure, we believe our Gold and Precious Metals Fund (USERX) is an excellent choice with a strong history of performance.
For the one-year, three-year, five-year and 10-year periods, USERX beat its benchmark, the FTSE Gold Mines Index, as of June 30, 2018. You can see its performance here.
USERX holds an incredible FIVE-STAR rating overall from Morningstar as of June 30 in the Equity Precious Metals category. It also holds five stars for the three-year and five-year periods, and four stars for the 10-year period, based on risk-adjusted returns.
Learn more by visiting Gold and Precious Metals Fund (USERX) now!
###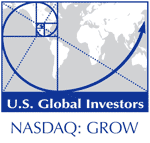 Sep 5, 2018
Frank Holmes
website: www.usfunds.com
Please consider carefully a fund's investment objectives, risks, charges and expenses. For this and other important information, obtain a fund prospectus by visiting www.usfunds.com or by calling 1-800-US-FUNDS (1-800-873-8637). Read it carefully before investing. Foreside Fund Services, LLC, Distributor. U.S. Global Investors is the investment adviser.