SWOT Analysis
Gold Gains for Second Month in a Row

By Frank Holmes
CEO and Chief Investment Officer
U.S. Global Investors
Posted Mar 5, 2014
Every week, our investment team reviews a variety of sources to formulate a summary of the top events in the gold, resources, and emerging markets. The results are categorized in terms of strengths, weaknesses, opportunities and threats. We believe this SWOT model helps investors make informed decisions about their gold and gold stock investments.
For the week beginning February 24, here is the SWOT for the gold market.
Strengths
Gold is heading for a second month of gains, the longest such run since August. Bullion has gained more than 10 percent this year, rebounding from the biggest annual decline in more than three decades, even as the U.S. Federal Reserve announced a reduction in asset purchases at its past two meetings. The rally in gold is apparently halting the 13-month outflow from the biggest exchange-traded fund backed by the metal. Assets in the SPDR Gold Trust are poised for the first monthly inflow since December 2012.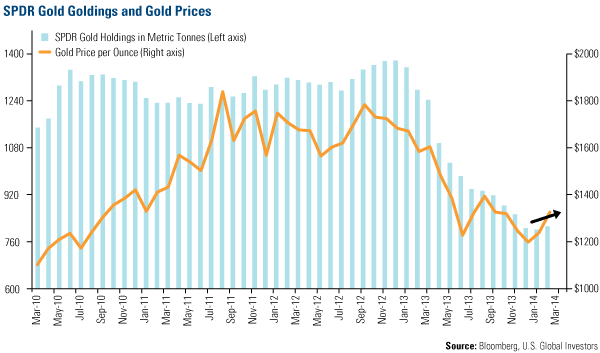 Gold demand apparently remains very strong. China's January Hong Kong gold imports soared 326 percent year-over-year. The Hong Kong region exported a net of 83.6 tonnes of gold to the Chinese mainland in January, down slightly from December exports of 91.9 tonnes. Exports from Hong Kong to China last year in January were very low at 19.6 tonnes. Macquarie notes that Russia was the biggest buyer of gold last year, purchasing 77 tonnes of the metal. Kazakhstan added 28 tonnes, Azerbaijan 20 tonnes, South Korea 20 tonnes, and Nepal 12 tonnes for a total estimated central bank addition of 185 tonnes.

The mining industry in Canada has seen a significant increase in merger and acquisition (M&A) activity. Investment bankers report more than $3 billion in mergers and acquisitions in less than two months this year vs. $2.6 billion in the first quarter of 2013 and $4.8 billion for the full year. On the other hand, according to Bloomberg's review of financial statements across 1,300 mine operators, 49 percent of Canadian-domiciled companies have less than three months of cash, 62 percent have less than six months and 74 percent less than 12 months, which is the highest percentage ever recorded, likely a catalyst to get a deal done.
Weaknesses
Recently, Shanghai gold premiums have moved from a slight discount to flat, partially ameliorating concerns over China's import appetite.

Silver Lake announced it was placing its second operation, Murchison, on care and maintenance. Silver Lake has had three successive significant misses on guidance, none of which it has addressed.

Goldcorp's chief executive says he is prepared to kill the hostile bid for Canadian rival Osisko Mining Corporation if it becomes too complicated or expensive. CEO Chuck Jeannes in his interview said that if it happens "that would be a very bad day for Osisko shareholders. They would probably see their stock drop by 20 percent overnight."
Opportunities
For those investors who thought bitcoins might be a viable alternative to gold, they have something new to consider. Mt. Gox, once the world's largest bitcoin exchange, filed for bankruptcy after the company lost 750,000 bitcoins belonging to users and 100,000 of its own. The company blamed weak computer systems for the theft of bitcoins, focusing attention on the digital currency's risk. For digital currencies, security measures may leave a lot to be desired in comparison to the security one has of physical gold being locked in a bank vault.

With the stronger gold performance this year we are seeing some analysts revising their price predictions higher. For example, UBS analyst Edel Tully has revised her gold one-month average forecast price from $1,180 to $1,280, and her three-month gold price prediction stands now at $1,350 vs. $1,100. Also, RBCCM's Toronto-based analytical team has revised its long-term gold and silver price assumptions to $1,400 and $23.50, respectively. The higher the price goes, the more likely commodity forecasters will start adjusting their price targets higher.

NGEx Resources' preliminary results from Los Helados suggest that a large-scale block caving operation with the potential to mine 75,000 - 100,000 tonnes per day as a technically feasible development option, would allow early mining of the higher grade core of the Los Helados deposit with a cut-off grade of 0.6 percent copper equivalent.
Threats
The Democratic Republic of Congo's government and local miners failed to agree on mining code. Talks have been extended for another week to try to overcome differences over proposed tax changes in a draft mining code. Prolonged discussions over the new code may have a chilling effect on Randgold and Banro, both with operating mines located in the Democratic Republic of Congo.

Rosa Abrantes-Metz, a professor at Stern's School of Business, and Albert Metz, a managing director at Moody's Investors Service, conducted a study on gold fixing and found signs of collusive behavior that need to be investigated. The gold fixing study revealed unusual trading patterns around 3:00 p.m. in London, during the time when the five biggest gold dealers actively work together to manipulate the benchmark. This likely is a bigger problem for the banks involved in the price fix, but could lead to more transparent markets for customers.

The world's biggest macro hedge fund says Canada has a tough decade ahead of it, with Ray Dalio's Bridgewater Associates saying in its well-read daily note that the country's economy is just beginning a tough period of rebalancing. While this could be negative for the country as a whole, further currency weakness would likely be a positive for the gold miners, which sell their production benchmarked to a U.S. dollar gold price.
The strengths, weaknesses, opportunities and threats of the gold market are published every week by U.S Global Investors. You can subscribe here. It arrives in your email inbox every Friday evening and best yet, it's free.
###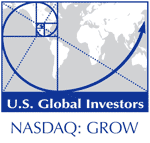 Feb 24, 2014
Frank Holmes
website: www.usfunds.com
All opinions expressed and data provided are subject to change without notice. Some of these opinions may not be appropriate to every investor. Past performance does not guarantee future results. The following securities mentioned were held by one or more of U.S. Global Investors Funds as of 12/31/13: Banro Corp, Goldcorp, Osisko Mining, NGEx Resources, Randgold Resources, SPDR Gold Shares.