The Midas Touch Gold Analysis & Strategy Newsletter
Gold & Silver Update 21st of June 2015
Florian Grummes
Posted Jun 23, 2015
1. Gold & Silver Update
As expected Gold posted a rally towards US$1,205.70. While many market participants became extremely bearish two weeks ago I clearly pointed towards the important contrarian buy signals in CoT and sentiment. As well it looks like the Euro could continue to recover towards US$1.17 which should support the precious metal sector.
I still think that the bear market is not yet over but I am bullish for the next 1-3 months....
(Click on images to enlarge)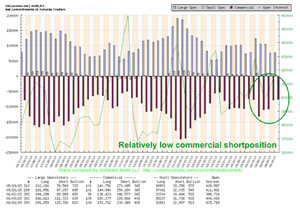 During the last five weeks the professionals (=commercial hedgers) have cut down their short positions to a relatively low level. They did the same in the silver market. Therefore I think the coast is clear for the immediate future.
2. The Midas Touch Gold Model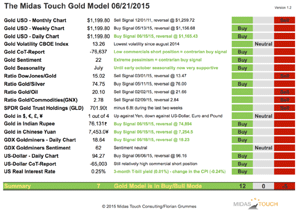 Last Monday my model switched to a Buy/Bull Mode for the first time since mid of march! There are new buy signals for Gold in USD-Daily Chart, Seasonality, Gold in Indian Rupee-Daily Chart, Gold in Chinese Yuan-Daily Chart and GDX Goldmines-Daily Chart. But the real kicker is the dramatic change in US Real Interest Rates which have fallen from 0.71% down to 0.25%. This is an extremely bullish development for Gold. There are no new sell signals.
Overall the model is in Buy/Bull Mode and Gold CoT-Report as well as Gold Sentiment are supporting a summer-rally.
3. Gold Daily Chart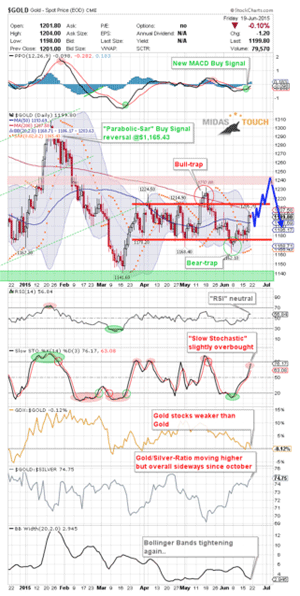 Short-term Gold is meeting strong resistance around US$1,205-US$1,210. The falling 200-MA (US$1,207.58) as well as the upper Bollinger Band (US$1,203.63) will certainly force some consolidation/minor setback. Especially as the Slow Stochastic is getting slightly overbought.
But due to the strong seasonality, the very pessimistic sentiment and a friendly CoT-report I see very good chances for a summer-rally in the coming weeks that could take Gold towards the next strong zone of resistance around US$1,240. Of course, as the overall bear market is still in place I would not expect too much of Gold and this summer-rally will surely not be an easy ride. As I have already explained the bears need a "fully staffed pain-train" again to push Gold sustainably below $1,170. Unlike last expected at US$1,205 this train is not yet ready.
If you don't need to be active in this market I continue to suggest that you´d be better staying at the sidelines and avoid any short-term trading. A new low-risk/high-reward trading opportunity could present itself later this summer if Gold indeed can post a rally in the coming weeks towards $1,240.
As an investor I suggest you to wait for another chance to accumulate physical Gold below $1,150 until you hold 10-20% of your net-worth in physical Gold and Silver as an insurance.
4. Long-term personal believes
The return of the precious metals secular bull market is moving step by step closer and should lead to the final parabolic phase (could start in summer 2015 or 2016 and last for 2-5 years or even longer). Before this can start Gold will need a final selloff down to $1,050-$980. My long-term price target for the DowJones/Gold-Ratio remains around 1:1. and 10:1 for the Gold/Silver-Ratio. A possible long-term price target for Gold remains around US$5,000 to US$8,900 per ounce within the next 5-8 years.
Fundamentally, as soon as the current bear market is over, Gold should start the final 3rd phase of this long-term secular bull market. 1st stage saw the miners closing their hedge books, the 2nd stage continuously presented us news about institutions and central banks buying or repatriating gold. The coming 3rd and finally parabolic stage will end in the distribution to small inexperienced new traders & investors who will be subject to blind greed and frenzied panic.
If you like to get regular updates on this model and gold you can subscribe to my free newsletter here.
###
Jun 21, 2015
Florian Grummes
Midas Touch Consulting GbR
email: florian.grummes@goldnewsletter.de
website: http://www.goldnewsletter.de
Florian Grummes (born 1975 in Munich) is studying and trading the Gold market since 2003. Parallel to his trading business he is also a very creative & successful composer, songwriter and music producer.
The Midas Touch Gold Analysis & Strategy Newsletter is free of charge and will be published from time to time as it fits the author's busy schedule.
Disclaimer & Limitation of Liability: The above represents the opinion and analysis of Mr Florian Grummes, based on data available to him, at the time of writing. Mr. Grummes's opinions are his own and are not a recommendation or an offer to buy or sell securities. Mr. Grummes is an independent analyst who receives no compensation of any kind from any groups, individuals or corporations mentioned in the Midas Touch. As trading and investing in any financial markets may involve serious risk of loss, Mr. Grummes recommends that you consult with a qualified investment advisor, one licensed by appropriate regulatory agencies in your legal jurisdiction and do your own due diligence and research when making any kind of a transaction with financial ramifications. Although a qualified and experienced stock market analyst, Florian Grummes is not a Registered Securities Advisor. Therefore Mr. Grummes's opinions on the market and stocks can only be construed as a solicitation to buy and sell securities when they are subject to the prior approval and endorsement of a Registered Securities Advisor operating in accordance with the appropriate regulations in your area of jurisdiction. The passing on and reproduction of this report is only legal with a written permission of the author. This report is free of charge. You can sign up here.
© 2010-2015 all rights at Florian Grummes
Hohenzollerstrasse 36, 80802 Munich, Germany
English Translation by Florian Grummes.