The Midas Touch Gold Analysis & Strategy Newsletter
Gold & Silver Update 26th of May 2015
Florian Grummes
Posted May 28, 2015
1. Gold & Silver Update
As expected Gold managed to rally and exploded $50 higher within just five trading days since my last update. But with the same velocity all gains have been vaporized with two large down days. Another short-term top has been clearly established. Although this top at $1,232 has confirmed a series of higher highs it is now believed to be just another bear market trap due to the extremely weak price action. Overall the bears are still in control.
Any move below $1,170 should start a sharp sell off and might trigger the long expected final capitulation towards $1,035. If the bulls instead can defend the $1,180 level again, the sideways movement simply will continue and could lead to a bullish base building.
Meanwhile the Chinese are simply hoarding more and more Gold.....
2. The Midas Touch Gold Model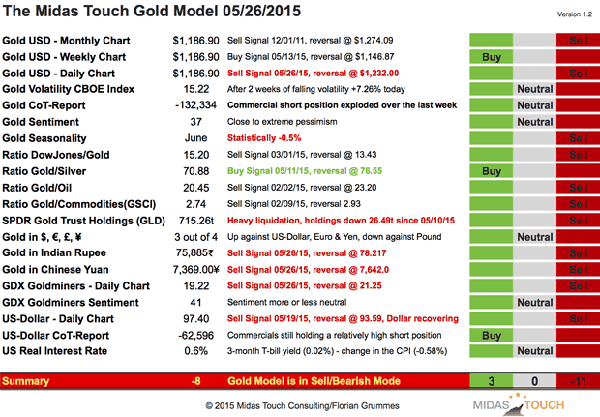 Although Gold managed to rally more than $50 my model never really turned bullish. But in mid of March at the last important low it did. Today the model changed into the Sell/Bearish Mode. We have new sell signals on the Gold USD-Daily chart, Gold in Indian Rupee, Gold in Chinese Yuan as well as on the GDX Daily Chart. Seasonality remains on a sell signal until end of June. The heavy liquidation in the SPDR Gold Trust is giving a new sell signal too.
Only one new positive signal since my last update is the buy signal for the Gold/Silver Ratio on a weekly basis.
The latest CoT-Report for Gold is neutral while for Silver the CoT-Numbers have been terrible as the professionals are holding the highest short position since October 2010!
My model is pointing towards lower prices again.....
3. Gold Daily Chart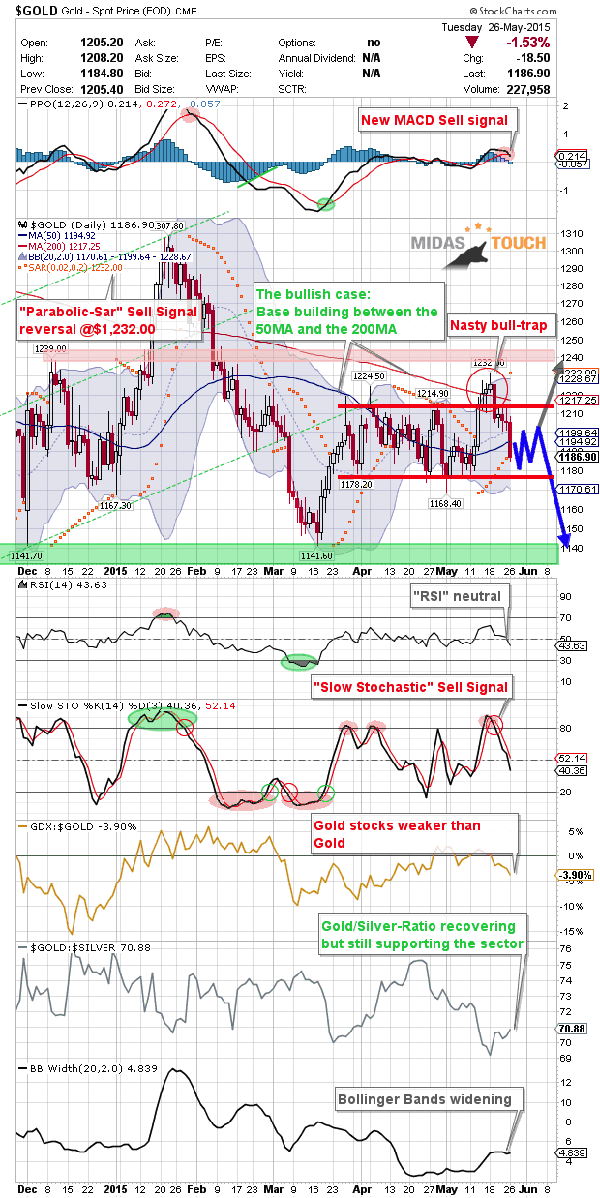 The breakout above $1,210 followed by a push up to $1,232 has been a bull-trap so far. But it is too early to assume that Gold is going to crash down towards $1,140 immediately.
The whole movement last week has been the first meeting with the falling 200MA ($1,222) since early February. That itself is a positive development. A failure at the first meeting with this important moving average is typical. The following reversion towards the 50MA ($1,189) is also typical. As long as Gold is consolidating in between these two moving averages the bullish case can not be neglected and the chance for a larger recovery remains.
So if Gold can hold the current level around $1,187 in the next couple of days and then move above $1,200 another attack of the 200MA would be on the cards. Above the 200MA the recovery since mid of Marchcould extend towards $1,240 and higher as Gold would have been building a base in between these two moving averages for the next rise.
But of course today´s price action is not very encouraging for the bulls. On top especially the extremely negative CoT-Data for Silver are supporting the bearish case. Also seasonality remains weak in the coming weeks and the Gold-miners are breaking down from a bearish wedge.
Overall this 4-year old bear market is not over yet - at least we are missing the clear confirmation for its end. This grinding sideways action certainly is not looking like a hungry new bull.
If you don't need to be active in this market I suggest you´d be better staying at the sidelines and avoid any short-term trading. This trend-less period can only cost you money and nerves.... As an investor I suggest you wait for another chance to accumulate physical Gold below $1,150 until you hold 10-20% of your net-worth in physical Gold and Silver as an insurance.
4. Long-term personal view/believes
The return of the precious metals secular bull market is moving step by step closer and should lead to the final parabolic phase (could start in summer 2015 or 2016 and last for 2-5 years or even longer). Before this can start Gold will need a final selloff down to $1,050-$980. My long-term price target for the DowJones/Gold-Ratio remains around 1:1. and 10:1 for the Gold/Silver-Ratio. A possible long-term price target for Gold remains around US$5,000 to US$8,900 per ounce within the next 5-8 years.
Fundamentally, as soon as the current bear market is over, Gold should start the final 3rd phase of this long-term secular bull market. 1st stage saw the miners closing their hedge books, the 2nd stage continuously presented us news about institutions and central banks buying or repatriating gold. The coming 3rd and finally parabolic stage will end in the distribution to small inexperienced new traders & investors who will be subject to blind greed and frenzied panic.
If you like to get regular updates on this model and gold you can subscribe to my free newsletter here.
###
May 26, 2015
Florian Grummes
Midas Touch Consulting GbR
email: florian.grummes@goldnewsletter.de
website: http://www.goldnewsletter.de
Florian Grummes (born 1975 in Munich) is studying and trading the Gold market since 2003. Parallel to his trading business he is also a very creative & successful composer, songwriter and music producer.
The Midas Touch Gold Analysis & Strategy Newsletter is free of charge and will be published from time to time as it fits the author's busy schedule.
Disclaimer & Limitation of Liability: The above represents the opinion and analysis of Mr Florian Grummes, based on data available to him, at the time of writing. Mr. Grummes's opinions are his own and are not a recommendation or an offer to buy or sell securities. Mr. Grummes is an independent analyst who receives no compensation of any kind from any groups, individuals or corporations mentioned in the Midas Touch. As trading and investing in any financial markets may involve serious risk of loss, Mr. Grummes recommends that you consult with a qualified investment advisor, one licensed by appropriate regulatory agencies in your legal jurisdiction and do your own due diligence and research when making any kind of a transaction with financial ramifications. Although a qualified and experienced stock market analyst, Florian Grummes is not a Registered Securities Advisor. Therefore Mr. Grummes's opinions on the market and stocks can only be construed as a solicitation to buy and sell securities when they are subject to the prior approval and endorsement of a Registered Securities Advisor operating in accordance with the appropriate regulations in your area of jurisdiction. The passing on and reproduction of this report is only legal with a written permission of the author. This report is free of charge. You can sign up here.
© 2010-2015 all rights at Florian Grummes
Hohenzollerstrasse 36, 80802 Munich, Germany
English Translation by Florian Grummes.