Think Exploration Is Dead? Check This $4 Million Gold Investment
Dave Forest
Pierce Points
Posted Nov 5, 2015
These days, I get asked a lot: "Why would anyone do mining exploration right now?" But news this week suggests one of the world's largest gold miners thinks it's a great time for grassroots work.
The company is Newmont Mining. Which announced it will pay a substantial US$4 million for a package of exploration properties — and not in a go-to destination like Nevada or Mexico, but rather in the further-afield terrains of Haiti.
The properties consist of six gold and copper exploration properties across Haiti (pictured in the map below). Which the company has been developing since 2008, in partnership with junior exploration firm Eurasian Minerals.
(Click on image to enlarge)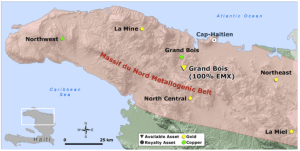 Newmont Mining is buying six exploration projects across Haiti (Source: Eurasian Minerals)
Newmont is now buying out Eurasian's minority interest in the projects — which would have amounted to somewhere between 25% and 30% ownership under the agreement between the two partners.
Those are interesting figures — suggesting that Newmont is placing an overall value of as much as $16 million on the projects. All of which are grassroots in nature, having seen rock and stream sediment sampling, but no exploration drilling.
This is a hefty valuation at a time when exploration is "dead", especially given that the projects have been on care and maintenance since 2013 as Haiti's government revamps its mining code.
The deal thus shows that good exploration prospects are still in demand from the world's biggest mining companies. And suggests just how profitable exploration can be for developers — with junior partner Eurasian Minerals likely to make a significant return on the buyout.
Eurasian spent less than $2 million developing the projects during 2006 to 2008, before they were joint-ventured to Newmont — who then covered all exploration expenses. The $4 million payout thus represents a more than 100% return on capital. And Eurasian will retain a 0.5% royalty on the projects.
Proving that exploration is still one of the most profitable businesses on the planet, when done right. And still a necessity in the global hunt for the next big source of gold, copper and a host of other metals.
Here's to giving 'em what they want.
###
Nov 4, 2015
Dave Forest
email: dforest@piercepoints.com
website: piercepoints.com
The information provided in this newsletter is based on the independent research of Dave Forest and is intended solely for informative purposes and is not to be construed, under any circumstances, by implication or otherwise, as an offer to sell or a solicitation to buy or trade any securities or commodities named herein. Information contained in this newsletter is obtained from sources believed to be reliable, but is in no way assured. All materials and related graphics provided in this newsletter and any other materials which are referenced herein are provided "as is" without warranty of any kind, either express or implied. No assurance of any kind is implied or possible where projections of future conditions are attempted. Readers using the information contained herein are solely responsible for verifying the accuracy thereof and for their own actions and investment decisions. Dave Forest does not make any representations about the suitability of the information delivered in this newsletter or any other materials that are referenced herein for any purpose whatsoever. The information contained in this newsletter does not constitute investment advice and Dave Forest is not registered with any securities regulatory authority to provide investment advice. Readers are cautioned to consult with a qualified registered securities adviser prior to making any investment decisions. The information contained in this newsletter has not been reviewed or authorized by any of the companies mentioned herein.
To subscribe to Pierce Points please click here: www.piercepoints.com
Copyright © 2015 Pierce Points