The resource sectors of energy and metals
Jack Chan
www.simplyprofits.org
posted Dec 27, 2006
A very significant development occurred this week in the resource sectors of energy and metals, which could affect price action in coming weeks.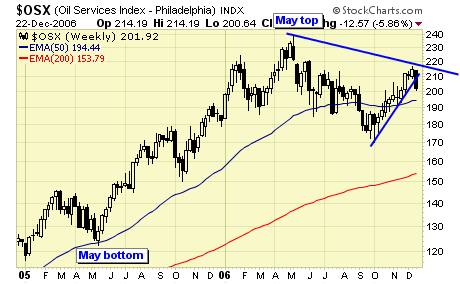 The energy sector as represented by $OSX broke trendline support this week.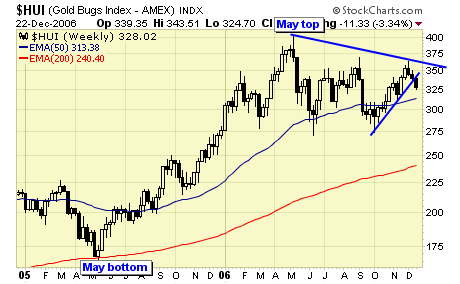 The gold sector as represented by the $HUI also broke trendline support this week.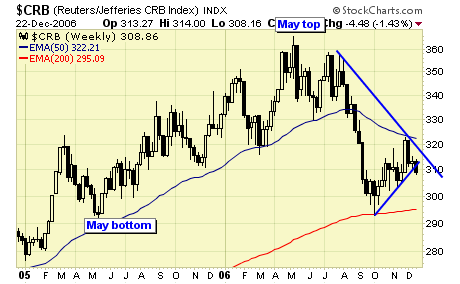 The CRB index confirmed the bearish price action in both energy and gold by breaking trendline support also.
Of course, gold topped in May after the parabolic rise and still within a large consolidation.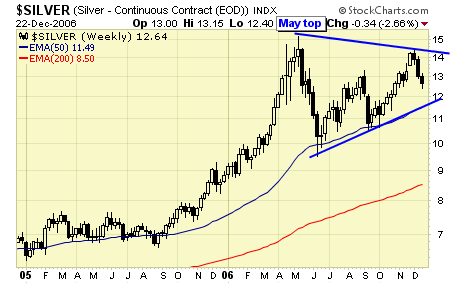 Silver tested the May high three weeks ago. When price fails to break resistance, it has a tendency of testing support soon after.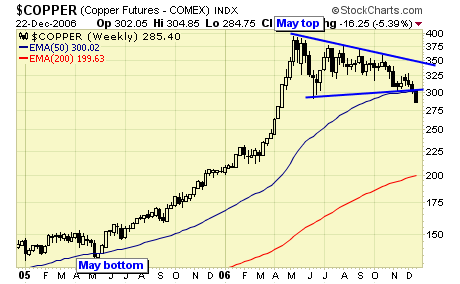 The big story belongs to copper. It broke down this week from the seven month consolidation which many thought would break to the upside. Next stop is the 200ema.
Summary
The breakdown in the resource sectors this week has postponed the continuation of the resource bull market. Whether this is a legit breakdown or just a false break, we don't know. The prudent thing to do is to close all existing positions and watch from the sideline. We can always buy back, but I will never allow myself or any subscribers to suffer a double digit drawdown.
Best wishes to all, and thank you for your feedback and comments in 2006.
End of report
Dec 23, 2006
Jack Chan

Archives
email: jack@simplyprofits.org
website: www.simplyprofits.org