Golden triangles part two
Jack Chan
www.simplyprofits.org
Nov 6, 2006
Folks, we have a major breakout in gold and silver this week, and if past history is a guide, we are looking at new highs in both metals in the near future. Those who are not familiar with these "golden triangles" phenomena can read part one first at this link.
Let's go to the charts.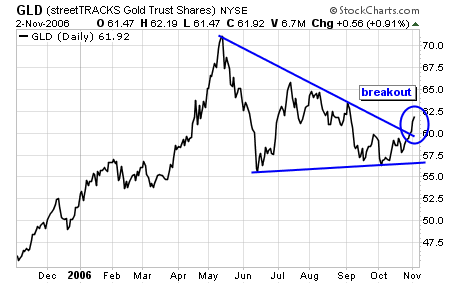 A beautiful breakout we've been waiting for.
In silver too.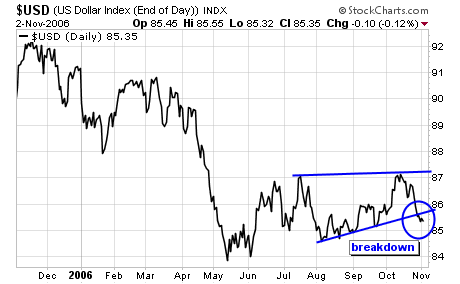 The breakouts in both metals coincide with the breakdown on the dollar. No surprise.
All breakouts from previous triangles have led to new highs.
So, when and what do we buy?
GLD - our model gave a buy signal on 10/13, and subscribers are long from $58.57.
SLV - we are long from $116.40.
GDX - US traders bought this at $35.43.
XGD.TO - Canadian traders bought this at $70.29.
Summary
If you read the first article on the golden triangles written in July, the current breakout is exactly what we've been anticipating. In July, the price drop was satisfied for the base of the triangle, but time was needed for the completion and subsequent breakout of the triangle. Six months was the minimum time required on previous triangles, and that is now satisfied, as the current triangle began in early May and now the breakout in early November. Our trading model gave us buy signals in the gold and silver ETFs in October, confirmed by our proprietary cycle indicator (not shown here), and we are fully positioned with risk now down to zero. In fact, if we are wrong or early, we stand to make a profit from our well timed entries. Newcomers and new money can buy when we have more set ups, possibly upon the completion of a pullback which could occur now or at higher levels. Subscribers will be alerted in real time when these set ups occur.
End of report
Nov 3, 2006
Jack Chan

Archives
email: jack@simplyprofits.org
website: www.simplyprofits.org