Gold is at a major top
Jack Chan
www.traderscorporation.com
Oct 10, 2005
Today's commentary will no doubt raise a few eyebrows, and possibly incite a few gold bugs to send me hate mails. It is not my intention to be controversial, in fact, I've been on the gold bull bandwagon since 2001 and like many others, believe we are still at the early stage of a generational gold bull market. However, I've made some observations in the past four years while trading the gold market, and today I would like to share some of these with you.
Observation #1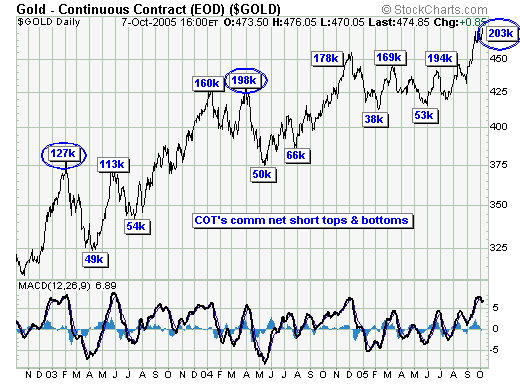 I was one of the first analysts to incorporate COT data into my technical analysis. I first introduced COT reports to my students back in 2002, and now, the COT data is widely referred to by many analysts. As I have always suggested, in order for this bull market to continue, new highs in bullion prices must be confirmed with a new high in CNS (commercial net short), and also a new high in OI (open interests). Finally this week, CNS has reached a new high, confirming the new high in bullion prices.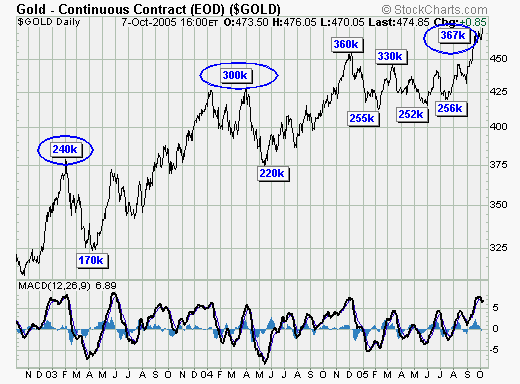 OI was actually confirmed in previous week. There are two main reasons for my requirement of the COT data to confirm the continuation of this bull market:

#1 - new highs in bullion prices must be confirmed by new high in OI, simply because more speculators are needed to fuel this rising market.
#2 - Due to the fact that these speculators are buyers and not sellers, the selling must be absorbed by the commercials, who are hedging by selling forward, therefore CNS must increase to offset the increasing speculative buyers.
Observation #2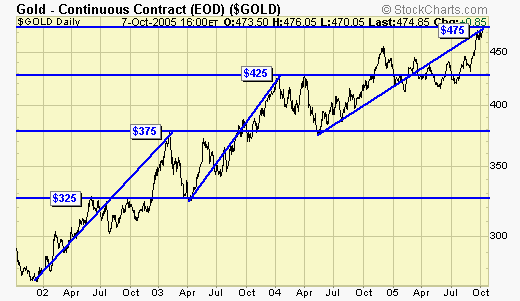 Bullion prices
We have finally reached $475, which is exactly $100 gain since bottoming in May 2004. Since the bottom at $275 in late 2001, this is the third major rise, with each rise gaining $100 and then giving back $50. So, if this is the top, we should expect a pullback to $425 where the next rally will begin. This formula is almost too perfect, but until it doesn't work....
Observation #3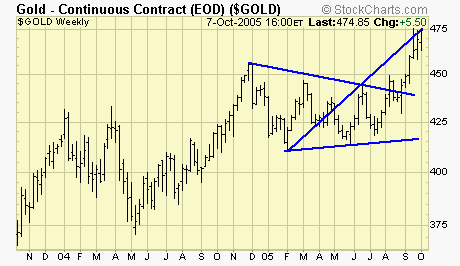 Just simple geometry. Breakout target from the consolidation is $475.
Observation #4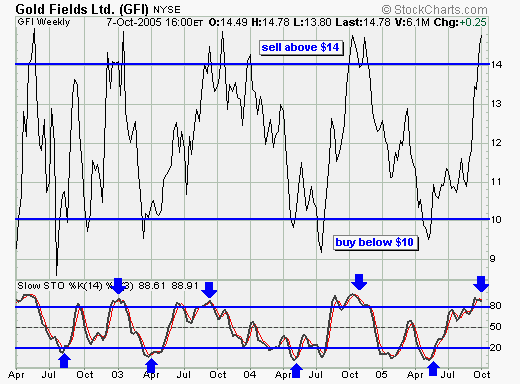 I call this my $4 indicator. You buy at $10 and sell at $14, make 4 bucks.
GFI has been in a holding pattern in the past four years, and until there is a breakout or breakdown from the current four dollar range, it will continue to pinpoint the major tops and bottoms within the major gold cycles.
Observation #5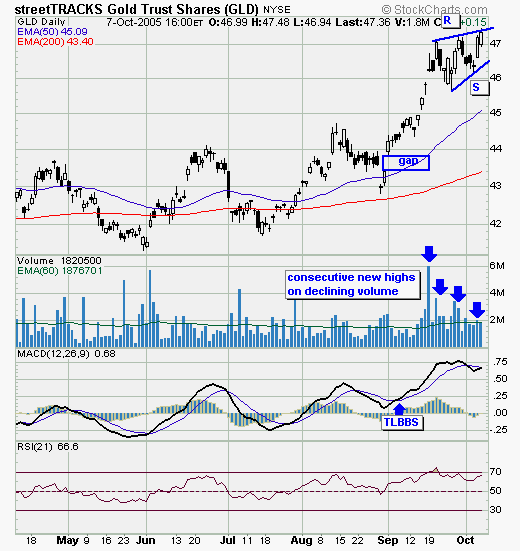 My final observation is GLD. While many are excited over the new highs set every other day in the past three weeks, these consecutive new highs were made on declining volume, and the rising wedge pattern is actually an ending diagonal, which is a topping pattern. There is also a big gap at the $43.50 level, which corresponds with $435 in bullion, not far above the $425 level at which I think where the next major bottom will be.
Summary

In order to profit in the markets, we must buy low and sell high. These observations clearly suggest that now is not the time to buy. Proper application of technical analysis, disciplined risk management, and a little common sense goes a long way in trading and investing.
End of report
JC
Oct 08, 2005
Jack Chan

Archives
email: jack@simplyprofits.org
website: www.simplyprofits.org