Global indexes
Jack Chan
www.simplyprofits.org
Posted Oct 1, 2009
Here is our monthly update on global indexes for our international investors.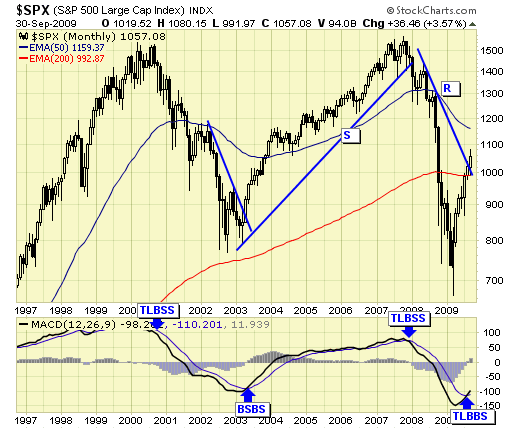 $SPX – major buy signal is now confirmed, ending the major sell signal of Jan 2008.
***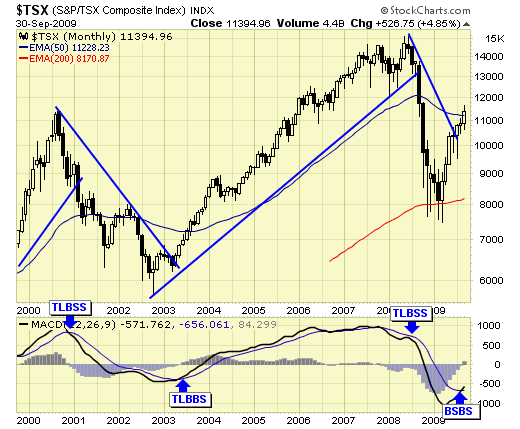 $TSX – new major buy signal.
***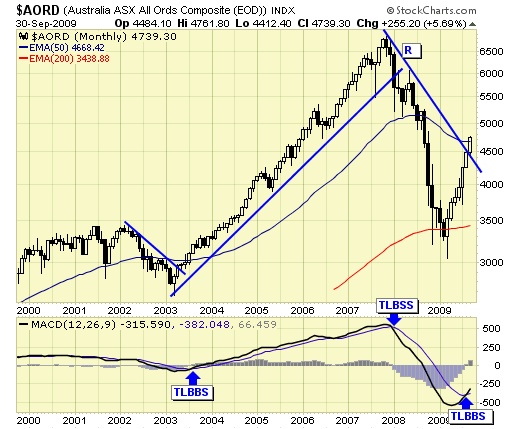 Australia also confirms a new major buy.
***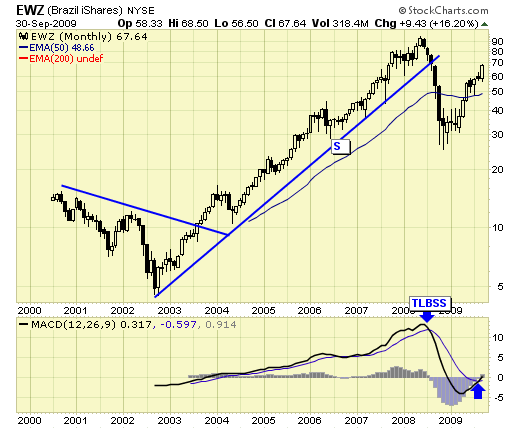 Brazil is on major buy also.
***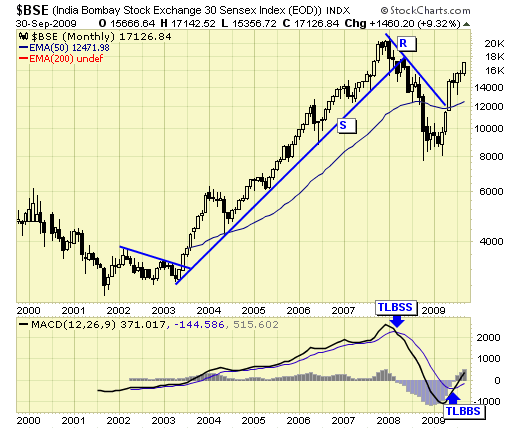 India is on buy signal.
***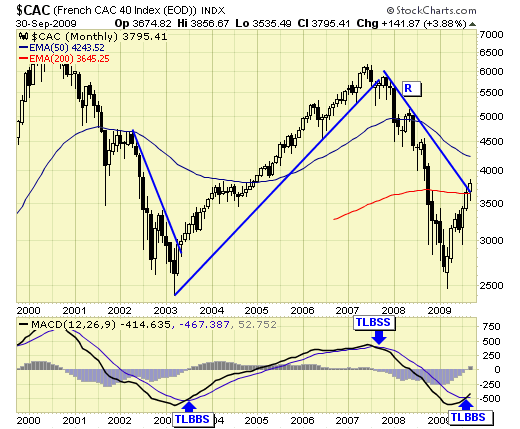 France confirms a new major buy.
***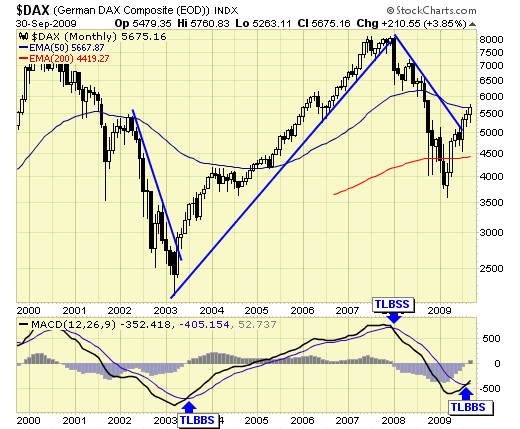 Germany also confirms a new buy.
***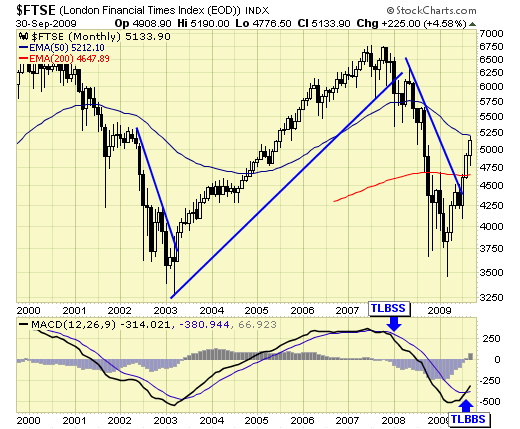 London is on major buy signal.
***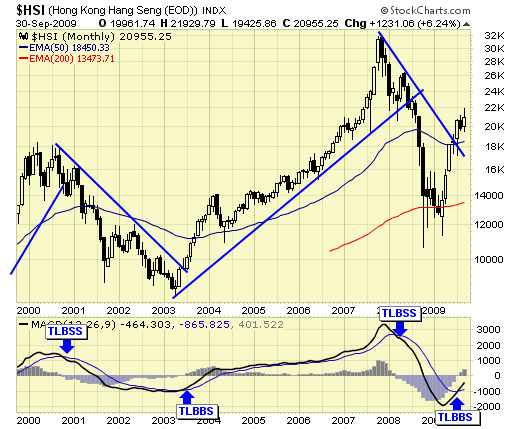 Hong Kong is on a buy signal.
***
Tokyo is on sell signal.
Prices testing TL resistance.
Config is bearish which is long term negative.
***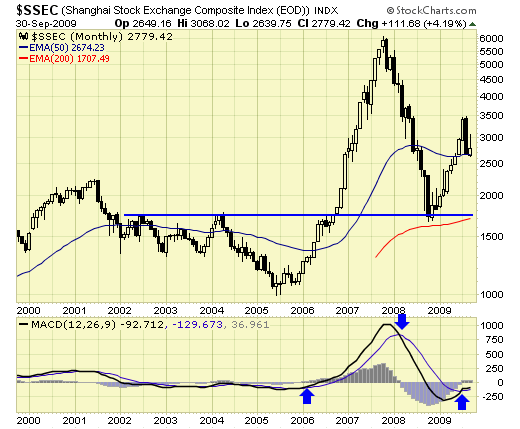 Shanghai is on major buy signal.
This is a very difficult market for most investors.
Prices went parabolic beginning in late 2005 for two full years, then collapsed for one full year, and then spiked up for nine months. There has been no major pullback/correction/consolidation during this entire four year period of roller coaster ride. Therefore, it will be most constructive if this market can somehow go sideways for a few months.
***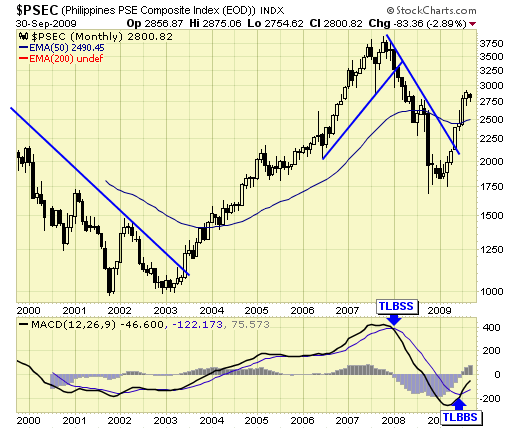 Philippines is on a buy signal.
***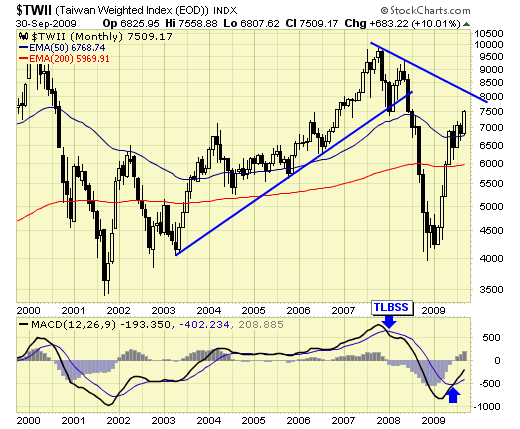 Taiwan's TL resistance is relatively flat but MACD has turned positive.
Summary
All of the global indexes we watch are now back on major buy signals, except Japan. The Nikkei topped in 1990 and has been in a major bear market since.
Long term signals can last a few months to a few years and are not actionable on a daily basis. Investors still need to wait for set ups on the daily charts to begin accumulating positions, ideally when the cycles have bottomed, and most ideally when volatility has returned to bull market values.
Until then, caution is advised and risk must be managed.
This week only, you can receive a complimentary copy of our major buy signal report by sending an email request to : bullsalive@gmail.com
All requests are confidential, and your email addresses are not kept on file for future solicitation. This is just a token of appreciation for your feedback and support to this website.
End of update
Disclosure
We do not offer predictions or forecasts for the markets. What you see here is our simple trading model which provides us the signals and set ups to be either long, short, or in cash at any given time. Entry points and stops are provided in real time to subscribers, therefore, this update may not reflect our current positions in the markets. Trade at your own discretion.
Sep 30, 2009
Jack Chan

Archives
email: jack@simplyprofits.org
website: www.simplyprofits.org