Gold in a free fall
Jack Chan
www.simplyprofits.org
Sep 15, 2006

Note: I'm no longer affiliated with www.traderscorporation.com
This week's special report may help answer many of the emails I received these past few days regarding the sell off in the gold sector. Many were caught and totally surprised by the plunge, after all, September is supposed to be seasonally favorable to gold.
From one of our subscribers. "Jack, I really appreciate your constant updates.... especially during turbulent times like now. I would be remiss if I didn't congratulate you on your timely warning that the last few days could be similar to the period of April 04. Sure enough, you called that one just perfect. (Besides your $80 call on oil and the May top in gold). Talk about credibility!
Keep up the excellent work.... and if you have time in one of your gold updates, could you tell us what followed the plunge of 4/14/2004? Just curious."

The advantage of just focusing on a few sectors have allowed me to stay very close to the markets and price action. Trading and investing is an ongoing learning experience, the more we see, the more we learn. I've been criticized recently by some due to the few whipsaws we have taken this summer. I offer no apologies for that, because I have warned many times that whipsaws could happen while prices are in a consolidation process until a new trend is established. It's the cost of doing business. That consolidation is now over as prices have broken down. By staying disciplined with our trading models, we have avoided the bloodbath in both the energy and gold sectors, and keeping most of the profits we have earned this year. Our benchmark ROI is up 35% for the year, comparing to the $HUI (gold sector) which is up 10% for the year, while $OSX (energy sector) is flat, and $NDX (tech sector) is still down despite current strength.
So, why was April 2004 relevant to the current free fall in gold and gold stocks? Lets recap...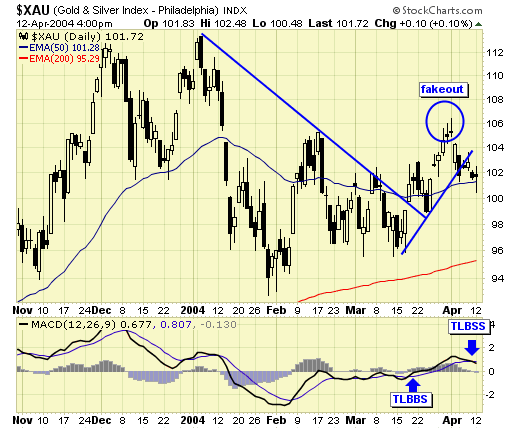 April 2004 - we had a buy signal in mid March and what appeared to be a breakout in early April, but was soon followed by a sell signal. Sentiment was extremely bullish at the time as the 2003 awesome rally was still fresh on everyone's mind.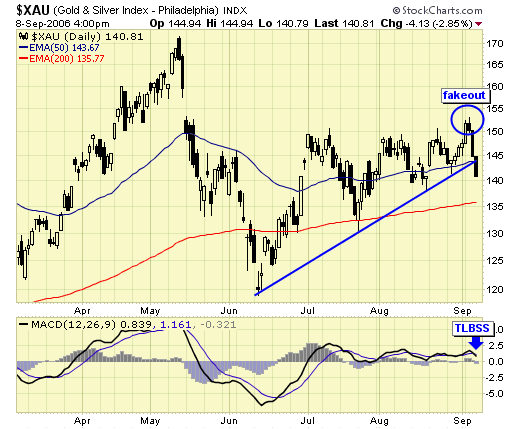 Sep 8/2006 - we have a sell signal on 9/08 after what appeared to be a breakout also. Sentiment is also extremely bullish as the one year awesome rally from May 2005 to May 2006 is still fresh on everyone's mind.
Both of these false breakouts are what I call "failed recovery peaks", and they are the most dangerous situations in the financial markets as fakeouts are often followed by breakdowns. Another infamous "failed recovery peak" occurred in September (yes, September) 2000 in the Nasdaq.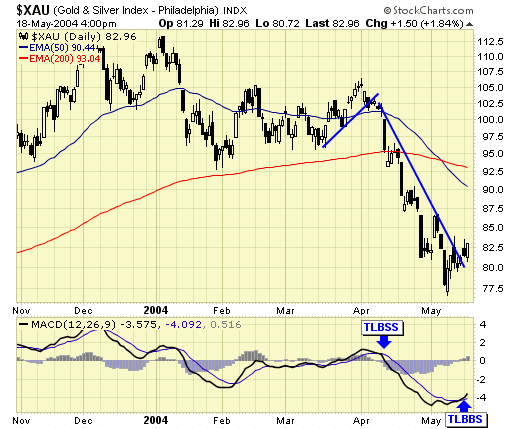 So, is there life after a free fall? Certainly. We always get a buy signal once the plunge is over. The question is, will this be a major buying opportunity, or just a short term trading entry? If you listen to the gold bugs, every sell off is a buying opportunity, because gold can only go up in the long term, right? Personally, having lived thru a few bull and bear cycles, I do not make such an assumption anymore. I wait for the signals, buy and sell on set ups, and manage risk. I'll suffer a few whipsaws during a sideways market, taking small losses, and hitch a ride once a trend is established, and that is our bread and butter.
Summary
By staying disciplined to our trading models, we could be wrong sometimes but we are never wrong for long. Taking small losses and managing risk is a must to prevent financial disasters. Those who were heavily invested in Nasdaq in 2000 have not recovered and likely never will. I am not suggesting the same will happen to gold, energy, or any sector for that matter. But what if? We did have a twenty year bear market in metals didn't we? Holding and hoping is not an alternative. We will buy, and we will sell, and if condition is right, we will hold some.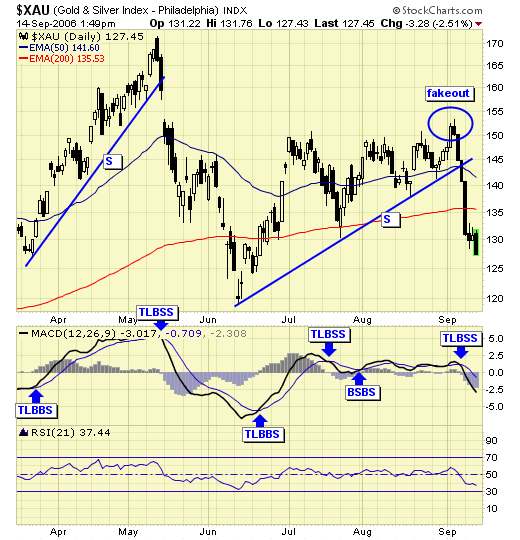 $XAU currently - is on a sell signal since 9/08. Traders should be short or in cash. Buyers must wait until we have a buy signal and a low risk set up, do not try to guess when it bottoms.
End of report
Sep 14, 2006
Jack Chan

Archives
email: jack@simplyprofits.org
website: www.simplyprofits.org