The Mechanics of Trading
Jack Chan
www.traderscorporation.com
Aug 05, 2005
Intro
Readers of my articles and reports have become familiar with my trading models and my style of trading. Many questions have popped up from the inquisitive minds of these readers, and instead of replying to each question individually, I prefer to use real time, real trades to illustrate the simple process I go thru with each trade.
First, there is analysis.
Second, we wait for a buy signal.
Third, we enter the market when the set up is favorable.
Let's look at the current situation of a report I issued recently.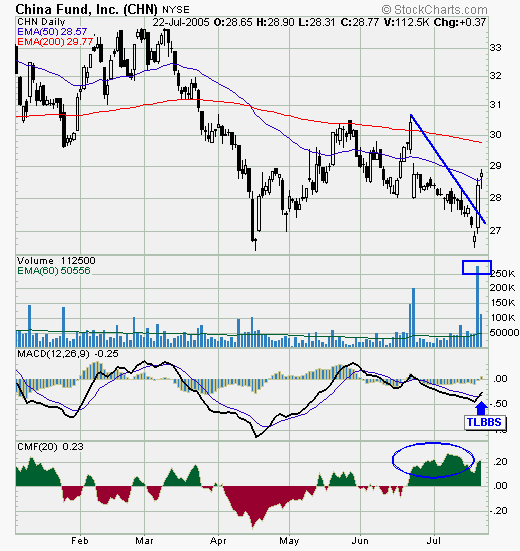 CHN - on 7/23, I sent out a special report, putting CHN on the watch list.
Analysis - a bullish divergence on money flow, and a breakout on very heavy volume.
Signal - a TLBBS was confirmed on 7/22.
Set up - buying the TLBBS would be at $28.77, placing a stop below current pivot low at $26.52 would be risking 8%, that is much too high as I normally do not risk more than 3% on a trade. Therefore, although my analysis was bullish, and we had a buy signal, I advised subscribers to wait for my buy alerts.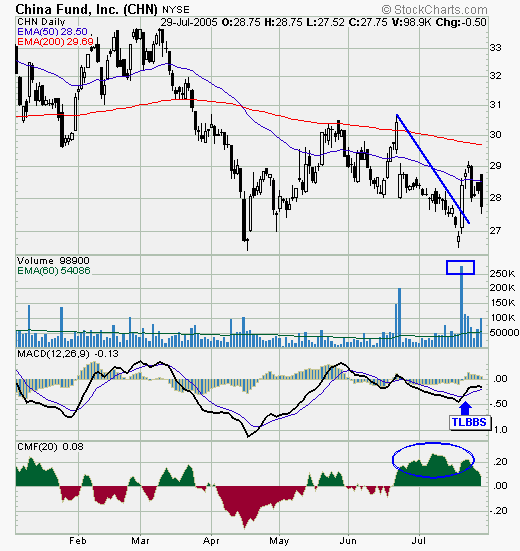 CHN - the pullback should be at or near completion, wait for my buy alert.
Some readers of my report on CHN went and bought CHN on 7/25 after reading my report, without waiting for my buy alert, and now suffering a 4% drawdown. If you must act on your own, again, know your risk. Although we have a TLBBS, the risk was simply too high because buying near $29 with a stop below current low near $26 is risking 10%, that is much too rich for me. Price has now pulled back and that risk has been reduced to 4% if we enter now. But we will wait, I want to see a TL established and risk reduced to 2%, stay tuned.
The above chart and commentary was sent to subscribers on our weekend update dated 7/30. Again, we have a bullish analysis, a buy signal, but until the set up improves, we don't pull the trigger.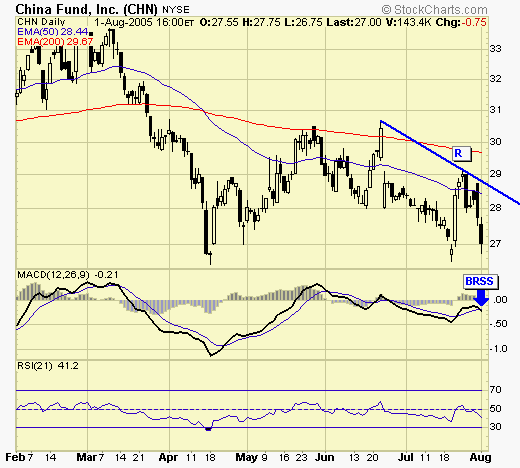 8/01
As it turned out, the downtrend resumes, and we have a BRSS (sell signal) today. I will continue to monitor CHN, and will alert again on a TLBBS.
Conclusion
As I often suggest, technical analysis is nothing more than an educated guess. The market is dynamic and subject to constant change. We must only enter the markets on set ups, and a good set up is when we have a buy signal and R/R is favorable. The most important aspect in successful trading is not whether we are right or wrong, it is knowing our risk with every trade and only trade when that risk is manageable.
JC
Aug 01, 2005
Jack Chan

Archives
email: jack@simplyprofits.org
website: www.simplyprofits.org