The China Syndrome
Jack Chan
www.traderscorporation.com
Jul 25, 2005
Intro
As always, I'm not here to debate the fundamentals, but to alert my subscribers when a special opportunity presents itself.
As we all know by now, China announced the long awaited removal of its "Yuan" pegged to the dollar, and allow the Yuan to float according to a certain percentage of a "special basket of currencies". This story will no doubt be the center of focus for the media for weeks to come, but in the meantime, the CHN I've been tracking is coming alive...
In January this year, I wrote a special report on China, and the ETF to watch was CHN. Here is a description for those who are not familiar with CHN...
The Fund is a closed-end management investment company seeking long-term capital appreciation primarily through investment in the equity securities of companies engaged in a substantial amount of business in the People's Republic of China. The China Fund, Inc. is traded on the New York Stock Exchange with the ticker symbol "CHN". The Fund's investment manager is Martin Currie Inc. The Fund's direct investment manager is Asian Direct Capital Management.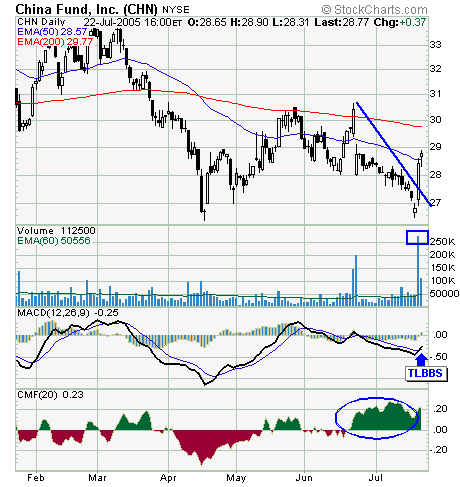 CHN - three things we are looking at here:
we have a TLBBS (buy signal) this week.
There has been a heavy accumulation for the past few weeks.
The day the announcement was made (7/21), CHN broke out on very heavy volume at the same time triggering one of our proprietary buy signals.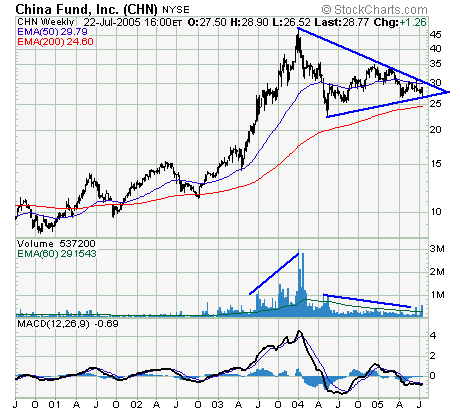 From a longer term perspective, I've been watching CHN since the correction began in 2004. The volume was heavy leading up to the peak, and volume has been almost non existent during the past 18 months when CHN has been consolidating.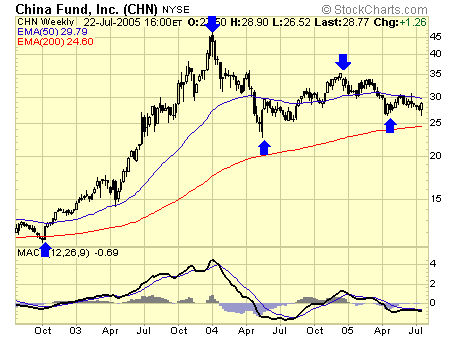 But what is interesting, is that the cycles of tops and bottoms on the CHN is almost exactly the same as two other sectors I cover:
Precious metals...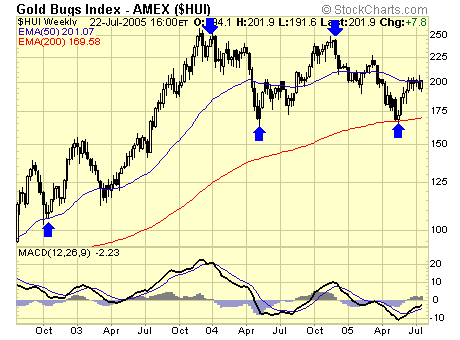 and the Nasdaq....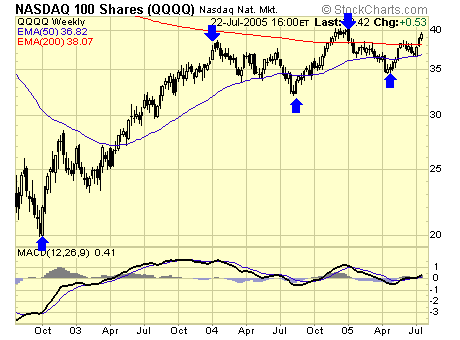 Summary
The China story is the story right now, and a simple way to participate is thru CHN. I have added CHN to my roster of ETFs, and let our trading model guide us in and out. CHN appreciated over 300% during the last major buy cycle from Oct 2002 to Dec 2003, out performing any sector or ETFs, and it could do even better during the next major cycle, since more investors have now caught on to the China story. I'll be sending out alerts to subscribers in the next few days, although we may have to liquidate some of our current profitable positions in other sectors so that we can begin to accumulate CHN.
Peace and profits,
JC

Jack Chan

Archives
email: jack@simplyprofits.org
website: www.simplyprofits.org