GDX - the new ETF for precious metals stocks
Jack Chan
www.traderscorporation.com
May 23, 2006
The much anticipated and much needed new ETF for precious metals stocks has finally debuted on 5/22, without much fanfare. In fact, there is very little info on the web. Reason is obvious, gold bulls are not in a celebratory mood these past few days. Our Canadian subscribers have been blessed with access to a PM stock ETF for a few years now, the XGD.TO is an excellent trading vehicle for us. Now US subscribers also have easy access to the gold and silver sector without owning a basket of stocks. GDX is not the same as GLD, which tracks the price of gold and not gold stocks. For those who are unfamiliar with GDX, here is the run down:
ETF symbol: GDX

Price on May 22nd: $36.50 U.S.

Options available

Index symbol: The ETF tracks the AMEX Gold Miners Index: $GDM

Number of holdings in the Index: 43 international gold and silver stocks listed on AMEX

Specialist handling order flow: Goldman Sachs

Sponsor: Van Eck Global

MER: 0.55%

More information: www.vaneck.com
Top ten holdings in the Index as of April 30th

Requirements for inclusion in the Index
Listed on AMEX

Traded over the past six months on average daily volume of at least 50,000 shares

Market cap exceeding $100 million

Involved primarily in gold and silver mining.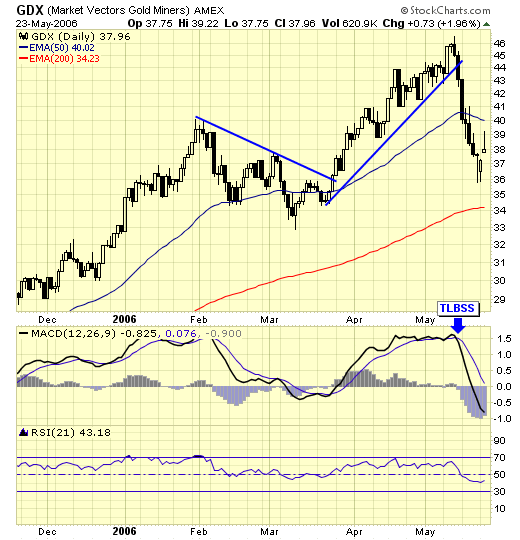 GDX - currently on a sell signal. Prices are approaching 200ema support where we will be watching for a BSBS, may take a while as base building is necessary after such a steep decline.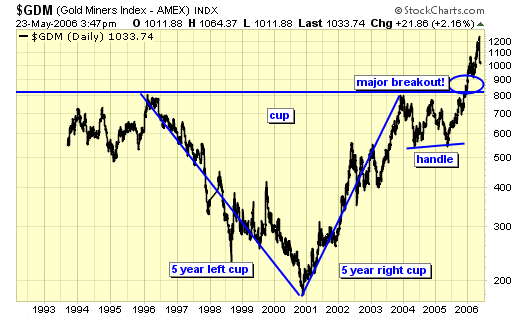 Our subscribers are familiar with the $GDM index, it is our "chart of the year". We've been tracking this index simply because neither the $HUI nor $XAU represent PM stocks justly. The breakout on this multi year "cup with handle" has very bullish implications for the long term. However, it is quite possible that the breakout point at 800 could be tested sooner or later, which is still over 20% below current prices.
Summary
This new ETF fills the void for precious metal stocks investors and traders. Well diversified and more accessible than a fund, it is excellent for short term trading as well as investing. It has a higher beta than the $XAU but lower than $HUI. The timing of the debut is unfortunate, and volume clearly is lacking at this point. There are tradable options but volume is non existent so far. GDX is now on our roster of funds and ETFs, watch and wait for the next signal.
End of report

May 23, 2006
Jack Chan

Archives
email: jack@simplyprofits.org
website: www.simplyprofits.org