A correction in the resource sectors
Jack Chan
www.traderscorporation.com
May 16, 2006
Much new money has been attracted to the resource sectors of metals and energy lately, therefore, it is only appropriate that a substantial correction has now begun. After all, those who are now taking profits must find new buyers, the same old "buy low and sell high" in the market place.
The signals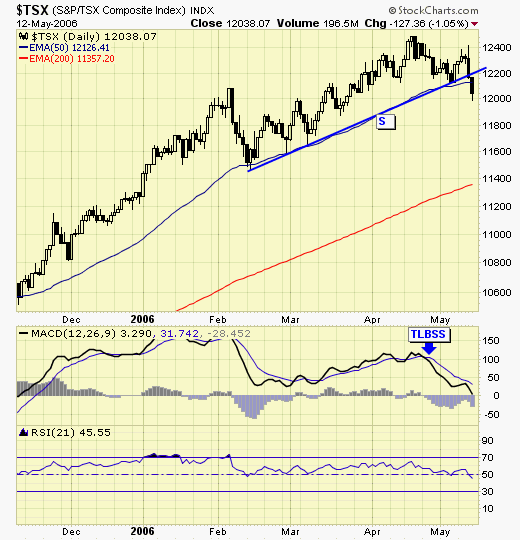 The Toronto index is heavily weighted with resource sectors, and a sell signal in this index usually precedes sell signals in the metals and energy sectors. We had a sell signal on the $TSX in late April, and a follow thru today by breaking support of 50ema.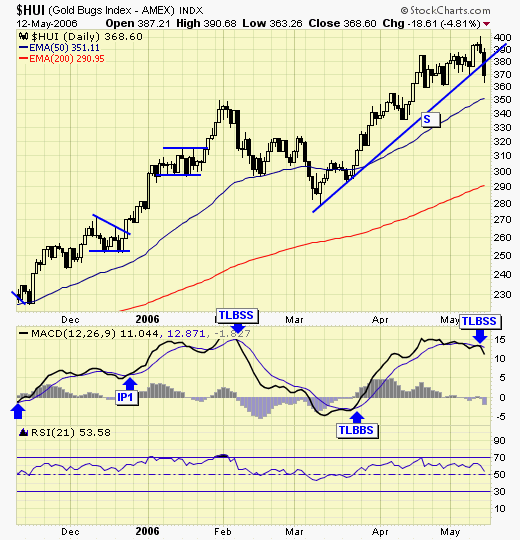 Gold sector as represented by the $HUI gave us a sell signal today.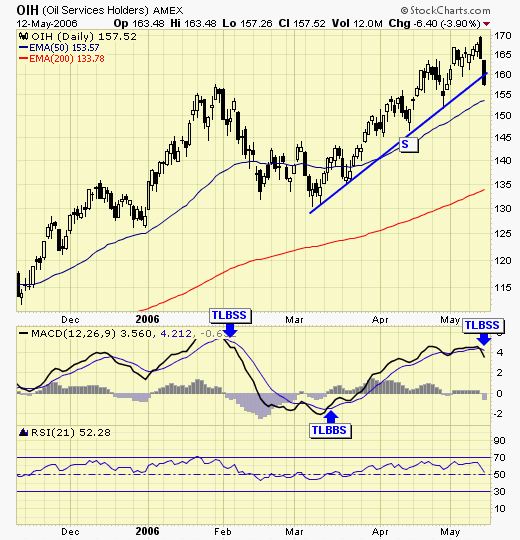 Energy sector as represented by OIH gave us a sell signal today also.
The analysis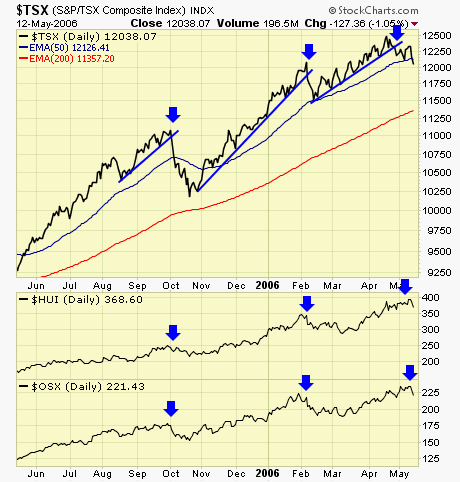 Once again, the breakdown on the $TSX is causing both the $HUI and $OSX to roll over.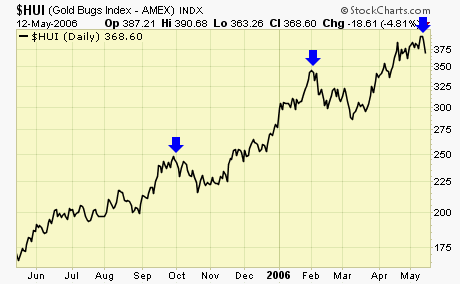 $HUI at a close look.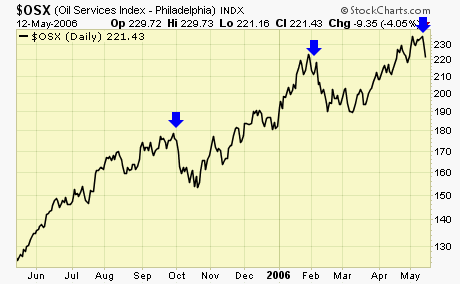 $OSX at a closer look.
Summary
As always, we trade the signals and not the analysis. But when the analysis confirms the signals, we have a very high probability of a correction. We have no way of predicting how big this correction will be, guessing is not an alternative. Best we can do is to take some profits, be out of harm's way, and re-enter on a buy signal, while holding a core position until major support is violated. This is a sensible approach and an excellent alternative to the constant struggle between the bulls and bears. The soothsayers are always adamant about holding for the long term, ignoring the pullbacks and corrections. Sure, not a problem for those who bought in 2001 and 2002, but many newcomers could see their profits wiped out or more in a severe correction. The naysayers missed the run up in late 2005 and again in March, calling them "sucker's rally". Well, these sucker's rallies have earned us an average overall profit of 50 to 60%, and we are more than happy to take the summer off and do some serious fishing.
End of report
May 14, 2006
Jack Chan

Archives
email: jack@simplyprofits.org
website: www.simplyprofits.org