Optimists and pessimists
Jack Chan
www.traderscorporation.com
Apr 17, 2006
In the financial markets, if there are equal numbers of buyers and sellers, prices would be flat. When buyers overwhelm sellers in a continuous basis, we have a bull market. When sellers overwhelm buyers, we have a bear market.
In technical analysis, not everyone sees the same thing in a chart. Optimists tend to look for the positives, and pessimists tend to look for the negatives. One pattern stands out which appeals to both optimists and pessimists is the "cup with handle" pattern. Of course, only optimists see it as a cup with handle, pessimists see it as a double top.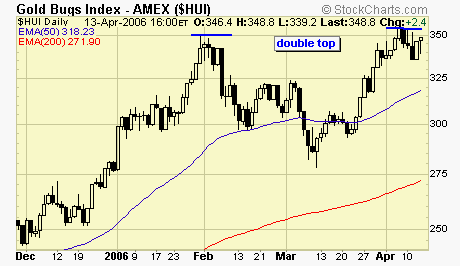 The current $HUI is an excellent real time example. Some analysts are calling this a double top, and a substantial correction has begun according to them.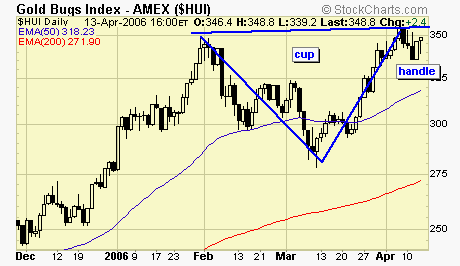 Being an optimist, I see it as a "cup with handle", which is a bullish pattern and the usual resolution is a breakout. I'm not always an optimist, I would consider this a double top also if we were in a bear market. We obviously are not. But don't tell that to the pessimists.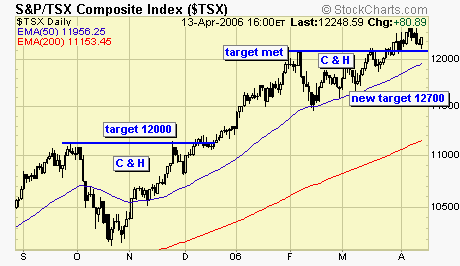 The Toronto index is heavily weighted with the resource sectors of oil and gas, and metals, therefore, an excellent index to watch for those who are invested in these lucrative sectors. In Dec 2005 upon the breakout of the double top, sorry, I meant the "cup with handle", I projected an upside target of 12000. That target was met in early Feb, and both sectors of energy and metals went into a correction, pushing the $TSX down to the 50ema support. The recovery rally resulted in another C&H which has a new target of 12700, which bodes well for our buy signals in both the energy and metals sectors.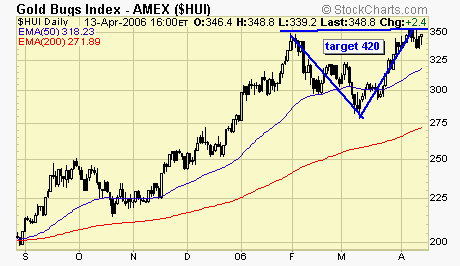 Back to the $HUI, I the optimist have an optimistic price target of $420 for the $HUI, which is a good 20% from current level.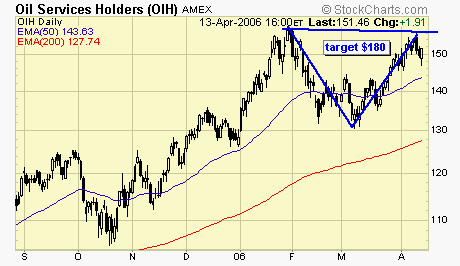 OIH, which is an ETF for the energy sector, has a price target of $180, also 20% from current prices.
FCX - one of many resource stocks which sports the beautiful C&H, has a price target of $83 upon a breakout, about 30% from current prices.
Summary
Keep it simple folks, follow the money, go with the trend, find an entry point in a bull market, manage your risk, and enjoy the ride. Speaking of keeping it simple, here is a bonus section for this long weekend
Gold, keeping it simple.
by the same optimist.
Keep it simple. That is what we do, by following our trading models. Our focus is whether we should be in, or out of the markets. No opinions, and no BS.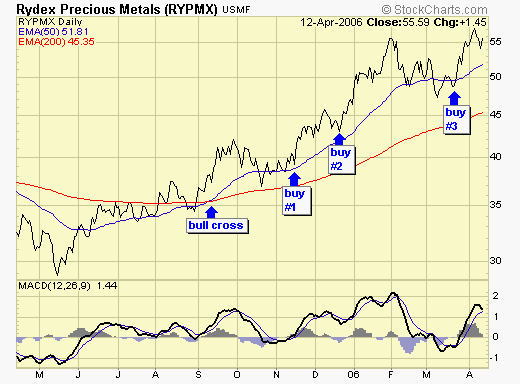 For our American subscribers, or those with US accounts, a simple way to participate in the gold bull market is by going with a precious metals fund. We currently have RYPMX and USERX on our roster, but these buy signals could be applied to any metals funds. As you see from this chart, we had buy signals in Nov, Dec, and again in March since the chart returned to a bullish configuration in September. If you are an investor, you simply buy at any one of these signals, place your stop at breakeven, and go fishing. If you are a trader, buy these signals and take profits when we suggest you to. And if you are like me, who is an investor as well as a trader, then simply buy at any one of these signals, take partial profits when we suggest while maintaining a core position, then re-enter upon another buy signal. As long as the market is accommodative by staying in the bullish configuration, we continue to look for set ups for new money and those who wish to add to positions.
Buy #1 is up 39%
Buy #2 is up 30%
Buy #3 is up 8%
Real numbers, real dollars.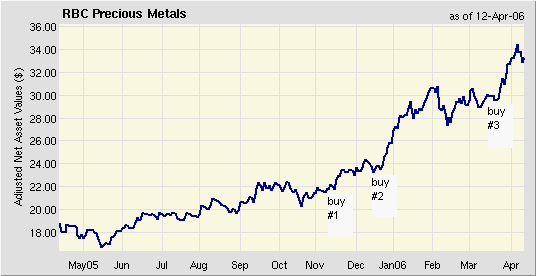 For our Canadian subscribers, the RBC precious metals is the best performing no load bank fund. As a Canuck myself, I've been buying this fund since the single digits. Using the RYPMX for signals (RBF468 is not charted with indicators), both investors and traders are doing very well.
Buy #1 is up 50%
Buy #2 is up 37%
Buy #3 is up 9%
Real numbers, real loonies.
Summary
Keeping it simple is not just a lip service, it is something I practice and preach. After all, I rather be fishing than spending countless hours studying PE ratios and reading company reports. Profitable trading and investing is neither rocket science nor brain surgery, don't make it more complicated than it is.
End of report and happy Easter.
Apr 16, 2006
Jack Chan

Archives
email: jack@simplyprofits.org
website: www.simplyprofits.org