Dollar and gold
Jack Chan
www.simplyprofits.org
posted Apr 10, 2007
For the past few weeks, we have prepared our subscribers with special tutorials on how to position in the gold sector during the next impulsive phase, with specific instructions on how to enter the market before, during, and after a major breakout is confirmed. Now that our trading and investment plans are firmly in place, we will take the leisure of seeing the markets from a technical perspective, and get a glimpse of the future which is unfolding for us in the next few weeks. Remember, we trade/invest according to our plans, and not our analysis. Technical analysis is nothing more than an educated guess.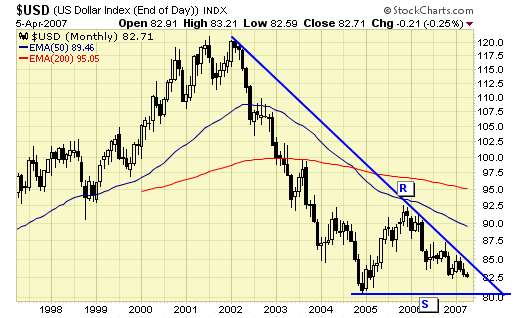 All eyes are on the US dollar. The strong bounce in 2005 has provided some hope that the dollar was on a recovery, and therefore, gold would begin a lengthy correction. However, USD continues to struggle below trendline resistance, and is now poised to test the low near the 80 level. The next few weeks is very pivotal.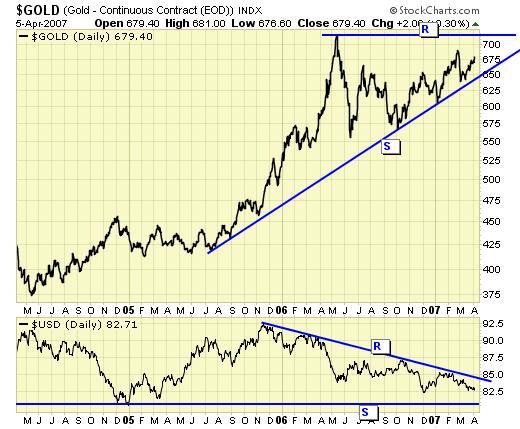 In this chart, we can see that the pivotal event will take place in the next few weeks, as USD may test the low near 80, while gold may test the high at $725. Naturally, a USD breakdown will likely coincide with a gold breakout. However, we cannot rule out the possibility of a double bottom for USD and a double top for gold. If and when that happens, we could be looking at a lengthy corrective bounce in the USD, and an equally lengthy corrective sell off in gold.
To keep the gold breakout/dollar breakdown scenario alive, the support in gold and resistance in USD must not be violated.
Summary
Technical analysis is widely misunderstood and mis-used by practitioners and non practitioners alike. Because TA can only tell us what has happened, and what is happening, but cannot tell us what will happen. There is a big difference between what is likely to happen and what will actually happen. Long term successful trading and investing does not require a crystal ball, and there isn't one anyways. What is required is a consistent trading/investment plan and the discipline to manage risk. Currently, we are partially positioned in the gold sector, and look to continue to add to positions upon set ups, and will become fully invested upon a major breakout and a new closing high. Stops are also in place to keep risk acceptable and manageable.
We do not predict, but we can prepare.
End of report
Apr 6, 2007
Jack Chan

Archives
email: jack@simplyprofits.org
website: www.simplyprofits.org