An objective look at gold and gold stocks
Jack Chan
www.simplyprofits.org
posted Feb 12, 2007
Words of caution: public readers of my commentaries should exercise their own judgment as to whether to buy or sell anything. Never trade based on other people's analysis. Knowing which way to place our bets is only half of the formula to success. Wishing you peace and profits...
Lets first look at gold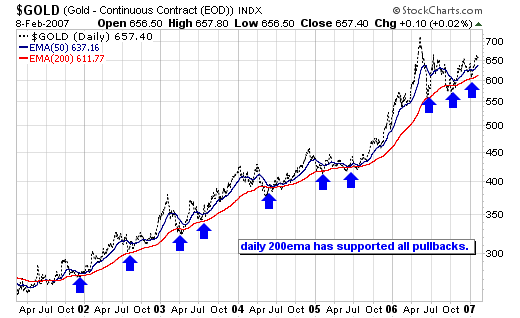 As shown previously in our January special report to subscribers, the daily 200ema has acted as support to all pullbacks during this gold bull market, and has done it again. Prices have now surpassed the Dec high confirming that the pullback is now complete.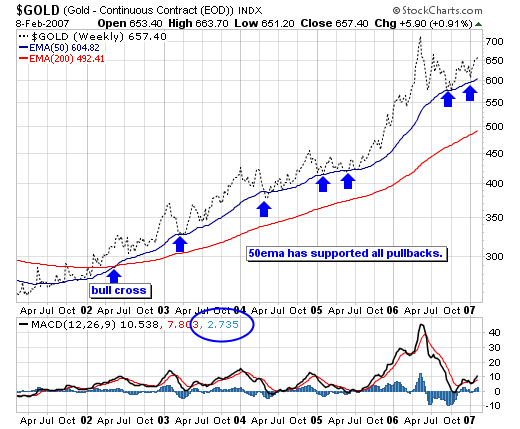 The weekly gold chart confirms the same as the weekly 50ema has also acted as support for all pullbacks. MACD is now positive confirming the breakout.
Gold stocks as represented by the $HUI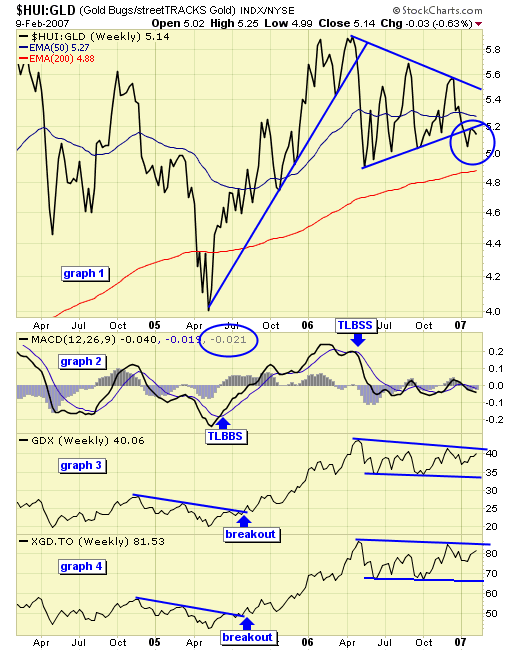 Our breakout model - is still far from confirming a breakout for the $HUI.
Graph #1 - shows the breakdown (circled) in Jan 2007, and in the past, that has led to a sharp sell off before a major breakout occurs. Perhaps this time will be different.
Graph #2 - shows that the model is still on a sell signal from May 2006.
Graph #3 - shows GDX is still within the ten month long consolidation.
Graph #4 - shows XGD.TO is still within the ten month long consolidation also.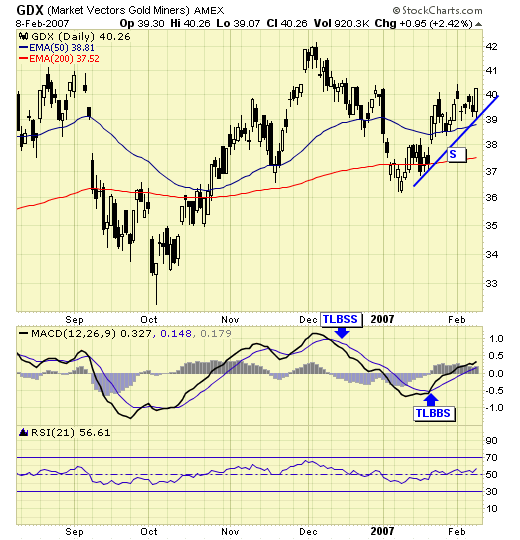 GDX - nevertheless, GDX is on a buy signal and we will continue to accumulate upon set ups. More details for subscribers in this weekend's update.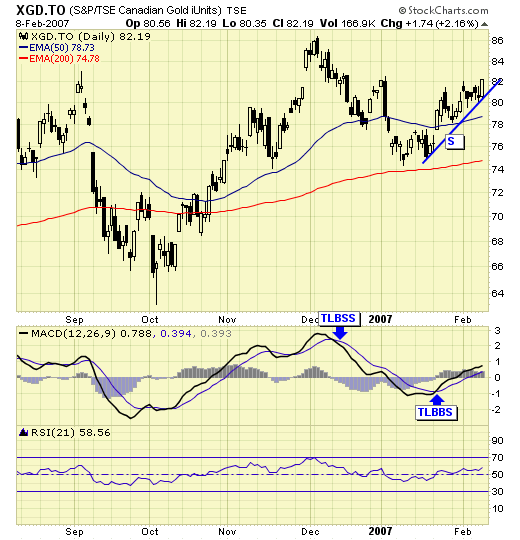 XGD.TO - Canadian version of GDX is also on a buy signal, and we'll have more details as how to further accumulate positions in our ETFs, in this weekend's update to subscribers.
Summary
Gold's price action is very bullish and indicates that a new impulsive phase is about to begin. Gold stocks ETFs are lagging but can catch up in a heartbeat. Both GDX and XGD.TO are still consolidating near the daily 50ema and we need to see a breakout above their respective December highs to confirm that the ten month long consolidation is over, and an impulsive phase has begun. In the meantime, we continue to accumulate positions upon set ups in anticipation of the breakout, keeping stops tight and managing risk. We will become 100% invested once the breakout is confirmed.
End of report.
Feb 8, 2007
Jack Chan

Archives
email: jack@simplyprofits.org
website: www.simplyprofits.org