Multitudes Mob Mogambo
David Bond
Archives
Editor, Silver Valley Mining Journal
posted Sep 27, 2004 19:01 WUT
[click on the small images to see the bigger photos]
[Editor's note: Dave Bond forgot to mention that 47 gallons (yes, gallons) of coffee were drunk on Friday at the show]
Wallace, Idaho - Five hundred caffeine-crazed silver psychos descended upon the normally bucolic tourist trap of Coeur d'Alene, Idaho and the more like-spirited "party-at-the-drop-of-a-ball" Wallace, Idaho this weekend, led by a ranting Mogambo Guru from the depths of the silver mines to a dedication of the "Probalistic" Center of the Universe at the corner of Wallace's Bank and Sixth streets.
Delegates to Silver Summit 2004, concluded Sunday morning after a four-day run, came to Idaho's silver fields from such nations as Belgium, England, Sweden, Australia, Ecuador, France, Bangladesh, Uzbekistan, Germany, Canada and the tiny island kingdom of Colemania - together with a septuagenarian black labrador and a caramel shih tzu. Their mantra: Silver is Money, and the only way to get any is to mine it, 'cuz the Comex is bust and the U.S. dollar's circling the drain - from a worth of $1 in 1913 to 2 cents today.
Their cheerleaders numbered internet celebrity Richard Daughty of Pinellas Park, Florida, author of the Mogambo Guru newsletter and the self-described "angriest guy in economics" who likened Fed Chairman Alan Greenspan to a "retarded chicken" for debasing the U.S. dollar to its lowest point in history with masses of debt, and world-renown silver analyst David Morgan, author of Silver-Investor.com, who clearly shared Daughty's disdain for the dollar.
Silver Summit 2004's sponsors and presenters included Hecla Mining Co., Coeur d'Alene Mines, Pan American Silver, Silver Standard Resources, Inc., Bunker Hill, Sterling Mining Co., Canadian Zinc, New Jersey Mining Co., Timberline Resources, Mag Silver, Esperanza Silver, Macmin Silver, Tumi Resources, Minera Andes, and two dozen others - these companies altogether controlling an incredible 2 billion ounces of silver reserves and resources.
Bunker Hill, Lucky Friday, New Jersey and Galena crews graciously showed 60 conferees below-ground to their respective mines on Thursday's day-shift. Following lunch at the Snakepit, they were joined by nearly 430 others at a Coeur d'Alene convention center later that day and the next for seminars, presentations and general hob-nobbing with the CEOs.
First-timer Ross J. Beaty, chair and CEO of Pan American, summed up his impressions of Silver Summit 2004 thus: "This is the best silver mining convention in the world," he said. "We will be back, again and again."
What makes Silver Summit work is that investors get a chance to stray from the lobbies and convention halls of a sterile hotel to real elephant country - the Coeur d'Alene Mining District, source already of 1.2 billion ounces of silver, and the very likely source of another billion or two ounces should current prices prevail.
No moose pasture this, this stalwart camp that has out-lived and out-produced the Comstock and Potosi lodes combined in its brief 120 years and now the target of new exploration ventures totaling $30 million over the next few years. The first surface diamond drill rig the district has seen in 16 years is now poking 2,400 feet of holes in the back of Sunshine's ground and it was damned tough to get - diamond drill rigs are busy this year; Hecla and Coeur are expanding their underground headings; New Jersey has struck gold at the Golden Chest, and a Pine Creek miner, Idaho-General, recently came under new management and got itself registered.
A caravan of two full SRO tour buses and a dozen cars ventured forth Saturday from Coeur d'Alene tourist trap torture to the Silver Valley on Saturday to see those mines - to come to the silver well, as it were. Bunker Hill's Bob Hopper - who'd emceed the previous day's 9-hour conference - announced formation of the Jonathan Swift Mining Co., which has laid claim to the huge mineral reserves the EPA and the Coeur d'Alene Indian tribe allege reside in the lakebed of Coeur d'Alene Lake. (MTK on this, dear readers.) Following surface tours at Bunker, New Jersey and Sunshine, Summiteers made their way to the Mining Heritage Exhibition where former Day Mines CEO Bill Calhoun explained the complex evolution of mining methods from the early days of hand-held drills, double-jacks, mule hoists and stamp mills to today's mechanized, more efficient and infinitely safer means.
Meals, more tours and libations ensued. As sun set Saturday, Sambuka filled shot glasses and a hospitable Wallace welcomed the foreigners for a solemn dedication of the new Center of the Universe at Bank and Sixth. [Editor's note, a photo of the ceremony will be posted as soon as I can get my hands on one.] Mayor Ron Garitone, citing peer review from a shadowy crew of Italian relatives, issued the following proclamation beneath a wall of search-lights:
"I, Ron Garitone, Mayor of Wallace, Idaho, and all of its subjects, and being of sound body and mind, do hereby solemnly declare and proclaim Wallace to be the Center of the Universe.
"Thanks to the newly discovered science of "Probalism" - specifically Probalistic modeling, pioneered by the Environmental Protection Agency and the Department of Health and Welfare, and peer-reviewed by La Cosa Nostra and the Flat Earth Society - we were further able to pinpoint the exact center within the Center of the Universe; to wit: a sewer access cover slightly off-center from the intersection of Bank and Sixth Streets.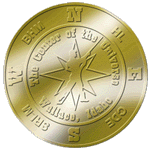 "Upon discovering this desecration of the Center of the Universe, we proceeded forthwith to remove said manhole cover and replace it with this fine Monument, directing all who come upon it to the Four Corners of the Universe, these being the Bunker Hill, the Sunshine, the Lucky Friday and the Galena Mines. Let the courses of all who foray upon these vectors into the known and unknown be forever illuminated by the brilliant, shimmering gleamings of silver, lead and zinc to their destinations, wherever they may be.
"The science of Probalism has its roots in the 2002 EPA Coeur d'Alene Basin Record of Decision, and as a syllogism expresses itself thusly: If a thing cannot be disproven, it is thereby proven. Thus if the communities of the Silver Valley cannot absolutely prove themselves to the EPA's satisfaction to be good and healthy places to live, then this is proof that they require the EPA's continued meddling in their affairs.
"Similarly, after a search of the literature, our government-contracted scientists in Moscow, Boise and Seattle have, after years of diligence, been unable to unearth one scintilla of proof that Wallace is NOT the Center of the Universe. In the absence of such proof, we are compelled to conclude that Wallace must therefore BE the Center of the Universe.
"And it is hereby so ordered and declared, this year 2004, this date, September 25th, this hour, 9 p.m., Wallace Universal Time (WUT)."
WUT, indeed. Here's WUT: The doomsday clocks at the Comex and the Fed are ticking and the Paper Potentates know it. Silver Summit, Pan American and Mogambo will be back next year with the real thing and another 500 of their closest friends. The Silver Revolution, a revolution as profound as any the last millennium is under way: The wresting of our wealth away from those who have stolen it, who have rendered our honest labors meaningless with their fiat money. Phil Lindstrom was right: We mine money. We will chain up these usurpers, these thieves, these usurers, these vipers, with links of silver, and reclaim our stolen wealth and dignity.
To the Revolution!

Sep 27, 2004
David Bond
Archives
Editor: Silver Valley Mining Journal


David Bond covers gold and silver mining equities for a number of national and international publishers, including Platts Metals Week, a division of McGraw-Hill. He lives in Wallace, Idaho, heart of the planet's richest silver fields, the Coeur d'Alene Mining District. He is former editor of the Wallace Miner, and holds regional and national firsts in investigative journalism from the Atlantic City Press Club (National Headliner) and from the Society of Professional Journalists (SDX/SPJ) and has edited or written for newspapers on both coasts, Canada and Alaska.
________________
321gold Inc