Is 'The Shopping Season' Over?
Dudley Baker
PreciousMetalsWarrants
August 22, 2006
One of our favorite analysts, Doug Casey, Casey Research over the last few months has referred to 'The Shopping Season'; a time to pick up at bargain prices, some of your favorite stocks and long-term warrants (editor's comment) before this Fall's resumption of the bull market.
We and some other analysts, including Lawrence Roulston, Resource Opportunities, have been anticipating the markets to take off before the end of August. And now Peter Grandich, Grandich Publications proclaims in his recent article, "Get Ready For Some Fall Action".
Staying abreast of the current news, we see that mining companies are actually reporting some good earnings and that exploration projects are advancing and the news is good. All of this, setting the stage for one heck of a rally.
As we write this article at 1:00 CST with Gold at 625.60 (up 13.70), Silver at 12.27 (up .30) and the XAU at 146.56 (up 5.84), we have to conclude that investors should now be leaving the grocery store, proud of their new purchases, take a deep breath and exercise patience. Sure we will have some 'backing and filling' but don't dilly dally. Not that you can't buy later, albeit at higher prices, but those of you reading this are the savvy investors, right? We are the one's who have arrived early at this party and the party is still just getting started. We will be selling out only when our friends and neighbors (who now think we are crazy) awaken to this bull market in the months and years ahead. Building inventory is what we like to call our accumulation process; an inventory of shares and warrants that will be sold at much higher prices in the months and years ahead.
Ourselves, we are aggressive investor's preferring to purchase the shares of the junior mining exploration companies and or their long-term warrants, if trading. We had our personal 'Shopping List' prepared 2 months ago and during this corrective phase have made numerous new additions to our portfolio and/or added to existing positions. We were aggressive buyers when some of our favorites were beaten down on this correction. We wish to say thanks to the sellers of those shares that we picked at the lows.
For now, we're done, tapped out! "ALL IN" as the poker players love to say. How about you?
We share with you some charts to reflect where we are currently and keep in mind; as I recall Paul van Eeden has said, "it's all about the U.S. Dollar".
The Dollar Index closed today at 84.52 (down .46). Reviewing the charts below on the HUI and the XAU it is apparent that we need a clean breakout of the 350 level and 150 level respectively to really get this party going once again.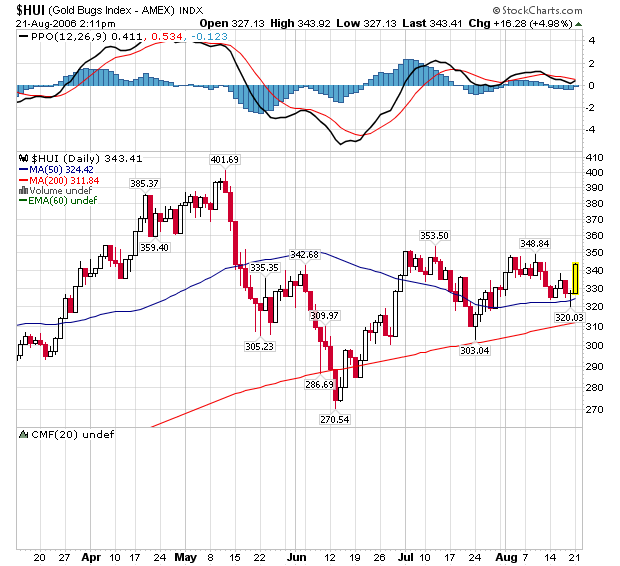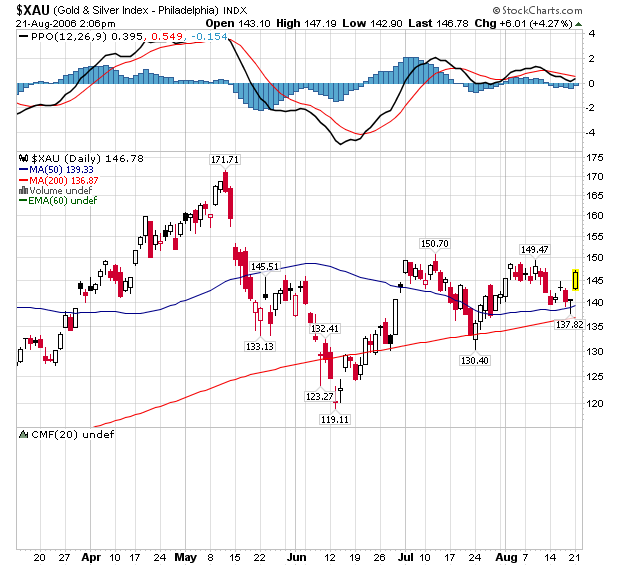 August 21, 2006
Dudley Baker
Guadalajara/Ajijic, Mexico
email: info@preciousmetalswarrants.com
website: www.preciousmetalswarrants.com
Dudley Baker is the owner/editor of Precious Metals Warrants, a market data service which provides you with the details on all mining & energy companies with warrants trading on the U.S. and Canadian Exchanges. As new warrants are listed for trading they alert you via an e-mail blast. You are provided with links to the companies' websites, links to quotes and charts, tips for placing orders and much more. Precious Metals Warrants do not make any specific recommendations in their service. They do the work for you and provide you with the knowledge, trading tips and the confidence in placing your orders.
For those investors seeking more knowledge on warrants do visit the Learning Center at Precious Metals Warrants, where you will find much more information and examples to enhance your learning experience. You may also sign up for The Warrant Report free weekly email.
Disclaimer/Disclosure
PreciousMetalsWarrants.com is not an investment advisor and any reference to specific securities does not constitute a recommendation thereof. The opinions expressed in this report are the express personal opinions of Dudley Baker. Neither the information, nor the opinions expressed should be construed as a solicitation to buy any securities mentioned in this Service. Examples given are only intended to make investors aware of the potential rewards of investing in Warrants. Investors are recommended to obtain the advice of a qualified investment advisor before entering into any transactions involving stocks or Warrants.

321gold Inc