Golden Times
Mary Anne & Pamela Aden
The Aden Sisters
Posted Jun 23, 2010
Courtesy of www.adenforecast.com
Gold is amazing. It's been very strong, hitting record highs last week. Its bullish price action means investors and governments know it's time to be in safe assets. The result is, gold continues to benefit as the world's #1 safe haven.
GOLD IS MONEY
We're also seeing first hand gold's role in the monetary system. Few people understand gold's importance over other forms of wealth but if there was ever a doubt, it's been erased by gold's reaction to ongoing financial developments.
Gold is money. Most governments regard gold as a monetary instrument, and it has been the international currency for thousands of years.
BIG PICTURE: Gold is best
Considering the big picture, there's no doubt gold is the best investment. The mega trend changed when the new century began. A clear shift away from paper assets (like stocks) and into tangibles (like gold) took place and a new era began. It wasn't obvious to the average investor because mega trends take lots of time for investor's mentality to gradually change.
Even though gold's current rise is already in its tenth bullish year, the trends are still solidly in gold's favor. These mega trends say… stay the course… stay with gold and gold related investments.
Mega bull markets also take time to run their course and this time will unlikely be an exception. Bull markets tend to end in euphoria, when everyone's invested and they can't get enough of it. Gold is far from this.
Comparing the current 10 year gold run to the 12 years leading up to the 2000 tech explosion in the stock market, and gold's bull market in the 1970s, you can see that gold's rise is still tame (see Chart 1). A bubble is still well into the future.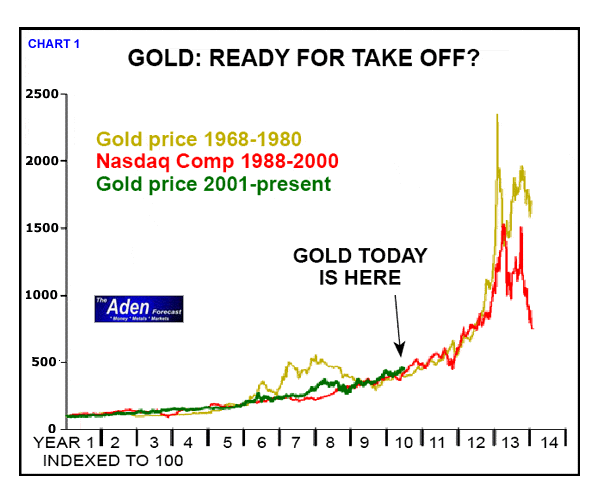 DEMAND GROWING AROUND THE WORLD
Demand for gold and silver grew even more last month. Gold sales to Europe from the Perth Mint, for instance, soared as the Greek debt crisis triggered a flight to gold. The U.S. Mint also had a busy month, selling record amounts of gold and silver.
The Chinese and Indians were also buyers. China's gold bar sales doubled, while India's gold demand soared almost 700% in the first quarter. According to the World Gold Council, the outlook for gold remains strong for the rest of 2010, both from investment and jewelry demand.
BEST CERTAINTY
We've been watching the markets and observing their behavior every day for 34 years. It has given us a good idea as to how they interact, what moves them and when it's the best time to buy and sell. We've made mistakes, but overall our record has been pretty good.
During this time, we've of course seen that things change and the markets change in reaction. There are many examples we could provide, but one that comes to mind was gold in the 1970s.
It soared due to rising inflation, rising interest rates and a falling dollar. Also in the mix was economic and political uncertainty like Watergate, the oil embargo, geopolitical problems with Russia invading Afghanistan and the start of the Iraq-Iran war. That 10 year period was packed full of uncertainty.
And uncertainty is again at the forefront. The current global environment is more intense and serious, which is keeping gold up. Gold is the best certainty during times of uncertainty. And the way the world is going, uncertainty will be with us for a long time.
TIMING THE BULL MARKET
Gold hasn't given us much of a chance to buy on weakness (see Chart 2). When you see that gold gained nearly 25% in 2009, and it's up 12½% so far this year, it's a good reason why buying new positions gradually by averaging in is a good strategy.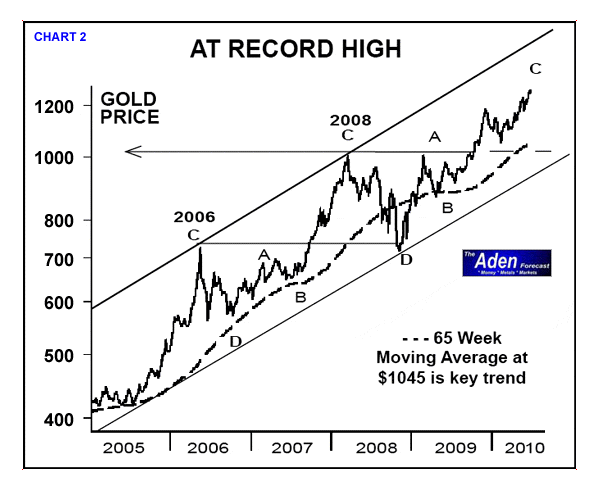 For now, gold has been in an intermediate rise we call "C" for about 13 months. It's lasted longer than normal but by reaching a record high gold is telling us that the bull market is very strong and it's headed higher.
KEEP AN EYE ON…
We'll see how far gold takes us this time around, probably to near $1300 or higher. Summer months, however, tend to be seasonally slow months for gold. On the downside, watch $1170 as gold will remain in a strong 2010 rise above this level.
###
Jun 21, 2010
Mary Anne & Pamela Aden
email:
info@adenforecast.com
The Aden Forecast

Mary Anne & Pamela Aden are well known analysts and editors of The Aden Forecast, a market newsletter providing specific forecasts and recommendations on gold, stocks, interest rates and the other major markets.
For more information, go to http://www.adenforecast.com/ or http://www.goldchartsrus.net/