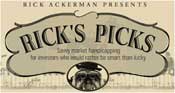 Rick's Picks
A Pickoff Play In Natural Gas
Rick Ackerman
Friday, Sep 01
Excerpt from the current Rick's Picks (website).
You can subscribe here.
Natural gas quotes have fallen relentlessly, to as low as 5.39, since peaking last December near $16. Under the circumstances, it seemed like a good time to try bottom-fishing in the October futures, especially since seasonal factors for this commodity are now bullish. The trade worked out nicely for anyone who used a stop wider than a penny. The subsequent bounce from the projected Hidden-Pivot low was 24 cents, implying that an initial stop-loss with theoretical risk of $110 dollars could have returned gains of as much as $2,400 in a matter of hours. Here's is the recommendation, exactly as it appeared in the Current Touts section of Rick's Picks on Wednesday night:
"There's a promising Hidden Pivot support at 6.060 where you can attempt to bottom-fish using a stop loss of just a few ticks. It's difficult to predict when the target might be reached, and it could happen during the night session, so I'll make this one entirely at your discretion. If a lesser hidden-pivot at 6.170 above our target fails to provide a discernible bounce, that would be strong evidence the lower objective will be reached. 6.170 can also be bottom-fished with a very tight stop-loss, but it will work best during the night session."
As it happened, the October contract bottomed at 5.050, one cent beneath our projection. The targeting parameters that I used are shown in the chart below, which accompanied the recommendation:
(Click in chart to enlarge)
I republish it here for the benefit of those who do not have access to the paid-subscriber pages of Rick's Picks, as well as for Hidden Pivot aficionados who were too busy to follow the trade. In my commentary, I frequently talk about Hidden Pivots, but without going into much detail about what they are or how the work. In fact, they are determined by price movements confirming to the pattern ABCD, where AB is an impulse leg, BC a correction, and CD a follow-through leg. Generally speaking, the more obvious the pattern, is to the eye the less likely it is to provide an opportune entry point. The ABCD pattern shown in the chart above is not at all obvious – unless, perhaps you have been to one of my seminars. To my way of thinking – I majored in English, not math – it is as close to perfection as such patterns gets: sinuous and symmetrical, with single-bar ABC points that have created unmistakable highs and lows. Hidden Pivots do not often manifest themselves with such subtle gracefulness as we see here, but when they do, we must pounce on them without a moment's trepidation.
***
Seminar Freebies
Remaining seats are going fast for the Hidden Pivot Seminar slated for October 14-15 in a conference facility off Central Park West. If you would like me to reserve a place for you, please let me know by requesting a registration form at this link. Meanwhile, those of you with registration forms already in hand should get them back to me as soon as possible, since everyone who is completely paid up by mid-September will receive snazzy Rick's Picks polo shirts and a $125 Hidden Pivot calculator free of charge. Here's a FAQ to speed your decision along:
FAQ
When will the Hidden Pivot Seminar be held?
There are four seminars scheduled over the next four months, all on weekends. The first will be in New York City on October 14-15; the second, in Vancouver on October 28-29; the third, in San Francisco on November 11-12; and the last, in Sydney on December 2-3.
The class takes two full days, then?
Yes, from 8:30 a.m. to 5:00 p.m. on Saturday and Sunday. After an on-site brunch the second day, the remaining hours will be devoted to an informal Q&A session.
Can I take the course online?
We do not offer an online seminar at this time, but this may change if demand warrants it.
Is the seminar open to those who do not subscribe to your Rick's Picks advisory service?
The course is open to subscribers and non-subscribers alike. However, I encourage all seminar students to subscribe to Rick's Picks, if only for a month or two, so that they can become familiar with my methods and trading style. Also, the archives and educational pages offer a useful resource for learning about my proprietary methods prior to the seminar.
How can I sign up for the seminar?
You can request a registration form by clicking on the blue hypertext line under "Last Call!" above.
How much does the seminar cost?
Tuition for the two-day event is $1,500, This covers course materials and extensive post-grad mentoring in a real-time chat-room held during market hours.
When is the money due?
A deposit of $300 is due with the registration form. $100 of it would be non-refundable, and the remaining $200 would become non-refundable six weeks prior to the session.
How about the remaining balance of $1,200?
It would be payable by two weeks prior to the session and would be refundable. A check is preferred, but you will be able to use a credit card for an additional administrative fee of $50.
What will I learn?
The goal of the course is to enable students to master the Hidden Pivot method and to use it to forecast price reversals at least as accurately as experts who do it for a living. In addition, you will learn to use some basic risk management strategies and to leverage swing points with puts and calls. If you're interested in what my subscribers have said about hidden pivots, click here.
Can someone who knows little about trading or technical analysis benefit from the seminar?
Although many professionals have taken the course, it is an ideal place for the novice to start, since it offers a relatively simple, stand-alone method of forecasting and trading. No prior trading experience or knowledge is required.
You can subscribe to Rick's Picks here.
Rick Ackerman
email: publisher1@rickackerman.com

***

Email this page to a friend

Information and commentary contained herein comes from sources believed to be reliable, but this cannot be guaranteed. Past performance should not be construed as an indicator of future results, so let the buyer beware. Rick's Picks does not provide investment advice to individuals, nor act as an investment advisor, nor individually advocate the purchase or sale of any security or investment. From time to time, its editor may hold positions in issues referred to in this service, and he may alter or augment them at any time. Investments recommended herein should be made only after consulting with your investment advisor, and only after reviewing the prospectus or financial statements of the company. Rick's Picks reserves the right to use e-mail endorsements and/or profit claims from its subscribers for marketing purposes. All names will be kept anonymous and only subscribers' initials will be used unless express written permission has been granted to the contrary. All Contents ©2006, Rick Ackerman. All Rights Reserved. You can subscribe here.