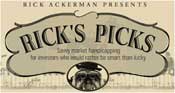 Rick's Picks
Why $509.25 Is Crucial for Gold
Rick Ackerman
Thursday, Nov 10, 2005
Excerpt from Rick's Picks (website).
You can subscribe here.
We've had excellent success recently using hidden pivots to predict important swing points for gold, which is now inches from a bullish breakout. Recall that on October 12, the Comex December contract peaked at 483.10, a single tick above the $483.00 target that had been projected here several weeks earlier near $467. The subsequent decline from $483.10 was nasty, hitting a low of $456.10 on November 4. This bottom also had been anticipated by way of a $457.30 forecast - a hidden-pivot support. However, our attempt to bottom-fish was stymied because of the extremely tight stop-loss ($456.90) that had been advised.
At the time, we assumed that the slight breach of the $457.30 support implied further downside to the next pivot, at least: $451.20. That target remains valid in theory, and we've been looking to buy down there if the opportunity should arise. But yesterday's strong rally has lowered the odds that we'll be able to get aboard so cheaply. In fact, if December Gold were to exceed yesterday's 469.00 high by a mere three ticks, it would be signaling a likely test of the watershed high at $483.10. That's because, in bettering the two prior peaks that I've labeled on the chart immediately below, it would create a bullish impulse leg of hourly-chart magnitude.
(Click on chart to enlarge)

Once above $483.10, the December futures would begin to feel the magnetic pull of $500 -- a very crucial barrier. The word "barrier" is appropriate here for two reasons. First, it is a round number that is very important psychologically; and, second, it is also a precise hidden pivot. However, a query from a subscriber during yesterday's real-time Q&A session led me to some long-term charts at Kitco that suggest why $509.25 will be even more important. That was where the futures made a bear-rally peak about three years into what would later become a 25-year bear market. Technically, at least by my runes, we are still in that bear market and will remain so until such time as $509.25 is exceeded. The rally that achieves that feat would, by surpassing both the 509.25 peak and a second at 499.75 recorded in mid-December 1987, create a bullish impulse leg of yearly-chart magnitude.(See chart below.) That is why I consider $509.25 the most important number gold has faced in more than a generation.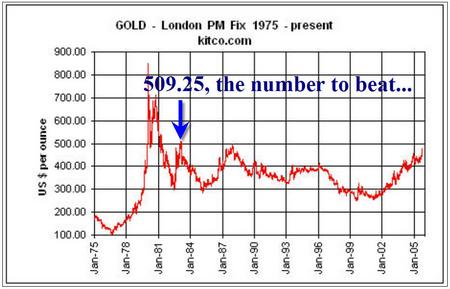 ***
As GM Goes
There was a time when GM's fortunes were held to be inextricably bound with those of the nation. The fact that America has since grown a "service economy" and become the foremost purveyor to the world of gaseous financial products, may have diminished the automaker's role in dollar terms, but not necessarily in other important respects. The company still supports hundreds of thousands of workers and retirees, and the company's slow death spiral will continue to feed the vortex which engulfs America's manufacturing sector.
If things at General Motors were not looking grim enough already, we have the following to add the firm's growing list of problems. The story hit the tape after the stock market closed on Wednesday.
DETROIT (The Wall Street Journal) -- General Motors Corp., whose accounting has been under scrutiny by the Securities and Exchange Commission, said it must restate financial results for 2001 and possibly subsequent years, in the latest blow to the beleaguered auto giant and its embattled chairman and chief executive, Rick Wagoner.
Late Wednesday, after the close of New York Stock Exchange trading, GM said it overstated income for 2001 by as much as $300 million to $400 million -- equivalent to about 50% of the profit it reported at the time -- by "erroneously" booking credits from suppliers. The company said its accounting for credits from suppliers is "one of the matters" being investigated by the SEC.
GM's admission ended a day in which its shares were battered, falling to their lowest level since November 1992 -- during the company's last financial and management crisis -- in 4 p.m. Big Board trading, closing down $1.23, or nearly 5%, at $24.63. Also Wednesday, Fitch Ratings cut its already junk-level rating on GM's debt by another two notches.
GM spokeswoman Toni Simonetti said GM's audit committee had met earlier this week to discuss the accounting issue.
"The issue here was that we basically booked the income in the wrong period. We're going to restate it rather than taking it all in 2001," Ms. Simonetti said. "That income still exists. Its not like that income shouldn't have been booked, it just shouldn't have been booked in all of 2001.
***
Taming the Mini-Futures
Trading the S&P futures with a stop-loss of one point or less? Come visit our archives to see how it's done.
You can get a free one-day pass to visit the site, or a two-week trial subscription with no risk, by clicking here.
Rick Ackerman
email: publisher1@rickackerman.com
***

Information and commentary contained herein comes from sources believed to be reliable, but this cannot be guaranteed. Past performance should not be construed as an indicator of future results, so let the buyer beware. Rick's Picks does not provide investment advice to individuals, nor act as an investment advisor, nor individually advocate the purchase or sale of any security or investment. From time to time, its editor may hold positions in issues referred to in this service, and he may alter or augment them at any time. Investments recommended herein should be made only after consulting with your investment advisor, and only after reviewing the prospectus or financial statements of the company. Rick's Picks reserves the right to use e-mail endorsements and/or profit claims from its subscribers for marketing purposes. All names will be kept anonymous and only subscribers' initials will be used unless express written permission has been granted to the contrary. All Contents ©2005, Rick Ackerman. All Rights Reserved. You can subscribe here.