Birth of the New Uptrend
Clive Maund
March 19, 2004
Yesterday's advance in gold and gold stocks was the most positive technical development for at least 4 months. Gold broke out from the intermediate downtrend that it has been in since early January. Simultaneously the HUI and XAU indices broke above their 50-day moving averages and a number of stocks staged powerful high-volume breakouts, dramatic examples being provided by Bema Gold and Golden Star and the explosive breakout by Vista Gold, signifying that this is not some false move or 'flash in the pan.'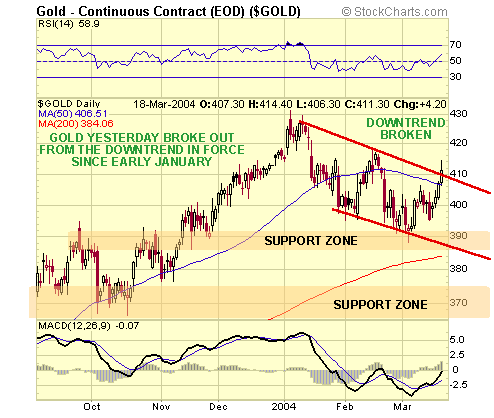 On the 6-month gold chart we can clearly see the breakout from the intermediate downtrend. The downtrend terminated at strong support at $390 and above the rising 200-day moving average, with yesterday's breakout, confirmed by high volume stock breakouts, signalling that it is very probably over.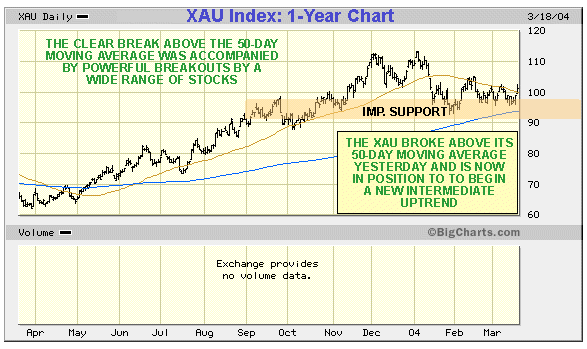 On this occasion it is clearer on the XAU chart than on the HUI chart that the correction is over and that a new and substantial intermediate uptrend in gold stocks is being born. On the XAU chart we can see the clear break above the 50-day moving average, from a position of strength just above the rising 200-day moving average. The rapid convergence of the two moving averages provides an indication that the time is ripe for a breakout.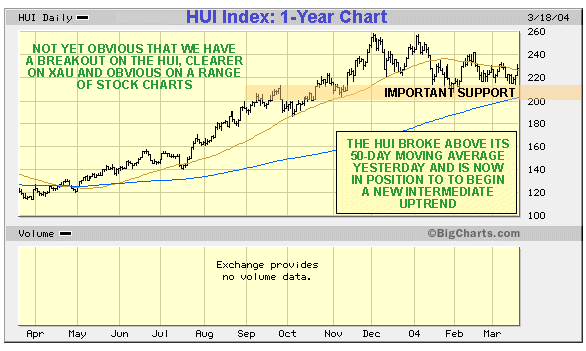 The powerful breakout in Golden Star yesterday, which gapped way above its 50-day moving average on huge volume, should leave readers in little doubt that we are witnessing the birth of a powerful new sector wide uptrend.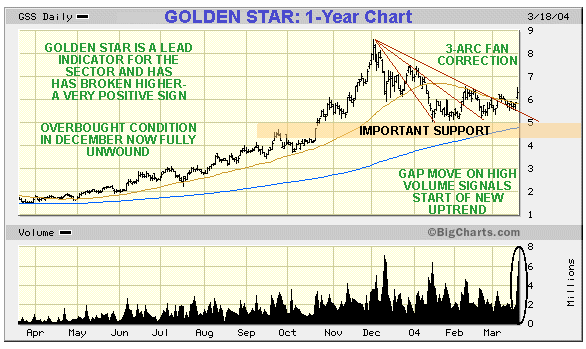 An appraisal of a wide range of gold stocks traded on the US markets, including Bema Gold, Crystallex, Freeport McMoran, Glamis Gold, Linux Gold, and Vista Gold follows for subscribers...

19 March, 2004
Clive Maund
Clive.Maund@t-online.de

Clive Maund is an English technical analyst, holding a diploma from the Society of Technical Analysts, Cambridge and living in southern Bavaria, Germany.
Visit his website at clivemaund.com.

No responsibility can be accepted for losses that may result as a consequence of trading on the basis of this analysis.

Copyright © CliveMaund 2004. All Rights Reserved.
______________
reprinted at 321gold Inc Miami USA