Morning Notes
Passport Potash
(PPI-TSXV)
Michael Berry
Posted Jul 5, 2012
1. Passport Potash: New Chairman, Large Resource
This AM we examine a Canadian company, Passport Potash (PPI TSXV). In April 2011 we visited the company's Holbrook Basin potash deposit. We wrote our most recent Morning Note on April 2, 2012. Since then a number of good things have happened to this company. Perhaps most important a new Chairman formerly from mining giant RTZ, David J. Salisbury has joined and strengthened the management team. I met with David in New York in May and was duly impressed. He sees this project as very doable and one that he will see through to fruition. Mr. Salisbury has had an extensive career in the mining industry. He spent 17 years with Rio Tinto. There he served as CEO and President of Resolution Copper Mining as well as President and CEO of Kennecott Minerals Company.
Management is clearly the most important of the 10 factor discovery scoreboard system in the Incubator and mature discovery space. David adds to the strength of Passport's management. He most clearly has a vision and a go forward plan,
" … there's going to be new (editor: Potash) production that's going to come in … particularly if it is well positioned and we believe we are. Rail, the Basin, the ability to get product to market … We are positioned in a way that It's not going to cost as much to get it to market … so there is a place for us … political risk is very minimal here; it is a great environment to build in. … We wanted to build on all of those opportunities that we think will position Passport Potash in a place where not many others can find themselves. We will continue to look at those opportunities, de-risk the project, identify where the challenges may be, put resources against those … get those risks minimized and then move forward as quickly as we possibly can to advance the project."
Yesterday, Prospect Global Resources (PGRX NASDAQ) announced a $40 million placement led by Dahlman Rose and Roth Capital. Proceeds to the company will be $37.3 million if the offering is filled. The company announced it will issue 15.4 million shares at $2.60 per share (it is currently trading at $2.40) to purchase the remaining 50% of its Holbrook Basin potash properties. PGRX began trading on the NASDAQ this week. The company has a NI 43-101 compliant resource of 590.8 million tonnes of KCL and a December 2011 PEA from Tetra Tech indicating economic production of 2 million tonnes of potash per year.
Why do we present details on a neighbour of PPI's?
As Passport's Peter Kletas points out this means:
PGRX currently has a market cap of over ~$130 Million while PPI's market cap is $~$34 Million.
The offering legitimizes the Holbrook Basin in the market place with investors.
The PGRX Preliminary Economic Assessment provides an apples-to-apples comparison for Passport Potash. PGRX is operating in the same basin (Holbrook Basin).
PGRX is now moving towards feasibility. Passport will have its PEA out in a few months hopefully this year.
This is all good. Global demand for potash and especially that in the United States has recently been between 7.2 and 9.5 million tonnes per year. Most of this has come from Canada. The U.S. produces about 2 million tonnes (Mosaic in New Mexico and Utah). There is no substitute for Potash in agriculture and 95% of the production goes to the agricultural sector. The locale, geography, geology and infrastructure of the Holbrook Basin, as well as the availability of a local workforce, are significant positives for both projects.
While there are obvious similarities between the two companies, we believe Passport may have the following strengths relative to PGRX:
PPI has an excellent land package with no royalties on private land holdings and 100% ownership on all 120,000+ Acres. The PPI deposit is shallower than PGRX (1000 feet versus 1300 feet) which could equate to a lower CAPEX. Ercoplan's 43-101 initial resource estimate is (588 million tonnes in the inferred category and 125 million tonnes indicated), similar to PGRX's resource with similar grades and thickness. See NI 43 -101 technical report, March 30, 2012.
PPI will likely have an updated resource in the Fall of 2012 with additional infill and step out drilling results. These may increase the current resource estimate.
Passport Potash currently has a $34 Million market capitalization (171 million shares out @$.21).
PGRX has a market cap of ~$132 million (~55 million outstanding after offering). PGRX shares traded yesterday @ $2.40.
Passport management and board have been making steady progress. In May they "entered into a purchase agreement to acquire the Fitzgerald Ranch consisting of approximately 41,000 acres of private land and potash rights. There are no royalties attached to this agreement. Passport's holdings will include approximately 70,000 acres of contiguous, royalty free, private land. Combined with Passport's original 52,000 acres of public land, their land package will comprise over 122,000 acres." The company currently has about $12 million in cash on the balance sheet.
The company has just added an 8 hole drilling program to further define and delineate the resource on the Fitzgerald Ranch acquisition. This video provides a short tutorial on the U.S. Domestic Potash Market and on Passport Potash.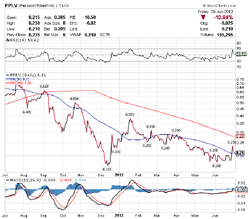 (Click on image to enlarge)
###
Jul 3, 2012
Michael Berry
The material herein is for informational purposes only and is not intended to and does not constitute the rendering of investment advice or the solicitation of an offer to buy securities. The foregoing discussion contains forward-looking statements within the meaning of the Private Securities Litigation Reform Act of 1995 (The Act). In particular when used in the preceding discussion the words "plan," confident that, believe, scheduled, expect, or intend to, and similar conditional expressions are intended to identify forward-looking statements subject to the safe harbor created by the ACT. Such statements are subject to certain risks and uncertainties and actual results could differ materially from those expressed in any of the forward looking statements. Such risks and uncertainties include, but are not limited to future events and financial performance of the company which are inherently uncertain and actual events and / or results may differ materially. In addition we may review investments that are not registered in the U.S. We as advisors to Passport Potash. We cannot attest to nor certify the correctness of any information in this note. Please consult your financial advisor and perform your own due diligence before considering any companies mentioned in this informational bulletin.

321gold Ltd