Silver Market Update
... at the top line of the channel
Clive Maund
22 November, 2004

While gold's rate of rise has accelerated significantly over the past couple of weeks, silver has only succeeded in moving ahead incrementally. The reason for this is plain to see on the 6-month chart - the price is continuing to be restrained at the top return line of a clearly-defined trend channel. Looking at this chart in isolation we would probably conclude that it is more likely to retreat than advance from here - which is why we are not looking at this chart in isolation.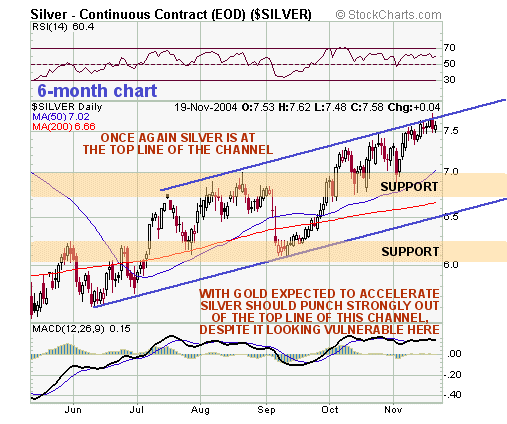 Much greater overall perspective is provided by the chart going back to July 2002, this starting point being chosen so that we can place the point of origin of the parabolic uptrend shown on it. Notice how the price has found support at this parabolic uptrend on 5 occasions, and above it in October 2003, so there can be no doubt that this is a valid and important trendline - this provides us with the security of having a predetermined exit point - if the price breaks below it, it is a clear sell signal.

Having said that, it is not expected to. On the contrary, given the accelerating uptrend in gold and the parlous outlook for the dollar, silver is expected to break out of the trend channel shown to the upside, which should lead to a rapid ascent. There is some resistance in the area of last April's high, but it is not likely to prove to be much of a hindrance, as the price did not remain up there for long, so there is little overhanging supply.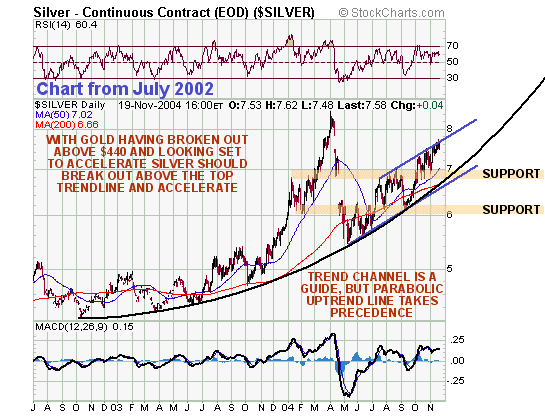 Should the dollar now plunge as expected and gold make a run at its upper long-term trendline, meaning a move to the $480 - $500 area, silver is expected to race ahead to a peak considerably above last April's high in the $8.40 area. Such a move would result in an extremely overbought condition, of course, and take the price way ahead of its parabolic support line, and it would therefore be expected to be followed by a reaction/lengthy period of consolidation.
US dollar charts may be viewed in the current Gold Market update

Clive Maund
Clive.Maund@t-online.de

Clive Maund is an English technical analyst, holding a diploma from the Society of Technical Analysts, Cambridge and living in southern Bavaria, Germany.

Visit his subscription website at clivemaund.com.[You can subscribe here].

No responsibility can be accepted for losses that may result as a consequence of trading on the basis of this analysis.

Copyright © 2003-2004 CliveMaund. All Rights Reserved.

321gold Inc Miami USA